Amazon Kindle International
The Amazon Kindle is now available to people in over 170 countries, and is the first ebook reader to offer free wireless service on a global scale. The Kindle International sells from Amazon.com and Amazon UK and a few other regional Amazon sites. The 9.7-inch Kindle DX is available internationally as well. It is much larger than the Kindle and is designed more for reading PDF documents, textbooks, and periodicals.
Amazon sells several Kindles internationally now, the Kindle 4 and Kindle Touch included. The former is only $109 and the Touch WiFi model costs $139 and the 3G plus WiFi version costs $189.
Here's a drop-down list of countries that Amazon can ship Kindles to; check the links above for an updated list at Amazon (they are always adding more) . . .
Important Details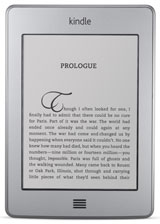 The Kindle International works with AT&T's wireless network, and wireless availability is dependent upon which country you live in. Book selection also differs between countries, based on book rights, and users download ebooks from the Kindle store directly to the device itself, a personal computer, or an iPhone.
Most ebooks are English-language, but there are some foreign language ebooks too. Here are some examples: Spanish, French, and German.
If you'd like to find out the exact number of ebooks available where you live, here's the quickest way to do it:
Open the Kindle International product page in a new window and follow along to get all the details for your specific country.
eBook Selection
With the product page open, click on the link in the lower-center of the page that's inside the blue "Live Outside The US?" box. Choose your country from the drop-down list. The new window lists the details for ebook selection and pricing for your region. As a general rule, most new releases and bestsellers cost $11.99 outside the US. The one exception is the European Union, which charges up to an additional $2 for VAT.
Regardless of where you live, Amazon has one of the largest libraries of ebooks available. Many would prefer ePub format to Amazon's proprietary format, however, the current selection and prices for ePub generally doesn't come close to what Amazon offers. Also, many ePub retailers have regional restrictions and aren't allowed to sell ebooks to customers in certain countries, so it's a good idea to check first.
You can compare ebook prices and selection by visiting our ebook stores page and running a few searches across different stores.
Also, you can find a number of websites that have free non-DRM ebooks that will work on a Kindle International just fine. They are listed on the DRM-free eBooks page.
Free 3G Wireless Service
Here are the countries that have free wireless service for downloading ebooks to a Kindle International, and a partial coverage map below that. Sometimes Amazon adds more countries so make sure to double-check with them if your's isn't listed.
It's important to note that there are no wireless contracts, roaming charges, or any kind of additional cellular fees associated with using the Kindle International's wireless service.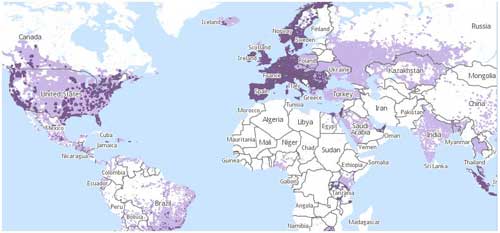 Click on the map above to view coverage in your country.
Kindle International Price Verification
The Kindle International costs $109 - $189 USD depending on the model you choose, and shipping typically costs around $21. Depending on your specific country, there may be additional duty and import fees. The only way to check the exact cost is to add the Kindle International to your cart, enter your information, and then let Amazon show you the total cost before checkout.
Amazon will show you the price in US dollars, so if you want to get a better idea of what that converts to, you can use this helpful currency calculator.
Kindle International Product Review
If you still have some questions and want to learn more about the Kindle models, you can read detailed written reviews, view photos, and watch video demos of how everything works on this Amazon Kindle Reviews page.
Formats and Conversions
For DRM encrypted files, the Kindle International supports Amazon's proprietary format: AZW. For unencrypted files it supports PDF, TXT, MOBI, and PRC. In addition, Amazon will convert these unencrypted files to their AZW format: PDF, HTML, DOC (Word), RTF, JPEG, GIF, PNG, BMP, MOBI, and PRC.
If you elect to have Amazon transfer your files directly to the device via Whispernet after conversion, you will be charged $.99 per megabyte, so you don't want to do that. To avoid this charge, you can convert them yourself or simply have Amazon transfer your files to your free Kindle email account. And then move the files to the reader yourself using the USB cable.
More info can be found on the Kindle Format Conversion Guide.
You can easily convert these files on your own with free conversion software like MobiPocket Creator and Calibre. With Calibre you can also convert unprotected EPUB ebooks downloaded from various sources like Google Books.