Kindle Touch Review Page 2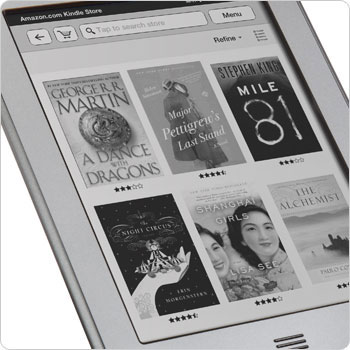 Kindle Touch PDF Review
The Kindle Touch is completely different from earlier Kindles when it comes to PDF files. Everything has changed. It is better in some regards and worse in others.
First, there are two ways to zoom in on a PDF, with no pre-sets like before. Double tapping and pinch zooming.
Double tapping will fit text to width, automatically removing margins. If the PDF has two columns it will fit one column to the width of the screen. This works quite well unless the PDF varies in text size or has diagrams in places because the Kindle Touch tries to automatically adjust to fit them to width and that can do strange things, as shown in the video below.
With pinch-zooming you can set a custom zoom level, but the zooming isn't as smooth as it could be and can be hard to get adjusted just right. Once zoomed in, you can pan around the page by dragging a finger. Turning pages resets the zoom back to original.
As far as features go, there have been some improvements. Text-to-speech works now with PDFs. And the usual Kindle features apply as well with dictionary lookup, notes, highlights, bookmarks, sharing, search, hyperlinks, and syncing if you add your personal documents and ebooks to Amazon's cloud.
The table of contents has been improved too. Unlike other Kindles, the Kindle Touch generates a table of contents (wish it did that for ebooks), but not always. You can also jump to a specific page.
There's a contrast adjustment feature too for making the text lighter or darker for PDFs. This works well for PDFs with hard-to-read light text.
The Kindle Touch doesn't offer PDF reflow, but you can have Amazon convert PDFs to their AZW format for reflow. This works well for basic text PDFs, better than reflow on most ereaders with the feature built-in.
Overall, the Kindle Touch is an okay PDF reader. It offers a decent amount of features and is generally fast to load. It loads a 90MB test file in about the same time as a 1MB file. But the fact that it lacks landscape mode and doesn't have pre-set zoom settings other than fit-to-width makes it difficult to use for a good share of PDFs. Like I always say, if you want an everyday PDF reader I would suggest getting a tablet.
Kindle Touch PDF Video Review
Web Browser
The web browser for the Kindle Touch was expected to be an upgrade over previous Kindles, and for the most part it is, but not by a lot. The pinch-zooming is nice and is smoother than with PDFs. And unlike the older Kindles, it can open windows that trigger new windows. But there are some annoying details.
For starters, there's no landscape mode. No zoom settings. No multiple windows either. It has a tendency to remove margins and push text up to the left edge of the screen. And sometimes pages seem to hang longer than they should to load.
The biggest downside, the 3G Kindle Touch cannot use the web browser over 3G like the earlier Kindles. It can only access Amazon, Wikipedia, and Shelfari over 3G. It has to be connected to Wi-Fi for everything else.
On the positive side, the browser offers article view, which works well for news-oriented sites. Scrolling is pretty smooth with the touchscreen and the pinch-zooming works well. You can download ebooks in PRC, MOBI, TXT, and AZW formats with the browser.
I was even able to login to Dropbox and download a MOBI ebook. TXT files wouldn't work because they just open in the web browser, and PRC files are supposed to work but my attempts failed.
In the end, the Kindle Touch's web web browser is good for referencing Wikipedia, reading some news sites, checking email, running Google searches, downloading ebooks, and more. It's not as advanced as the Sony PRS-T1's web browser, but it's serviceable.
Audio Player and Audiobooks
The biggest difference between the Kindle Touch and the Kindle 4 is the Touch supports audio files. Like earlier Kindles, it can play MP3 files as well as audiobooks from Audible.com. You can actually merge your Audible account with the Kindle so your audiobooks show up under archived items for easy download. They have to be downloaded over Wi-Fi because of the large file sizes.
With MP3s, you sideload them onto the Kindle with a USB cable and put them in the music folder. The audio player is about the same as earlier Kindles. There are no playlists or even shuffle. You can skip tracks forward and back and adjust the volume. The audio player works while reading; it gets added to the menu when it is playing so you can access it.
Games and Active Content
The Kindle Touch suffers from the same lack of games and active content as the Kindle 4. Developers have to resubmit apps for the newer Kindles so games and active content are going to take awhile before more start becoming available.
Some games are already setup for the touchscreen Kindle and work quite well, better than have to mess with a cursor and keyboard like the other models. I tested a couple of games, Every Word and Number Slide, and they work really well with the touchscreen.
A Note About Special Offers Kindles
For those willing to sell their souls to advertising to save a few bucks—kidding—Amazon offer Kindles with Special Offers, aka ad-supported Kindles.
Special Offers Kindles are exactly the same as as non-ad Kindles in all regards except they run coupon deals and advertisements on the screensavers when the device is asleep and at the bottom of the homescreen with a banner.
Personally, I don't find the screensaver ads annoying at all. At least they frequently change and are different. Having to look at portraits of the same dead authors over and over isn't much better (that's what the non-ad Kindles show).
However, the ad at the bottom of the homescreen annoys me. It takes up too much space and makes the book list feel too short, especially with the addition of the menu bar at the top to accommodate for touchscreen navigation.
Still, I'm not willing to pay $40 to remove the ads, which is an option (you can also opt-in for the special offers if you got a non-ad Kindle). The truth is, the special offers are worth having at times for the coupon deals, and you have to use a Special Offers Kindle to redeem them.
Kindle Touch Specs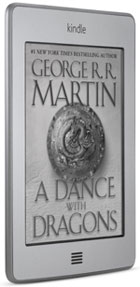 6" E Ink Pearl screen
Infrared touchscreen with multi-touch
600 x 800 pixel resolution at 167 ppi, 16-level gray scale
4GB internal memory (3GB available)
Wi-Fi
Optional 3G via AT&T's 3G network in the US and partner networks outside of the US
3.5 mm stereo audio jack, rear-mounted stereo speakers
USB 2.0 port
Supported formats: AZW, TXT, PDF, unprotected MOBI, PRC, Audible (Audible Enhanced (AA, AAX)), MP3 natively; HTML, DOC, DOCX, JPEG, GIF, PNG, BMP through conversion
Battery Life: 4-8 weeks
Dimensions: 6.8" x 4.7" x 0.40"
Weight: 7.5 ounces, 7.8 ounces Kindle Touch 3G
Kindle Touch 3G Dimensions: 6.8" x 4.7" x 0.40"
Price: $99 - $189 at Amazon