Kindle 4 Review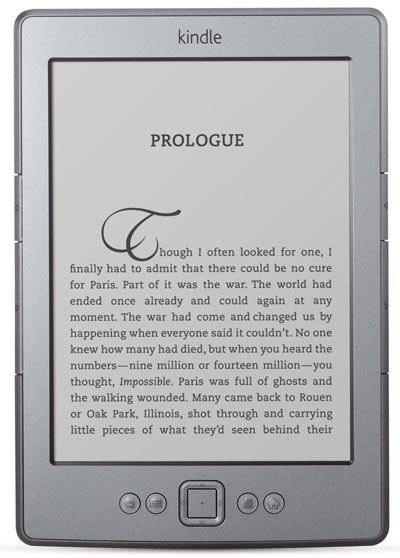 Overview
The Kindle 4 is Amazon's latest ebook reader, along with the Kindle Touch and Kindle Fire Tablet. The Kindle 4 is the basic, streamlined model, and is also the least expensive.
There are two different versions of the Kindle 4. The Special Offers model sells for $79 and is available in the US only. It runs advertisements and coupon deals on the screensavers and on a banner at the bottom of the homescreen. The non-ad version of the Kindle 4 sells for $109 and ships internationally to 170+ countries.
Quick Review: Kindle 4
Pros
Lowest priced E Ink ebook reader
Solid build quality, nice design, good ergonomics
Fast page turns, partial page refresh setting
Set device language, dictionaries
Access to Amazon's large library of ebooks and periodicals, plus free library ebooks now too
Cons
No audio support means no music, audiobooks, or text-to-speech
Lots of Kindle apps don't work, games and active content
On-screen keyboard more tedious than physical keyboard for adding notes, running searches, etc
Verdict
Given the combination of features and price, there's no question the Kindle 4 is the best budget ebook reader on the market. It's main competitor is its sibling, the Kindle Touch, which is a better value overall because of the added features and the fact it only costs $20 more. But if you don't want a touchscreen and don't care about audio support, then the Kindle 4 is a really good option at $79.
The low price is a result of the ads and special offers, however. The non-ad versions costs $30 more. Add that into the equation and suddenly the price is a lot closer to that of its competitors. The Kobo Touch sits at $129, the Nook Touch is now $99, and the Sony PRS-T1 is $129. All are worth checking into if you want a touchscreen and a different set of features, but if you want to go the truly budget route the Kindle 4 is a good choice.
Price: $79 at Amazon (ads) $109 at Amazon (no ads/international model)
Kindle 4 Video Review
Kindle 4: Hardware and Design
The first thing that jumps out about the Kindle 4 is its design. At just under 6 ounces, it is very light and comfortable to operate one-handed. The earlier Kindles are more awkward with the keyboard and are less attractive with the lightly textured plastic bodies.
The Kindle 4's casing is plastic too, but it doesn't look or feel like plastic. The front has a smooth metallic finish and the back has a slight rubbery feel for grip. The edge is beveled with four page-turn buttons that run along each side of the screen.
Some folks will probably complain about the page buttons because they are really slim and close to the edge, but I actually like them and find that they are easier to use than the buttons on the Kindle 3. They are perfectly placed so that your thumb sits on the page-forward button comfortably when holding in either hand. I do wish Amazon would add page-turning to the 5-way nav as well. The Kindle 4 is comfortable to hold from the bottom too, but presently the 5-way nav skips chapters instead. They should make short-press turn pages and long-press skip chapters...my $0.02.
Below the screen it the same 5-way nav controller from the Kindle 3. To the left of it is the keyboard button and back button. To the right is the menu button and home button.
Since the Kindle 4 lacks a physical keyboard, you use the keyboard button to bring up or close an on-screen keyboard that uses the 5-way controller to move between letters. It's actually pretty fast and easy to use, but you definitely don't want to get the Kindle 4 if you plan on writing a lot of notes or running extensive searches. One good thing when searching the Kindle Store is that it gives suggestions after you type a couple of letters.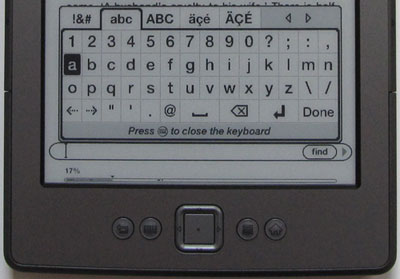 When it comes to hardware, it's more about what the Kindle 4 lacks than what it has. Some common Kindle features are missing. Previous Kindle owners that have come accustomed to using text-to-speech or listening to audiobooks will be disappointed with the Kindle 4 because it does not support audio at all (Amazon could've at least given it a headphone jack). There's also no option for 3G, just WiFi.
What the Kindle 4 does have is this: 6-inch E Ink Pearl screen, 2GB internal memory (about 1.25GB usable), which is enough for about 1400 ebooks, free cloud storage, Wi-Fi, 800MHz processor, and 3-4 week battery life.
Software
Aside from subtle changes to accommodate for the lack of a physical keyboard, the Kindle 4's software is pretty much exactly the same as the Kindle 3's. The Kindle 4 adds a few new features like landscape mode on the homescreen and web browser, partial page refresh, and a few other improvements, but for the most part it is the same.
I was hoping for a new homescreen with book covers and more sorting options, but nada. Still the same old list with everything thrown together. You can create collections to organize your content, and sort by most recent, title, and author.
eReading Features
The Kindle 4 is at its best when it comes to what matters most: reading books. The Kindle 4 uses the same high-contrast E Ink screen designed for minimal eye strain and outdoor reading that the Kindle 3 uses.
There are eight font sizes and three font types. You can adjust line-spacing and margins both by three levels. From the fonts menu there's also options to switch screen rotation all four directions.
Using the 5-way nav's up and down buttons while reading moves a cursor on the screen. Placing the cursor next to a word automatically brings up a small window with the definition from the dictionary. Pressing the center button then brings up options to access the full dictionary, to highlight, and add notes.
Notes aren't as functional with an on-screen keyboard and cursor but the ability is there. Notes and highlights get synced over Whispernet with other Kindle apps and ereaders and get saved to a text file for easy reference and exportation.
Some other features include sharing highlights and notes on Facebook and Twitter, adding bookmarks, viewing popular highlights, navigate by using the table of contents or by entering a specific page number or location, search within a book, on Wikipedia, and Google.
One unique feature with Kindles is that you can send ebooks and documents over Wi-Fi to be delivered to the Kindle. Personal documents and ebooks sent get archived in Amazon's cloud for easy retrieval and Whispernet sync. Storage of personal files is free up to 5GB.
Content Selection
The Kindle 4 connects over Wi-Fi to Amazon's ebook store for access to over 1 million titles, plus hundreds of periodicals that get automatically delivered.
One big misconception is that Kindles only work with ebooks from Amazon, but that's not true. You can borrow library ebooks for the Kindle, get lots of free ebooks, and shop for DRM-free ebooks from various websites too.
In addition to Amazon's AZW format, the Kindle 4 supports DRM-free MOBI, PRC, PDF, and TXT formats natively. Amazon will also convert the following formats to AZW for free: PDF (reflows), HTML, DOC, DOCX, JPEG, GIF, PNG, and BMP. Check the Kindle Format Conversion Guide for the directions, and for info on how to convert EPUB and other formats too.
Games and Active Content
In addition to ereading, there are some games and utility apps available for the Kindle 4, although not as many as the Kindles with keyboards. A lot of the Kindle apps depend on the keyboard to function. Here's a list of 30 Kindle apps that work on the Kindle 4.
PDF Files
The Kindle 4 was never designed to be a PDF reader but it has enough features to make it suitable for the task. The small 6-inch screen is the biggest challenge. Zooming is a must. The Kindle 4 has five levels of zoom: fit-to-screen, 150%, 200%, 300%, and actual size.
Once zoomed in, you use the 5-way controller to scroll around the page. Holding down the keyboard button while scrolling moves the box slower so that you can fine tune alignment with the text. When you turn a page, the zoom remains and resets to the upper left corner of the document.
Landscape mode works for PDF files too. And there's a contrast adjustment feature to make the text lighter or darker for PDFs. This works very well for PDFs with hard-to-read light text. One difference with PDFs is that partial page refresh doesn't work; it refreshes the entire page every time.
You can add notes and highlights to PDF files the same as with ebooks. I've found sometimes the dictionary works with PDFs but it usually doesn't. Other features include running searches, go to page, and adding bookmarks.
The Kindle 4 doesn't have PDF reflow by default, but Amazon will reflow PDFs by converting it to their AZW format, which is free. This works surprisingly well for text-based PDFs.
Kindle 4 PDF Video Review
Web Browser
The web browser is accessible from the homescreen by hitting menu then selecting Experimental. It is a basic web browser but is functional for reading RSS feeds with Google Reader, checking email, news, Wikipedia, etc.
The web browser has five levels of zoom just like PDFs: fit-to-width, 150%, 200%, 300%, and actual size. You can switch the screen to landscape mode, add bookmarks, enter urls, and there is an Article Mode feature that formats the content of an article into an easy-to-read layout. Article Mode is a nice feature that works well for news sites.
You navigate the screen by using the page buttons to scroll up and down and the nav controller to move a cursor on the screen to select links and to scroll left and right when zoomed in. Overall the Kindle 4's web browser is pretty decent as far as E Ink ebook readers go, but unfortunately the Kindle's web browser still does not open links that open new windows. Frustrating...
Kindle 4 Specs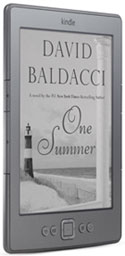 6-inch E Ink Pearl screen
16 levels of grayscale
800 x 600 pixel resolution
800Mhz processor
WiFi (802.11 b/g/n)
Language interface: English (US and UK), German, French, Spanish, Italian, and Brazilian Portuguese
2GB memory (1.25GB available)
Cloud storage
Partial page refresh setting
Micro USB 2.0 port
Battery Life: 3-4 weeks
Supported formats: Kindle (AZW), TXT, PDF, unprotected MOBI and PRC
Dimensions: 6.5" x 4.5" x 0.34"

Weight: 5.98 ounces
Price: $79 at Amazon