Libre Color eBook Reader Review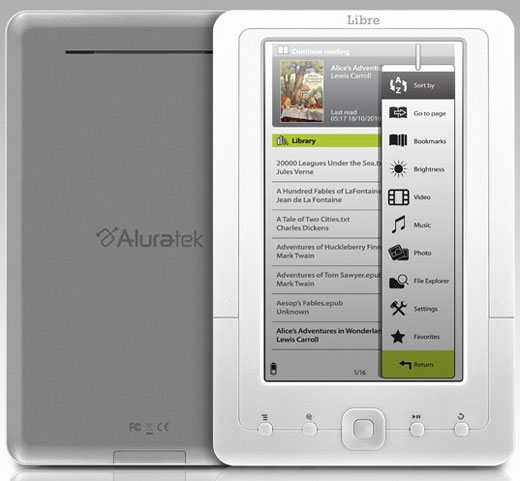 Review written by Christopher Carvalho. Published February 20th, 2011.
Overview
The Libre Color is a 7" color eReader and multimedia player marketed by Aluratek. From the firmware, it appears to be a Gajah design (now Oaxis) that is also sold under the Trekstor eBook Player 7(m) name in Europe.
It features a 7" TFT LCD display with 800x 480 pixel resolution, 2GB built-in storage, up to 16GB SDHC support and broad support for various eBook, video, photo and audio formats. However, it lacks wi-fi and touchscreen, if those attributes are important to you.
Suggested list on the Aluratek site is $199, but for some reason, Aluratek doesn't seem to be promoting it at all and, while difficult to find in stores, it is available at various online retailers, starting at about $120, plus shipping. Which, in my opinion, makes it a veritable bargain, given what it is capable of.
The Reader comes packaged with: a USB Cable, USB Power Adapter, a soft carrying pouch, Quick Start Guide and warranty registration card.
Look and Feel
The Libre Color has, to my eyes, a clean and elegant (if not particularly expensive) look. Unlike its sibling, the Aluratek Libre Pro eReader, with its plethora of buttons and sliders, the Libre Color has a total of 6 buttons on the front face, plus a D-pad. It comes only in a matte white plastic bezel, with a dark gray back and is about as wide as a paperback and slightly taller. The screen is a matte screen, with relatively low glare, even in bright sunlight. At 13oz, it strikes a nice balance between lightness and substantial feel. Build quality feels more than adequate, with little flex to the body, and a surprisingly good tactile feel on the buttons, with low effort and soft clicks.
Controls, Ports and Battery
Speaking of buttons, the Libre Color has some very nice and subtly integrated page turn buttons about 1/3 the way up on each side of the screen (in portrait mode) – forward on the right, back on the left. Across the bottom, from left to right, it has a menu button, a zoom button, the D-pad in the centre, a Play/Pause button, and a Return/Back button.
On the bottom, again from left to right, you find the headphone jack (standard 3.5mm), mini-USB jack, SD/SDHC slot cover, DC-in power adapter jack, Power/Sleep button, and a hip, blue charging status LED.
It has an internal lithium-ion battery pack (capacity not specified) which takes 6 hours to charge on 110V power and 12 hours on an USB charge. In practice, battery life will be determined by several factors, including screen brightness, and proportion of book reading time to video and music playback time. On the first discharge cycle, using it 99% for reading at 20% brightness, I obtained about 15 hours battery life. After watching 2 hours of video at about 30% brightness on the second charge, it appears that battery life will be an estimated 4 to 5 hours using it strictly for watching videos. Battery life may increase with additional charge cycles. Mixed use will render times between these two extremes.
Last but not least, the Libre Color has a G-sensor which enables auto-rotation between portrait and landscape modes.
Libre Color Video Review
As an eBook Reader
The Libre Color supports non-DRM EPUB, PDF, TXT, FB2 formats. It supports Adobe DRM EPUB and PDF formats. DRM files require you to use Adobe Digital Editions to transfer the DRM books to your Libre Color.
Connecting the Libre Color to your PC with the included USB cable results in the Libre showing up as a USB device in your drive listing. Adding non-DRM books is as simple as dragging them from your hard drive to Libre Color. Regrettably, the Libre Color doesn't support the folder organization of your eBook library, but just lists all eBook documents it finds according to the sort method you select.
The Libre Color shows up in Adobe Digital Editions (ADE) as a bookshelf. Transferring Adobe DRM books simply involves dragging the book from your ADE collection to the Libre Color.
The default or Home menu for the device, when you power it on, is the book library. Books are listed about 7 to a page and can be sorted by Title, Author, Category, Date or Format. The current or last read book is shown at the top of the screen and can be quickly selected to resume reading where you left of. As well, books can be added to a Favorites list, to help you find them quickly if you have an extensive library stored on-device. If you are one of those people who likes to read more than one book at a time, the Libre Color will remember where you left off in multiple books. You can create multiple bookmarks per book, and it retains all your bookmarks for multiple books until you delete them. You can also go to a specific page using the "Go to page" function in the menu.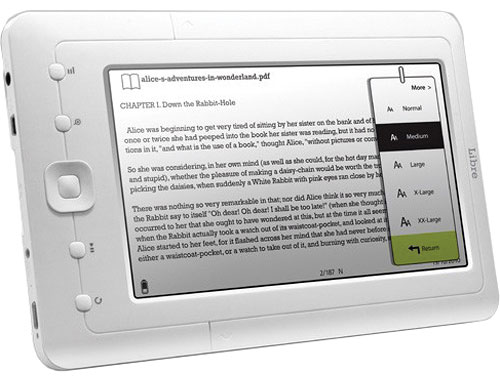 The Libre Color only supports one font type, a serif-type font that is very clear and surprisingly sharp and legible, even at the normal font size, which is quite small. There are five font sizes to choose from ranging from "normal" to "xx-large." Both EPUB and TXT books displayed well and seemed to flow well as font sizes were changed.
PDF books do not flow and, by default, are sized to show full-screen in portrait mode. Since they don't scale with the different font sizes, Aluratek has added an "Enlarge" feature to the zoom list, specifically for PDFs (or images in EPUBs), that allows you to select a zoom ratio between 100 and 250%, and then use the D-pad to scroll around the page. Not as good as reflowable PDF, but better than nothing.
The Libre Color allows you to listen to music while you read. Music controls are fairly rudimentary, as whatever song you last had selected in the Music Player mode is what's on deck for your listening pleasure, but you can skip songs forward and back using the D-pad until you find the one you want.
Another interesting feature is the ability to vary the font and background colors. While this may, at first, seem to be of limited utility, when reading in the dark I found that setting the background to black and the font to white (or red) was much easier on my eyes than dealing with the glare from the white background even at 10% brightness. It also cast less illumination to disturb your partner. White text on the black background retained its crispness and legibility.
Finally, the Libre Color supports reading in landscape mode, which I really like. Though it works well in portrait mode, and the forward page turn button falls naturally under your thumb when held one-handed with the right hand, landscape mode seems more book-like to me, eliminates the top-heaviness of holding it in portrait mode, and again, the buttons (whether the D-pad or the forward button) fall naturally under your left-hand thumb. The screen auto-rotates between portrait and landscape modes.
As a Video Player
The Libre Color has extremely broad video codec support. It supports: MPEG-1, MPEG-2, MPEG 4(Xvid), Divx, H.263, H.264, RM/RMVB, WMV7/8/9, MKV, MOV, VOB, and FLV. It supports HD video up to 1080p resolution. Needless to say, I didn't try every format. I did try FLV, MPEG-4, and MPEG-4(Xvid) at 720p. All played smoothly with no stuttering. The HD video played as well as the FLV, despite the massive file size difference.
Colors were rich and well-saturated, but some artefacting was noted, particularly in solid color areas like blue skies, and some pixelation was noted in the low-res (360p) YouTube FLV video played at full-screen size. Video playback occurs only in landscape mode and can be run full-screen.
I'm probably not the pickiest person when it comes to video quality but, overall, I am thrilled by this device's video playback. I have been using it to watch documentaries I find online, and I think I might use it as much for videos as for books. Volume is a bit weak through the external speaker, but very loud through headphones, and a firmware update apparently improves volume through the external speakers.
As a Music Player
The Libre Color supports the following audio formats: MP3, WMA, AAC, WAV, and OGG. In dedicated Music Player mode, there are a few more options for playback than in background listening mode.
The Music Player allows you to select one of 9 music equalization modes, to loop or shuffle playback, and to sort your music according to song title, artist, album or genre (assuming this info is copied over with your music). While kind of bulky to be an MP3 player, if you get tired of reading and just want to listen to music, it's handy to have the option of just listening to your music without carrying another device around. Sound quality was fine to my 48-year old ears.
As a Photo Viewer
For those times you want to show off the photos of the kids, the Libre Color also functions as a photo viewer. It supports JPG, BMP, GIF, and PNG files. It has a customizable slideshow, which allows you to set the time interval between slide changes, and to display thumbnail views, as well as basic file information for photos. Auto-rotation of images is supported, or you can manually rotate the image using the menu button. Colors are pleasing, and resolution about on par with lower end digital photo frames.
Miscellaneous
The Libre Color also has a File Explorer that allows you to manipulate the files stored on the reader, primarily to delete them, but copy and paste operations are also supported, if you want to move your files between folders on your reader. Personally, I find it more efficient to just do this on the PC while the Libre is attached.
The Libre has a couple of quirks that could be fixed with a firmware update, but only time will tell if they will be. The most annoying one is that whenever you turn on the Libre Color it defaults to a one minute sleep time, even if you have set it to a higher value previously. Since you can't change it while in a book, you have to exit to the Home menu, go into Settings, and reset it, before returning to your book. Or you can remember to do this each time you turn it on. Or you can do what I do and increase the font size to large, so I can get through a page in less than a minute!
The other (very) minor annoyance is that the main library menu only operates in portrait mode, and books open initially in portrait mode. If you are holding the reader in landscape mode, you have to rotate it to portrait and back to landscape to activate the G-sensor.
As previously noted, with the default firmware, the volume is a bit low through the external speaker. There is a firmware update that addresses the volume issue and adds Chinese language support. Hopefully Aluratek will keep developing the firmware and fix the sleep issue as well.
Conclusion
I can't honestly say that I have much experience with other eReaders to compare the Libre Color to. I have only ever briefly used the Libre Pro and the Kobo and Kobo Wifi. But I prefer the Libre Color to both of those. Page turns are much faster than the e-Ink Kobos, and the contrast with the backlit LCD is preferable to me than the reflective LCD of the Libre Pro. Reading at between 10% and 20% brightness (the default setting is a blinding 70%) in indoor lighting simulates a paper background quite well. Only in bright sunlight is higher brightness needed. Side-loading my media, as opposed to wi-fi downloading isn't an issue for me, and the absence of wi-fi probably improves battery life anyway.
But most importantly, it is the outright versatility of the Libre Color that sells me on this device. Instead of just having an eReader, I have a movie viewer, photo viewer, and music player. I can listen to music while reading, which I enjoy doing. And I have it all in one device. At a price, with shipping and handling, of under $140.00! Sure there are tradeoffs in battery life compared to e-Ink, but on the flip side, I don't need a night-light to read at night, I can watch videos in color, or read color comics and magazines. A weekly recharge for 4 to 6 hours is a small price to pay for this versatility. Long-term durability remains to be seen, but so far I don't think you can beat this reader for its bang for the buck.
Libre Color Specifications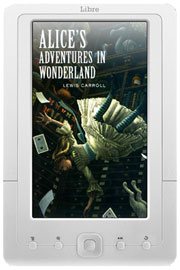 eBook support: EPUB, PDF, TXT, FB2 format
7" TFT Color LCD
Bookmark and auto page turn function
Adjustable font size
Screen rotation support (portrait and landscape)
Built-in MP3 player with background playback support
Audio support: MP3, WMA, AAC, WAV, OGG format
Video support: MPEG-1, MPEG-2, MPEG 4(Xvid), Divx, H.263, H.264, RM/RMVB, WMV7/8/9, MKV, MOV, VOB, FLV
Photo support: JPG, BMP, GIF, PNG
SD card slot - up to 16GB
Internal lithium-ion polymer battery
Battery level indicator and low level warning
Warranty 1 year
Weight 13.1 oz
Dimensions: 5.25" x 8.125" x 0.875"