Motorola Xoom Review Page 2
Web Browser
The new Honeycomb web browser is a definite step up from previous versions of Android. It is fast, supports Flash, and is reminiscent of Google Chrome. In fact you can sync it with Chrome for bookmarks and other data.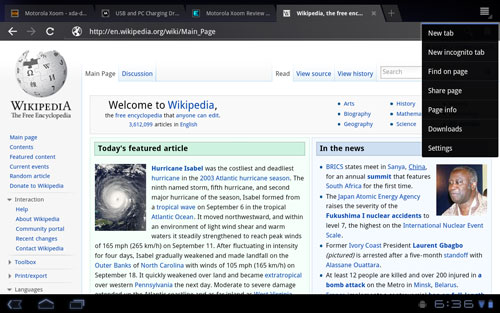 The layout is desktop-like with the tabs and address bar on top. You can have a total of 16 tabs open at one time. Holding down on a link prompts options to open in a new tab, save, send, or copy link. Holding down on text prompts options to copy text, which can be sent directly to a notes program or email, share, select all, and find on page or on the web.
There's a bookmarks menu and history. You can adjust text size and zoom settings, along with various privacy settings. There's an option to use quick controls instead of the top address bar, which slide out from the left and right edges when placing a finger there. Pinch to zoom works as well.
There are two things I don't like about the browser: some sites insist on loading the mobile version instead of the full version, and there's no way to organize bookmarks.
eMail
The Gmail app looks and works a lot like Gmail in a web browser. Lists for categories are on the left, you can add labels to emails, delete them, archive them, whatever—the same features apply to the app as in regular Gmail. It's really nice.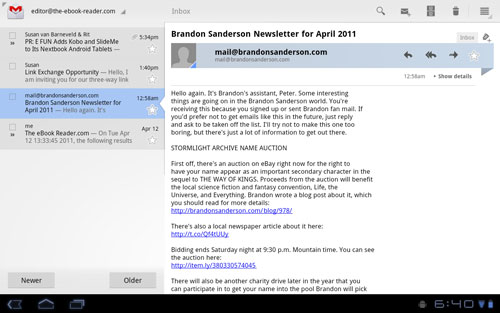 There's an email widget for the homescreen that lists your latest emails. You can scroll through them and select different email accounts to view. Tapping an email launches the full app. Overall the new email app works and looks great on Honeycomb. There's a second Email app for other accounts such as Yahoo or Hotmail. Or you can use the web browser too.
Games
Given the dual-core NVIDIA processor, video games are a big part of the Motorola Xoom's repertoire. In fact, it comes with two 3D titles that were developed specifically for Honeycomb, Cordy and Dungeon Defenders. Both games are smooth and fast, with just an occasional lag every now and then. There are hundreds of other games via the Android Market too.
Music and Audio
Honeycomb features a new music player designed to make use of a tablets large screen. Open up the app and you're greeted with a carousel of albums to scroll through. There are several songs included from various artists. You can create playlists, shuffle, all the usual audio player functions.
I personally use Pandora Internet Radio all the time. It plays very smoothly on the Motorola Xoom, without cutting out when jumping between apps or using CPU intensive apps. The only problem is that the version from the Android Market won't currently work. I've been using an older version of Pandora and it works fine. I think I got it from Android Freeware.
As far as sound quality, there are two speakers on the back, one on each side, giving good stereo sound. The speakers are fairly loud and have pretty good sound quality. The only problem with the speakers on the back of the device is that sound quality is greatly affected by how the Xoom is situated. Obviously if it's sitting flat or is up against something the sound is muffled.
The volume buttons are rather difficult to use; they are very small and inset. Once you tap one, it pops up an on-screen slider that you can use in lieu of the buttons. There's also a 3.5mm headphone jack.
Camera and Camcorder
The Motorola Xoom's rear-facing 5MP camera takes surprisingly good pictures, and it is accompanied with an LED flash for low-light situations. There are several options to adjust photo settings. There are 12 scene modes, 6 color effects, white balance settings, flash settings, and picture quality, size, and exposure settings. It can zoom in up to 8x.
The 720p video recording is pretty good but isn't great. It doesn't have any zooming capabilities. There are 3 quality settings, 6 color effects, white balance settings, and flash. The videos come out looking a little pixelated at times, with some artifacting. The Xoom also comes with a Movie Studio app to edit your movies.
YouTube and Movies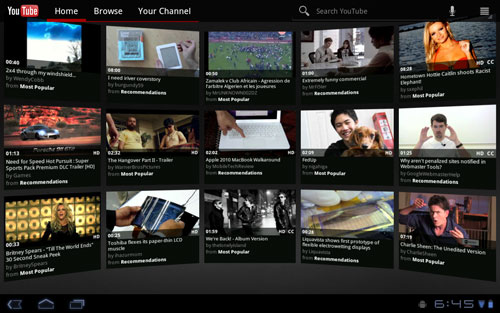 The Youtube app has been completely revamped for Honeycomb and it looks great. It takes advantage of the added screen size, essentially creating a wall of videos that you can scroll through. Once you select a video, the page breaks down into different panes for related videos, comments, and video description. You can share and comment on the videos as usual.
The Xoom's built-in video player is basic but plays HD videos very smoothly. It supports MPEG4 and H.264/H.263 formats; there are other video players via the Android market for other formats. The Xoom also has a mini-HDMI port for connecting to a TV.
Motorola Xoom Review Conclusion
The Motorola Xoom is the first legitimate competitor to the Apple iPad. It can do many of the same things the iPad can do, and a few things the iPad can't. The Xoom doesn't yet have nearly as many apps—high-quality, polished apps especially—that Apple's platform offers, but it is more open and accessible, allows for more customization, and is more user friendly for tasks like transferring ebook, PDF, and other files, although more advanced to learn initially.
No one is going to buy the Motorola Xoom as just an ereader, but when it comes to e-reading, the Xoom does a really good job as far as LCD-based tablets go. The text is sharp and defined, there are dozens of ereading and news apps available, and the battery life will last a good 10 hours for reading, more with the brightness turned down and wireless off.
Playing games, watching video, browsing the web, quickly switching between apps, the widgets, and the general Honeycomb experience are all what make the Xoom really standout. Honeycomb is still a little buggy and suffers from frequent "force closes" for some apps, but overall it is extremely versatile and fun to use.
After testing both the Motorola Xoom and iPad 2, I'm astonished that the Xoom isn't more popular than it is. I think the high price is the main thing holding it back. In all honesty I'd choose the Xoom over the iPad 2 any day of the week, mainly because of the Honeycomb OS, the fact that it's so much easier to transfer files to and from it, the better web browsing experience with full Flash support, and the fact that all my purchased apps will work on a whole plethora of Android devices, not just one specific brand. But there are a lot of factors to consider. Check out my iPad 2 vs Xoom review for a comparison of the two. And my review of the Asus Transformer, a different Honeycomb tablet that is ninety percent the same as the Xoom but costs just $399.
Motorola Xoom Specs
Screen: 10.1" LCD (1280 x 800)
1 GHz dual-core NVIDIA Tegra 2 processor
Storage: 32GB, plus microSD card slot
1 GB of DDR2 RAM memory
Wireless: WiFi, Bluetooth V2.1+EDR support, 3G/4G LTE optional
Android 3.1 Honeycomb operating system
2MP front-facing camera
5MP high-definition rear-facing camera with dual-LED flash, auto-focus, 720p video capture
Stereo speakers, microphone, headphone jack
1080p HDMI output via mini HDMI port
Sensors: G-sensor, Light Sensor, Gyroscope, E-Compass, GPS
Battery life: 8-10 hours typical use
Dimensions: 9.8" x 6.6" x 0.5"
Weight: 25 ounces
Price: $599-$799
More Motorola Xoom Resources