Nook Touch vs Kindle 3 Comparison Review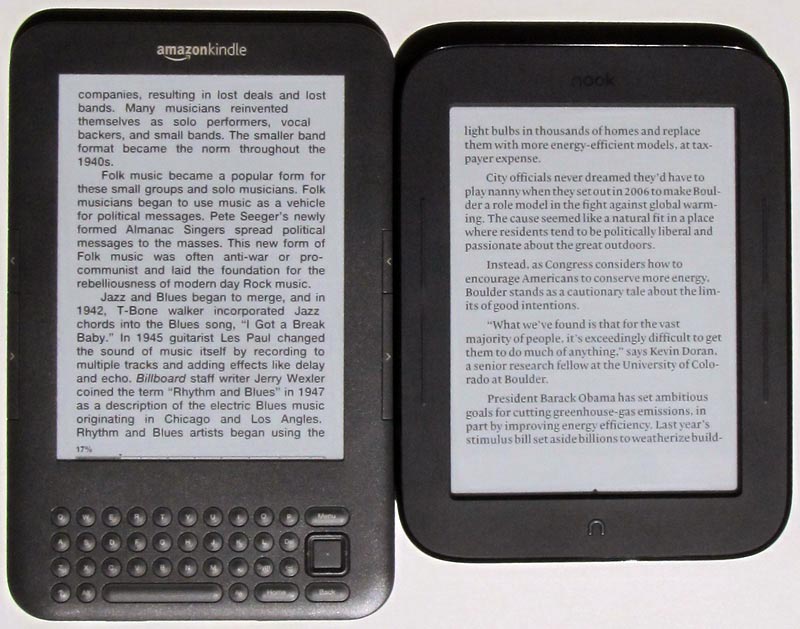 Overview
This Nook Touch vs Kindle 3 comparison review lists the differences and similarities between two of the top dedicated ebook readers for 2011.
Both are great ereaders that have their share of negatives and positives. Choosing one all depends on your perspective, which features are most important for a dedicated e-reading device.
There's also this preliminary Nook Touch vs Kindle 3 review from earlier with a chart comparing their specs and features, along with the new Kobo Touch.
Videos, photos, and more detailed information about both of these devices can be found here: Nook Touch review Kindle 3 review.
Nook Touch vs Kindle 3 Video Comparison
Nook Touch, Kindle 3 Similarities
Both have the same 6" E Ink Pearl display panel.
Both come with WiFi for downloading ebooks and periodical subscriptions directly.
Sharing features for posting to Facebook and Twitter.
Both support DRM-free ebooks, of course.
Archive ebooks (cloud storage).
Adjust line-spacing and margins.
Look up words in the dictionary.
Adjust font type (6 fonts for Nook, 3 fonts for Kindle).
Add notes, highlights, bookmarks to ebooks and periodicals.
Search, bookmarks, jump to page, table of contents.
Both have page-buttons on both sides of the screen.
Both boast long battery lives, ranging from a couple of weeks to 2 months, depending on a number of factors.
Nook Touch vs Kindle 3: Nook Advantages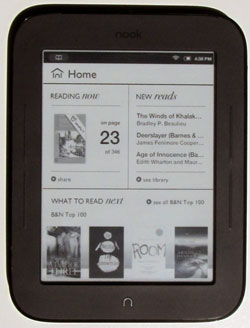 The infrared touchscreen is intuitive and works great.
Faster processor loads ebooks and navigates faster.
Faster page refresh, full-page refresh once every sixth page instead of every page (sometimes this results in ghosting, however).
Quick page scan - holding down the page buttons scans through pages.
Supports the most widely used format: EPUB.
Supports Adobe DRM for EPUB and PDF ebooks purchased from a wide range of ebook stores, not just Barnes and Noble.
Borrow library ebooks for free from local libraries (Kindle is getting this sometime in 2011 but doesn't have it yet).
MicroSD memory card slot for cards up 32GB.
Option to show book covers for ebook library (the Kindle 3 just shows a list).
More sorting options in library.
Change screensaver images.
PDF reflow (PDFs have to be converted to Amazon's AZW format for reflow on the Kindle 3).
LendMe feature makes lending and borrowing ebooks easy from the Nook itself.
Smaller, more compact design.
Weighs about 1 ounce less than Kindle 3.
Price: $139
Nook Touch vs Kindle 3: Kindle Advantages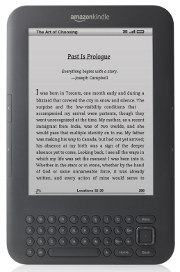 Option for 3G model for free wireless access in 100+ countries - check 3G map.
Basic web browser. (It turns out the Nook Touch has a hidden web browser, but it doesn't work very well).
Allows for downloading free ebooks from websites in supported formats using the web browser.
Text-to-speech - works with most books but not all.
Landscape mode - change screen orientation all 4 ways.
Send ebooks and documents for free to the Kindle 3 over WiFi to the Kindle's free email address.
Built-in speakers.
Supports audiobooks from Audible.com and MP3 audio files.
Popular highlights and notes shows most highlighted sections and notes left by other readers.
Better PDF support: various zoom settings, landscape mode, text darken.
Voice Guide for the vision impaired reads aloud menus, selections, and descriptions.
Kindle 3 available in 170+ countries, Nook only sold in US.
Annotations, bookmarks, highlights are backed up by Amazon and sync with other Kindle devices and software.
Notes are saved as TXT files and are easy to export.
Take screenshots with the Kindle 3.
Built-in microphone (currently inactive).
Comes with 2x more internal memory (4GB vs 2GB).
Various apps and games are available for the Kindle 3.
Price: $114 - $189