Pandigital Novel Review: 9" eReader Tablet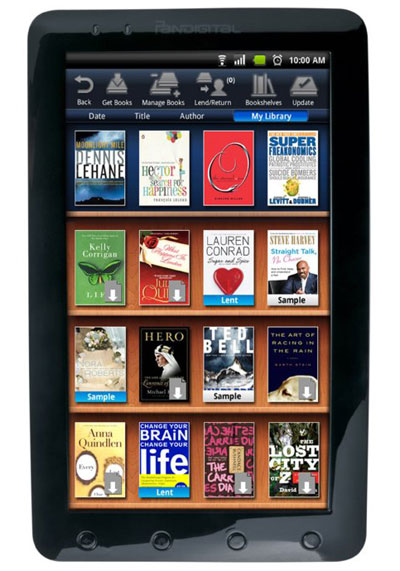 Overview
This Pandigital Novel is the largest of Pandigital's ereaders and Android tablets. It has a 9-inch screen, whereas the other two color models have 7-inch screens.
The 9" Pandigital Novel has a lot of the same features and functions as the 7" models, especially the white model that I reviewed earlier this year. The main difference is the addition of four hardware buttons, the larger display, and improved touchscreen.
Like the other models it can play music, games, video, install Android apps, read ebooks, send and receive email, browse the web, and view photos, comics, and slideshows on the color display, among other things.
Update: Shortly after posting this review, Pandigital announced a 3G version of this 9" model. Unfortunately the 3G only applies to downloads from B&N's ebookstore, but it's free.
Screen and Performance
The screen is the first thing that jumps out about the 9" Pandigital Novel. It's a nice size, especially in landscape mode. But the resolution isn't great at 800 x 480. The icons and text are very large, which suits the lower resolution. Smaller text appears more pixilated.
The touchscreen is resistive. It works quite well. And there's a stylus that slides into the lower corner. But I hardly ever use it; the touchscreen works well enough without it. And with the larger screen using the keyboard is much easier, I've found.
The 9" Pandigital Novel isn't going to win any awards for speed, but its 800MHz processor moves along pretty smoothly between apps, menus, and internet. There is some lag with videos, however, and scrolling with some apps.
Hands-on Pandigital Novel Review
Features and Functions
Since the 9" Pandigital Novel runs Android 2.0 and is open to installing apps, it is more than just an ereader. There are pre-installed apps for email, calendar and day planner, web browser, Facebook, calculator, dictionary, slideshows, playing videos, music, and others.
The Novel does not come with any kind of app store so it can be confusing at first as to where to get apps. I'd suggest visiting the SlideMe website and installing their SAM app, or download the Android apk install files from various websites. If you are more advanced you can install an emulator on your PC, set it up with the Android Market, and extract the apk files (learn more about installing apps).
The Pandigital Novel ties in with Barnes and Noble ebook store for downloading ebooks and periodicals directly to the device via WiFi.
It also supports Adobe EPUB and PDF ebooks purchased from other vendors, free ebooks borrowed from libraries, and can install other ebook reading apps thanks to the Android operating system, including the Aldiko and Amazon Kindle ereading apps, among many others. I have a pack of reading apps set up here for download to help get you started: Android Reading Apps.
For memory it comes with 2GB internal and has an SD card slot for cards up to 32GB. It comes with a 4GB microSD card and SD adapter from QVC, but I picked mine up from Bed Bath and Beyond and it didn't come with a memory card.
The 9" Pandigital Novel as an eReader
Because of all the reading apps and news apps you can install, the 9" Pandigital Novel makes a good ereader if you don't mind reading on an LCD display and aren't bothered by the lower resolution. Certain fonts fair better than others. Sans looks better than serif. And if you really like small font then you might want to pass. It is more suited for large text.
The B&N ereading app that comes with the Novel can read ebooks and periodicals from B&N as well as side-loaded EPUBs and PDFs without DRM. I noticed it would not read some B&N content, such as the Nook Kids books and some magazines I had tested on the Nook Color.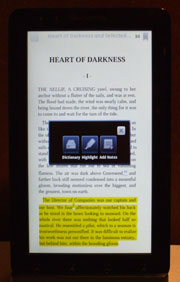 The app allows for adjusting the text size, but doesn't have any settings for margins, line-spacing, etc. There's a table of contents, go to page, night reading mode, bookmarks, and screen orientation lock.
Hold down on-screen to bring up the menu for notes, highlights, and dictionary. Tap hyperlinks to active them. Turn pages by tapping the edge of the screen or by using the forward and back buttons.
PDF file support isn't bad with the larger screen, but it could be a lot better. Landscape mode doesn't work properly, forcing the page to the left half of the screen. There is no zoom, just text re-flow, which works good for text-based PDFs but not for graphs, pictures, etc.
Comics, manga, and other color content looks good with the color screen. Of course there are other apps for PDFs and comics as well.
Web Browsing, eMail, Videos, etc
I'm not going to go into a lot of detail on these subjects because of the multitude of options available via Android apps. The stock apps work fine but you can find better options. For instance, the Android browser that it comes with is okay, but the Dolphin HD browser and Opera Mini browsers are much better.
For email you can either use a browser, use the pre-installed eMail app, or find a new app. Once you set up your email account through the app, you can send and receive emails, and it will notify you when you get new emails.
The Novel's video app supports MP4. I tested various MP4s. They all worked but were running a few frames short. The lag is worse with some videos than others. Same goes for YouTube videos using this YouTube app.
Pandigital Novel Review Conclusion
The timing of this Pandigital Novel review aligns with several recent Android ereader reviews—the PocketBook IQ, Nook Color—and compared to those the 9" Pandigital Novel is very similar and yet very different.
The added screen real estate is nice, but the decreased screen resolution will turn some folks off. It's just one of those things that you need to see in person to know if you'll like it or not.
Other than that I've been fairly impressed with the 9" Pandigital Novel. I haven't had any stability issues. No crashes or freeze-ups. WiFi automatically connects right after turning it on. Web browsing works well. Sleep doesn't seem to have any negative impact on battery life and turns the device on and off in about 1-2 seconds. There's plenty of memory to install apps. The touchscreen is responsive.
Overall the 9" Pandigital Novel is a nice larger-screened Android tablet and ereader for those looking for something in the budget category, but isn't going to cut it for those looking for great screen quality and smooth video play.
9" Pandigital Novel Tech Specs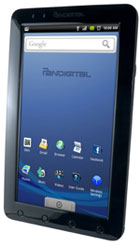 9-inch Digital TFT LCD resistive touchscreen.
800 x 480 pixel resolution.
Android 2.0 operating system.
Stylus and stand included.
G-sensor automatically rotates screen orientation.
Supports PDF, EPUB, MP3, AAC, WAV, JPEG, BMP, PNG, GIF, MPEG4 and other formats via apps.
2 GB memory; SD/SDHC, MMC/MMC+ up to 32GB.
Built-in web browser, calendar, dictionary, email, music and video players.
Battery: estimated 5 - 7 hours.
Wi-Fi 802.11 a/b/g/n.
Dimensions: 5.75" x 9.5" x .05".
Weight: 20.5 oz.
Audio: Headphone jack, speaker.