Nook Color Review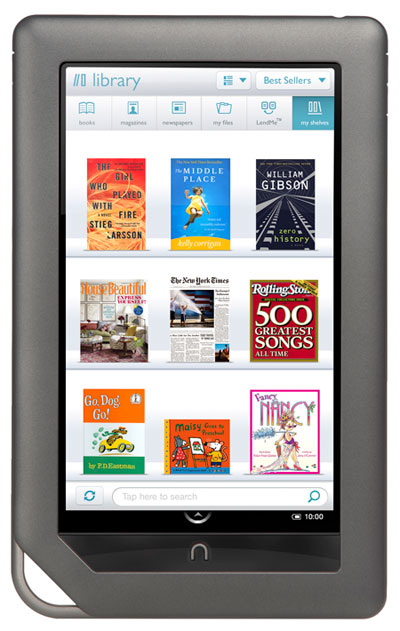 Overview
One year after the release of the original Nook, Barnes and Noble introduced the Nook Color, an ereader designed for reading newspapers, magazines, children's books, cookbooks, and other color content in addition to ebooks.
The Nook Color also doubles as a portable multimedia device capable of browsing the web, playing video, music, games, and a lot more now that Barnes and Noble launched the Nook app store in April 2011.
Update: Barnes and Noble issue a firmware update for the Nook Color that adds some new features, including Android 2.2 with Flash support and the addition of apps via B&N's new app store. Check the updated review for more details, several screenshots, and a video review.
If you like to tinker with how things work, the Nook Color can run custom ROMs and can be hacked to install a number of Android apps, even the Android Market. ROMs are really cool because no rooting or technical work is required. Check out my reviews and tutorials for the Nook Color CM7 ROM and the Nook Color Android 3.0 Honeycomb ROM.
The Touchscreen
The Nook Color definitely lives up to its name with its 7-inch VividView touchscreen from LG that can display more than 16 million colors. Images are exceptionally bright and detailed, especially with magazines that use high-quality photographs like National Geographic. Here's a screenshot.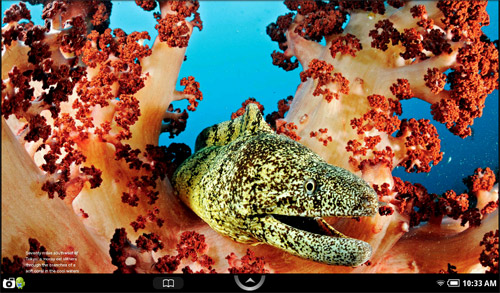 The Nook uses a capacitive touchscreen so you barely have to touch the display for it to react. Scrolling, pinch-to-zoom, highlighting, tapping letters on the keyboard, and navigating through menus all work really well.
They did a good job on the user interface too. Navigating is faster and more intuitive with a touchscreen. The on-screen functions, being able to tap words to look up in the dictionary, adding highlights and notes, are all much more functional than the original Nook.
Like any LCD ereader, the main drawbacks of the screen are that it is reflective, drains battery power, and fingerprints build up. Outside in direct sunlight the screen is highly reflective and fingerprints are much more apparent, but both are much less noticeable indoors with the brightness turned up.
As for battery life, it is rated at about 8 hours for reading, which seems to be pretty accurate with the brightness turned down some. I play games and browse the web a lot so I'm getting more like 6-7ish.
Nook Color Video Walkthrough
Features and Functions
The Nook Color comes with 8GB of internal memory and a microSD card slot for cards up to 32GB, built-in WiFi and a web browser, chess, crosswords, Sodoku, Pandora Internet Radio, and can download ebooks and periodicals from Barnes and Noble's ebook store as well as access free exclusive content by visiting B&N retail stores.
Like the Nook Classic, the new Nook can lend ebooks for a period of 14 days. The Nook Color has a lot to do with social networking too, incorporating a new feature from B&N called NOOKfriends, where you can share passages with friends and family through email and social networking sites, Facebook and Twitter.
The home menu of the Nook Color is reached by pushing the "n" button below the display, the only hardware button save the volume and power keys. The homescreen background image can be changed and you can drag your books around to arrange them however you want.
There are several other ways to organize content too. In the library there are options for different bookshelf layouts, including custom shelves. There are sections for magazines, newspapers, and your side-loaded content, which includes EPUB and PDF ebooks, Microsoft Office files, music, images, and videos.
As you might guess with a full color touchscreen, Barnes and Noble is doing a lot of promoting for newspapers and magazine subscriptions with the Nook Color, as well as the newly-launched Nook Kid's portion of B&N's books. In fact, there's a feature called AliveTouch where kids can interact with words and pictures, and even have books read aloud to them as they follow along.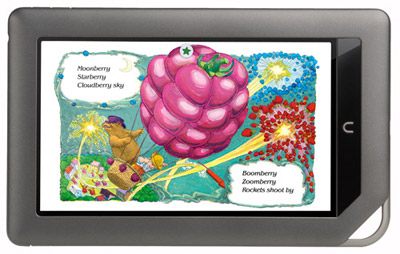 The Reading Experience
Reading ebooks on the Nook Color is a lot different than reading on a monochrome E Ink ereader, there's no doubt about it.
A good comparison would be the difference between reading a newspaper and reading on a computer screen. The backlight helps for reading at night, but hinders when trying to read outdoors in bright light, and so does the reflectivity of the screen.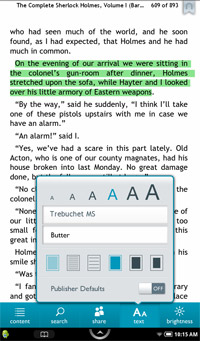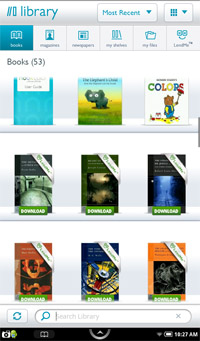 So the reading experience all depends on how and where you read on the Nook Color. Indoors it's really good and outdoors in bright light not so much, but it is readable.
For reading features, the Nook comes with several customizing options. There are 6 text sizes, font types, and color themes to choose from. There are 3 levels of adjustment for margins and line height. There's a brightness adjuster. And an option to turn on and off publisher defaults.
Hold down on a word and a pop-up appears for adding highlights, typing notes with the keyboard, accessing the dictionary, searching online, and sharing passages via email, Twitter, and Facebook.
Other reading features include jumping between chapters and pages using the table of contents and slider bar, searching for words or phrases, and adding bookmarks. There's a pop-up for writing reviews and recommending books that also lists other books written by the author and similar books other customers bought.
For newspaper reading, everything is laid out into sections, which can be navigated by using the TOC. Each section shows a heading and excerpt. Tapping the heading goes to the full article. For features, newspapers have all the same functions as mentioned above for ebooks.
Magazines are a little different. Some operate the same way as newspapers but most are set up like their print counterparts. With these you can zoom in on the images and articles, or choose to read in "Article View", which pops-up a box with nicely formatted text. In addition to the TOC, there's a preview pane that pops up showing thumbnails of each page that you can use to navigate through a magazine.
Overall, I'd say that the Nook Color is the best LCD ereader yet for e-reading simply because of its high quality screen. The colors and text are really solid and defined and you can hardly see the pixels at all on the 1024 x 600 display.
Content
Navigating through B&N's integrated ebook store on the Nook Color is one of its strong points. The touchscreen makes finding what you are looking for easy. There's a browse icon that lists all the categories for quickly moving from different sections of the store. There are different list views and sorting options too.
The Nook Color supports EPUB and PDF ebooks in Adobe DRM so you aren't limited to just Barnes and Noble's ebook store. You can get ebooks from a wide range of ebook stores and even get free ebooks from local libraries using a service called Overdrive.
The Nook also supports DRM-free EPUB and PDF ebooks downloaded from various free ebook websites. You can even use the Nook's web browser to download them.
Microsoft Office Files and PDFs
The Nook Color uses Quickoffice for viewing Microsoft Office files. It cannot edit them. There are options for zooming, search, jump to cell, worksheet, etc.
At this point in time the Nook Color has very basic PDF support. You can zoom in, go to page, change to landscape mode, and fit-to-page and fit-to-width. It does not remember last page read. If you hack the Nook Color you can install other PDF programs such as the free Adobe Reader X app, a fairly decent program for viewing PDFs, no editing or annotation though. Haven't found any free apps with that capability.
Web Browsing and Extras
The installed web browser renders pages nicely but is pretty basic. There are other Android browsers that are a lot more capable, but since the Nook cannot install 3rd party apps without a hack they cannot be used.
With the browser you can download free ebooks from various websites, check email, run searches, get news updates, etc.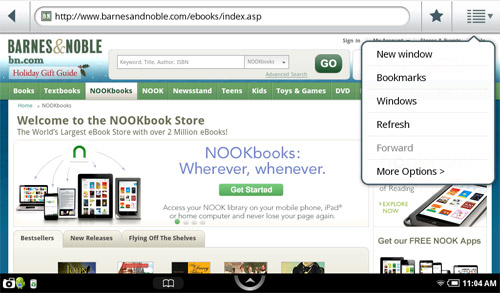 For features, there's a bookmarks menu, history, adjustable text size, find on page, zoom, landscape mode, select text, save/view image, and there's an option to have multiple windows open.
Other Extras include games, importing Google contacts, there's a video player, image viewer, and audio player, in addition to Pandora Internet Radio.
The video player supports MP4 format. The videos I tested where very bright and ran smoothly, unlike the YouTube videos tested, which all seemed to automatically use the low quality setting. Overall, images and HD video look great on the Nook's high quality screen, there's no question, especially if you use Handbrake to set the videos up properly (learn how).
Conclusion
Barnes and Noble has done a lot right with Nook Color—it's solidly made with a metal frame yet isn't uncomfortably heavy, the user interface is smooth and intuitive, the color screen is gorgeous—but that doesn't change the fact that it would be much more versatile with support for 3rd-party Android apps.
If you are looking for something like the iPad that can be used for ereading as well as a multitude of other things, you are not going to get that with the Nook Color off the shelf. Its focus is centered on reading. B&N will be launching an app store for it in Q1 2011, but it remains to be seen what types of apps will be available (it launched; here's my review).
There will certainly be those that choose to run ROMs or hack the Nook to allow it to install all kinds of 3rd-party apps (myself included), but that comes at the risk of voiding the Nook's warranty, and even then it's not a true Android tablet because it lacks a video camera, microphone, etc.
As it stands, the Nook Color is an ereader first and an Android tablet second. Don't expect to get the latter and you'll be happy with what you get more likely than not. And if you do want to use the Nook Color as an Android tablet you have options. I'd suggest starting with ROMs because they are really easy to setup. Here's a video review and how to for setting up the Nook Color with the CM7 ROM (highly recommended) and another review for Android 3.0 Honeycomb on the Nook.
Nook Color Specs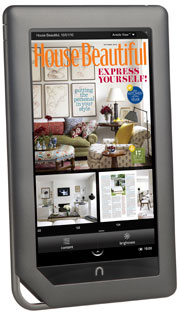 7-inch LCD capacitive touchscreen, 1024 x 600 at 169 PPI
Android 2.1 operating system (Upgrading to 2.2 with Appstore)
ARM Cortex A8 processor
8GB internal memory; microSD card slot for cards up to 32GB
WiFi (802.11 b/g/n)
Web browser
Pandora internet radio
Lend ebooks with B&N's LendMe feature
Audio: AAC and MP3 formats; 3.5mm headphone jack; built-in speaker
Video Player: MP4 format
Image Viewer: JPG, BMP, PNG, and GIF
Supports ePub and PDF formats, both non and Adobe DRM
Quickoffice Software for viewing Microsoft Office files: .xls, .doc, .ppt, .pps, .txt, .docm, .xlsm, .ppsx, .ppsm, .docx, .xlx, .pptx
Games: Crossword Puzzles, Sudoku, Chess, etc
Weight: 15.8 ounces (449 grams)
Dimensions: 8.1 inches x 5 inches x 0.48 inches
Battery: up to 8+ hours