PocketBook 603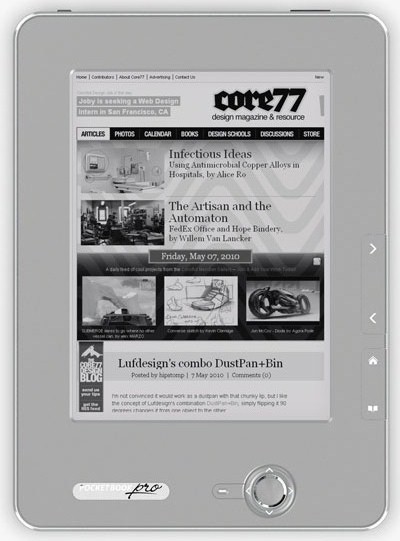 Overview
The PocketBook 603 is PocketBook's premium 6-inch ebook reader and includes a touchscreen and 3G wireless for downloading ebooks, news feeds, periodicals, and for browsing the web with the basic web browser.
The touchscreen is a Wacom Penabled touchscreen that uses a sensor board placed behind the screen to detect the stylus's movements using electromagnetic technology. This ensures that the clarity of the screen is not effected by the touchscreen, but it also means that a special stylus is required for the touch functions to work.
Aside from the 3G wireless and touchscreen, the PocketBook 603 has all the same features and functions as the PocketBook 602 model: WiFi and Bluetooth for connectivity, support for 20 languages, MP3 player, text to speech, notes, bookmarks, highlights, active hyperlinks, apps, support for Adobe DRM, and more.
Please check the hands-on review of the
PocketBook 602
for a look at the main set of features for the PocketBook 603 minus the touchscreen.
PocketBook 603 at IFA
PocketBook 603 Specs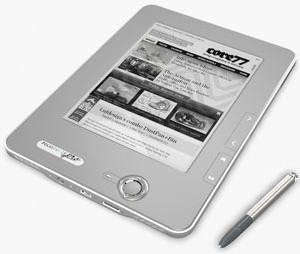 6-inch E Ink Vizplex screen
Wacom Penabled touchscreen
CPU: 533 MHz, 256 MB Ram
Wireless: WiFi (802.11 b/g) + BlueTooth + 3G (still waiting on carrier info)
2GB of internal memory, microSD card slot for cards up to 32GB
Widget apps: games, RSS news reader, calculator, calendar, etc
Notes, highlighting, bookmarks, dictionaries, search
Text to speech
Built-in speakers and 3.5mm headphone jack
MP3 player
G-sensor automatically rotates screen orientation
Battery Life: ?
Dimensions: 182 x 38 x 10.6 mm
Weight: ?
Image formats: JPEG, BMP, PNG, and TIFF
Supported ebook formats: Adobe DRM, EPUB, PDF, HTML, DJVU, RTF, TXT, PRC, CHM, DOC, TCR, FB2, and FB2.ZIP
Research PocketBook's Other eBook Readers »