Idolian TouchTab 10 with Android 4.0 Review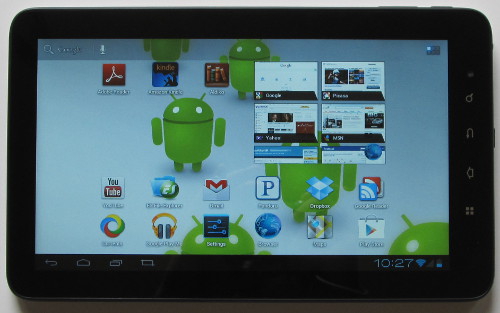 Review Date: June 2012 - Review unit loaned from
Idolian
Overview
The Idolian TouchTab 10 is a 10-inch tablet that originally ran Android 2.3 Gingerbread when it was first released last fall, and then Idolian released an update for Android 4.0 Ice Cream Sandwich back in February—that's what it ships with now.
The TouchTab 10 is one of the least expensive 10-inch tablets on the current market. As of this review, it is selling for $169 from Amazon with free shipping. Most other 10-inch Android 4.0 tablets sell for 2 or 3 times more. The TouchTab 10 doesn't have the high-end specs that those tablets offer, but it does have a fair amount of features for the price. Read on for the details...
Quick Review: Idolian TouchTab 10
Pros
Low price, especially for a 10" screen.
Supports Google apps and comes with access to the Google Play Store.
Lots of ports: full size USB port (host), mini HDMI, microSD card slot, headphone jack, mini USB port, charger port, and micro USB port that comes with an adaptor to connect an Ethernet cable to the tablet.
It doesn't have a dual-core processor like more expensive tablets but the single core processor is surprisingly smooth and zippy for many tasks.
Cons
Flash video is installed but it doesn't work for some reason and Netflix doesn't work either, although Idolian says a fix for Netflix should be available by the end of July.
Video games aren't its strength. Basic games like Angry Birds and Fruit Ninja will work fine but not advanced games or 3D environment type games.
The built-in front-facing camera isn't very good. It's grainy and laggy.
The TouchTab is a little on the thick and heavy side at 0.59" and 1.98 pounds.
Verdict
When I first started testing the Idolian TouchTab 10, I was fairly impressed with it. It runs smooth, the screen is better than expected and the touchscreen works very well, battery life is decent, there are a bunch of ports, and it even comes pre-rooted with Google Play and Superuser installed. It's also good for productivity with the full size USB port you can plug in a keyboard and type documents and spreadsheets with the included full version of OfficeSuite.
After more extensive testing I did start to notice some flaws, however, such as Flash video and Netflix not working, and how most advanced games won't run. Still, the TouchTab 10 is one of the better budget tablets I've tested. If you can get by without streaming video and don't need high-end games, the TouchTab 10 is a good value given how expensive most other 10-inch tablets cost.
Estimated Price: $169 at Amazon
Idolian TouchTab 10 Video Review
Hardware
As mentioned above, the TouchTab 10 comes with a number of ports, more than most high-end tablets even. Aside from the aforementioned connections, it also has a microphone and a couple of built-in speakers on the back. It comes with 8GB of internal storage, 1GB of RAM, and the microSD card slot can handle cards up to 32GB.
Like a lot of budget tablets, the TouchTab 10 uses a single-core 1GHz Cortex A9 processor. Dual-core and quad-core processors found on higher-end tablets are a lot faster and more energy efficient, but for a single-core processor the Cortex A9 isn't bad. It can be laggy at times but for the most part it is smooth enough not to be annoying. Again, it's not going to be able to handle advanced video games and sometimes it can take a few seconds to respond, so if you are the impatient sort you might want to look elsewhere.
Since the TouchTab originally shipped with Android 2.3, it has capacitive touch buttons along one side of the display for search, back, home, and menu. Android 4.0 has on-screen buttons for these so they aren't really needed. I thought I'd be accidentally pressing them all the time, but that turned out to not be much of a problem. Still, it would be nice if there was a setting to disable them to avoid accidental presses.
Along the top edge, there are volume buttons and a button to shoot photos with when using the built-in front-facing camera.
Considering the price, the build quality is pretty good. It's made out of plastic, of course, but it's fairly strong and sturdy. The edges are rounded, making it feel comfortable in-hand, although it is a little on the heavy side and the full-size USB port is nice but it does add some additional thickness, making the TouchTab 10 one of the thicker tablets I've tested.
Screen
The Idolian TouchTab 10 has a 10-inch display with a screen resolution of 1024 x 600. Higher-end tablets like the Asus Transformer and Samsung Galaxy 10 have 1200 x 800 resolution screens, and newer Android tablets like the Acer A700 are starting to have even higher resolution screens with 1920 x 1200 pixels.
Being used to higher resolution 10" screens, I wasn't expecting a lot from the TouchTab's screen, but it's actually not bad. The viewing angles from 3 sides are decent and the capacitive touchscreen works very well, and registers 10-points of touch at once.
The lower resolution does make for more pixelization of finer details, but Idolian has accommodated for this somewhat by scaling up the size of the icons and menus on the TouchTab, making everything appear larger than on the other 10" Android 4.0 tablets mentioned above.
Battery
Battery life is always a tricky thing to estimate because there are so many variables involved. Over on Idolian's own website, the specs for the TouchTab 10 says to expect the battery to last a paltry 4 to 6 hours.
Fortunately they seem to be selling the TouchTab 10 short in that regard because I've been getting better battery life than that. I'd say it's more in the 6 to 8 hour range, maybe even a little more with the brightness turned down and Wi-Fi off.
However, it's hard to judge because the battery meter isn't always as accurate as it should be. In the 90% to 100% range it usually lasts for an hour or more, and then goes down faster after that, and the percentage jumps around erratically sometimes.
I always make a point of testing how much sleep mode drains the battery, and while the TouchTab 10 isn't as bad as some budget tablets like the Coby Kyros, it does drain more than it should. Overnight it will go down like 10% - 20% just sitting doing nothing in sleep mode. High-end tablets will only drain about 0% to 2% being left overnight without shutting them down.
OS and Apps
The TouchTab 10 comes with a farily stable and standard Android 4.0.3 setup. One difference quickly noted is the addition of an easily accessible screenshot button on the menu bar next to the recent apps button.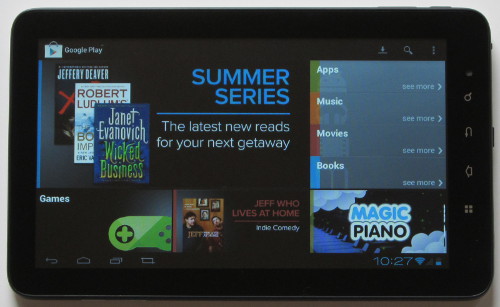 The most interesting detail about the TouchTab's operating system is the fact that it comes pre-rooted. Basically all that means is you have access to system files normally hidden from the user. One reason to do this is to install the Android Market to gets apps from Google's appstore on a tablet that's not officially supported by it.
Luckily, the TouchTab 10 comes with the Android Market pre-installed. Once you sign in and setup it updates to the Play Store, giving you full access to Google's app market and digital media store, which includes the suite of Google apps, like Gmail, YouTube, Maps, Google Reader, Music, Google+, etc. Plus over 400,000 other Android apps.
I did have a couple of apps that would not show up for some reason, though. For one, Wordpress for Android is mysteriously missing from the TouchTab's app selection.
Also, Amazon's appstore installs and works fine if you want to take advantage of their free daily app.
Audio
For audio, the TouchTab 10 doesn't have Bluetooth for streaming to headphones or speakers, but it does have the usual 3.5mm headphone jack and a couple of speakers. The speakers are on the back so they are easily muffled and they are right next to each other. Like most budget tablets, they could stand to be louder and the sound quality isn't very good, but they are serviceable.
Videos and Camera
When it comes to playing videos, the TouchTab provides mixed results. I tried some MP4 and AVI test videos using the MX Video Player app downloaded from the appstore and they played smoothly and worked fine. It also plays HD YouTube videos without a problem, but I never could get Flash video to work or Netflix.
The TouchTab has a mini HDMI port for connecting to a TV. Videos using the video player app work well via HDMI but I had problems getting YouTube to work via HDMI. It keeps superimposing a smaller image of the video box over the full screen video for some reason...
Like virtually all budget tablets these days, the TouchTab comes with a built-in front-facing camera that can shoot video and take snapshots, but mainly it's for video chat. As usual, it can get the job done but it's not very good. And this one seems especially laggy for whatever reason.
Other 10" Android 4.0 Tablets
Idolian TouchTab Specs
10" TFT display
Capacitive touchscreen with multitouch (10 points)
1024 x 600 pixel resolution; 16:9 ratio
8GB storage memory
1GB RAM
MicroSD cards up to 32GB
1 GHz Cortex A9 processor
Built-in speakers, 3.5mm headphone jack, microphone
Front-facing 1.5MP camera
Mini HDMI port
Full size USB port
Mini and Micro USB ports
Comes with adaptor for connecting an Ethernet cable
Wi-Fi 802.11 b/g
Battery: 4 to 8 hours
Size: 9.45" x 7.9" x 0.59"
Weight: 1.98 pounds