IdolPad Plus Review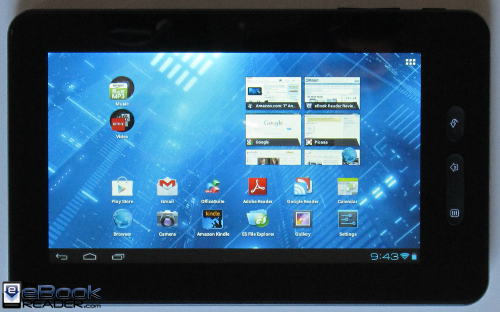 Review Date: July 2012 - Review unit loaned from
Idolian
Overview
The IdolPad Plus is one of the least expensive 7" Android 4.0 tablets on the market, and it packs a surprising amount of features for the price.
I've been testing a lot of cheap 7-inch Android 4.0 tablets this year so I have a pretty good idea of what to expect. Most don't have the Google Play store for apps and few have HDMI ports and USB host. So it's kind of surprising to see all three on what is being marketed as the cheapest Android 4.0 tablet of all. But is the cheap price indicative of the quality of the device? Read on for the details...
Quick Review: IdolPad Plus
Pros
Costs less than $90.
Operating system is smooth and zippy, and it even comes with access to Google Play for lots and lots of Android apps.
Surprisingly good build quality, feels solid and sturdy and is comfortable to hold.
Mini HDMI port and USB host work well, plus it comes with a full-size USB adaptor.
Cons
Battery life is poor, about 3 to 4 hours. Plus it drains battery in sleep mode.
Confusing to setup at first with the Google Play Store app hidden by default.
Power button often has to be pressed twice to turn it on out of sleep mode. And sometimes it won't turn on without holding the power button for a long time or the power button and volume down key together.
Verdict
If it wasn't for the meager battery life I would highly recommend this tablet over similar sub-$140 Android 4.0 tablets. It has a nice design, runs well, and comes with a solid set of features for the price. In fact, it's the best budget 7" Android tablet I've tested to date.
But the battery life is a killer. High-end tablets will get anywhere from 8 to 10 hours, mid-range tablets from 6 to 8 hours, and most budget tablets will at least get in the 5 to 6 range. But 3 to 4 hours is pretty tough for a portable media device. If you can get by with that, it's a surprisingly good little tablet for the money, especially when paired with a keyboard case.
Estimated Price: $89 at Amazon
IdolPad Plus Video Review
Hardware
The IdolPad Plus is a 7-inch tablet with a 1.2 GHz Cortex A8 processor, microSD card slot, front-facing camera, mini HDMI port, WiFi, and a mini USB port with a full size USB adapter cable included.
It has 4GB of internal storage with 512MB of RAM. There are buttons on the front for home, back, and menu, along with volume buttons and a power button along the top edge.
It has USB OTG (host) that works great for connecting a keyboard, mouse, or external storage, and I even tested the full size USB adaptor with a wireless keyboard and mouse combo and both worked well together.
I was curious to see if the accelerometer worked better than the one on the Idolian TouchTab 10 and it does, with no problem going in all directions instead of just two. So that means a wider range of video games will work. In fact, I got a lot more games to work on the IdolPad Plus than on the TouchTab 10, including Temple Run, My Paper Plane 2, and Samurai vs Zombies.
It also has a nice sleek design and feels surprisingly solid and sturdy—it doesn't have any give or make any creaking noise when twisting the frame, and it's a light 11.2 ounces.
The camera is centered over the screen instead of off to the side, which makes more sense for video chat. As you would expect with a budget tablet, the camera isn't very good and takes terrible photos; it's meant video chat and not much else.
The IdolPad Plus doesn't have Bluetooth, but it does have the usual 3.5mm headphone jack and a speaker on the back, as well as a microphone. Like most tablets, the speaker is easily muffled and the sound quality isn't the greatest, but at least it's loud enough to hear a movie without having to plug in headphones. Barely.
Screen
The IdolPad Plus has a 800 x 480 resolution screen that measures 7 inches diagonally. The quality is a little better than some other budget tablets I've tested; the screen is clearer and lacks the weird glittery quality that annoyed me about the Coby Kyros tablet.
HD movies look great and colors are bright, but text is more pixilated that on you're going to find on more expensive tablets like the Kindle Fire that has a 1024 x 600 screen or the Google Nexus 7 with its high resolution 1280 x 800 screen.
When holding in landscape mode, the viewing angles are good to the left, right, and top, but the screen gets really off-colored when viewing from the lower angle.
The 5 point capacitive screen is responsive and generally works well, although I do have problems along the top edge sometimes getting the small tabs on the web browser to close.
Battery
This certainly isn't the kind of tablet that's can be used all day without charging. With typical use—installing apps, browsing the web, watching videos, playing some games—I was only able to get about 3 to 4 hours per charge. If you turn WiFi off and the brightness down you might be able to milk upwards of 5 hours out of the battery for reading.
To compound matters, the battery meter makes it seem like battery life is even worse because it isn't very precise. It will decrease rapidly at first and then the rate at which the percentage drops slows down once it gets below 50% or so.
I did a test running Netflix and the battery dropped from 100% to 80% in just fifteen minutes. Over the next 45 minutes it went from 80% to 45%. And then it only went down 10% over the next thirty minutes. Once it hit 20% it stayed there for a long time and then started to go down much slower.
The IdolPad eventually turned itself off with a fully depleted battery after 3 hours and 40 minutes of streaming Netflix with the speaker at full blast and the screen brightness at 50%.
On the bright side, it comes with an AC charger and can be used while plugged in. Keep it handy because you'll need it often.
Android 4.0 and Apps
The IdolPad Plus has the latest version of Ice Cream Sandwich installed, version 4.0.4. It has a custom wallpaper pre-installed that sets it apart from other tablets that all ship with the same stock set of wallpapers.
One of the main things that sets the IdolPad Plus apart from similar budget tablets is that it supports Google's apps and Google Play Store out of the box. But as I wrote about before in the IdolPad getting started post, it's confusing at first because the apps are hidden and you have to go into settings to enable Google apps to show up. Once that's done it's good to go.
The Gmail app is pre-installed. The other Google apps have to be downloaded from the Play Store, but most show up: Google+, Maps, Music, Movies, Play Books, Currents, Google Reader, Voice, YouTube, and others.
One in interesting detail about the IdolPad Plus is that it doesn't come pre-rooted like it's larger cousin, the TouchTab 10, that I reviewed last month. But rooting it probably isn't very difficult and since Google apps work anyway that's not going to matter for most people.
I noticed that a fairly good number of apps appear in Google Play on the IdolPad Plus, but for some reason not everything shows up. In some cases I was able to find missing apps at alternate appstores that installed and worked without a problem. Amazon's appstore works too so you can get their free daily app.
Speaking of Amazon, the Kindle app works well on the IdolPad Plus and so does pretty much any other reading app.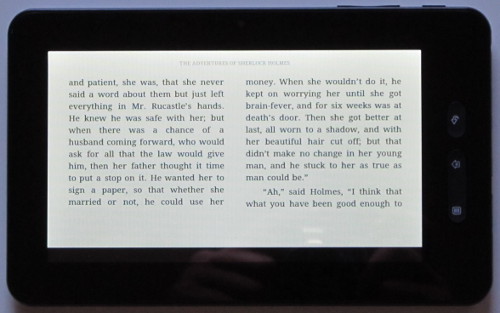 Videos
Since Netflix didn't work on the Idolian TouchTab 10 that I reviewed last month, I was curious to see if it worked on this tablet, and it does.
Videos are smooth and look great. So do HD YouTube videos and other movies. It comes with Adobe Flash too and it works (well, about as good as Flash usually works on Android anyway, which isn't great).
The mini HDMI port works as advertised for connecting to a TV or monitor. The transferred picture looks good and the connection is solid unlike the wobbly one on a lot of other cheap tablets.
Other 7" Android 4.0 Tablets
IdolPad Plus Specs
7" TFT display
Capacitive touchscreen with multitouch (5 points)
800 x 480 pixel resolution
4GB storage memory
512MB DDR3 RAM
OpenGL 2.0 3D graphics
MicroSD cards up to 32GB
1.2 GHz Cortex A8 processor
Built-in speaker, 3.5mm headphone jack, microphone, g-sensor
Front-facing 0.3MP camera
Mini HDMI port
Full size USB port
Mini USB port with USB OTG (host)
Comes with micro USB to full size USB adaptor
Wi-Fi 802.11 b/g
Battery: 3 to 4 hours, 2800mAh
Size: 7.75" x 4.9" x 0.56"
Weight: 11.2 ounces
Estimated Price: $89 at Amazon