Fujitsu FLEPia Preview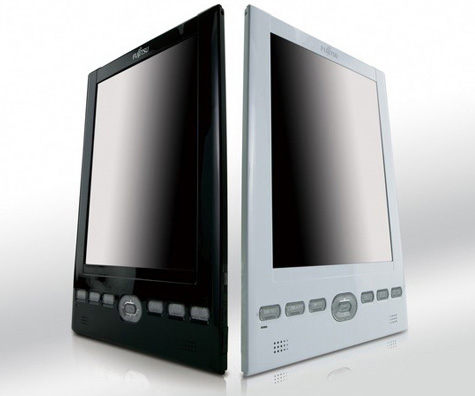 Overview
The Fujitsu FLEPia is the first ebook reader to feature color electronic paper. It first launched in April 2007 but was only available as part of corporate field trials.
After working through several improvements, it became available for consumer purchase in Japan on March 18th, 2009. Whether or not Fujitsu plans to expand sales to other countries is yet unknown.
Weighing 385 grams, it has an 8-inch screen capable of showing 260,000 colors in high-definition. To increase re-draw speed, the color setting is adjustable to three levels, down to 64.
Page refresh is considerably slower with color. With the setting on 64, it takes about 1.8 seconds to re-draw the screen, and 8 seconds at the highest setting.
Video Preview
More Details
Even though the display is color, the same principals of e ink apply; no battery energy is required while text and images are displayed on the screen. However, it does require much more power than traditional ebook readers. A battery charge lasts approximately 2400 pages on the lowest color setting.
FLEPia has a lot of navigational features: touchscreen, digital stylus, scroll key, and six buttons. It operates using Windows CE5.0 (Japanese version), allowing for internet browsing and emailing, as well as offering Microsoft Office compatibility.
Other features include: SD memory card slot up to 4 GB; USB 2.0; built-in stereo speakers and headphone jack. Also, the device comes equipped with wireless LAN and Bluetooth.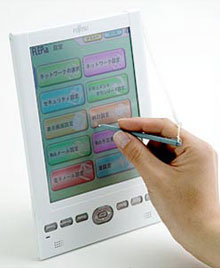 In Japan, FLEPia is sold from the Fujitsu Frontech's online store. Through a partnership, customers have the option to download ebooks from the largest online ebook retailer in Japan, directly to the device.
It supports the two major Japanese ebook formats: BunkoViewer (XMDF), and T-Time (.book).
As you would expect, the price tag is pretty high, about 99,750 Yen or $1000, but it does come with a USB cable (mini-B connector), AC adapter, stand, and wrist strap.
According to the press release, Fujitsu's sales target in Japan is 50,000 units by the end of 2010; sales figures to date are unknown.
For additional information on this ebook reader, visit Fujitsu Frontech for an English translation of the Japanese press release.
More eReader Reviews