Icarus Excel Review (Onyx M92)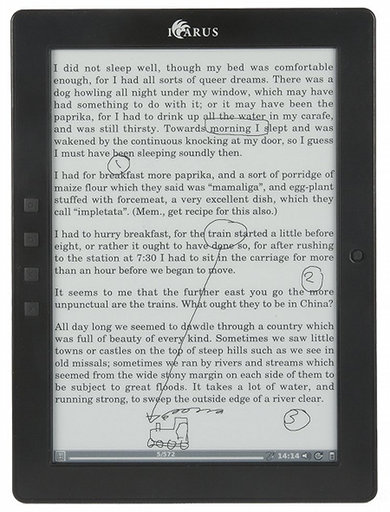 Review Date: July 2012 - Review unit loaned from
Icarus
Overview
The Icarus Excel is one of a few E Ink ebook readers with a 9.7" display. These larger-screen ebook readers are much better for reading PDF files than smaller ereaders with 6" screens. They are also better for people with vision problems given the screen size and huge font options.
Icarus is based in the Netherlands and sells the Excel for €349 in Europe. The Icarus Excel is also available in the US through Amazon.com for $349. The Excel is actually a re-branded Onyx M92, so this review applies to it too since they are both about 95% the same.
Icarus Excel Quick Review
Pros
9.7-inch E Ink Pearl screen looks great, especially in bright light. Fonts are crisp and dark on the 1200 x 825 pixel resolution screen.
Good for PDFs with lots of zooming options and on-screen handwritten notes.
Tons of software features, including text-to-speech, folder navigation, screen rotation, table of contents support, dictionary lookup, partial refresh settings, custom fonts, plus multiple ereading programs are installed.
I like how you don't need to use the stylus for most things; the nav controller to the right of the screen can handle most everything but on-screen notes.
Cons
In some instances it can be slow to load and to turn pages.
Rather expensive when compared with tablets for the features you get.
Wacom touchscreen is slow to react at times and doesn't always register taps, plus it requires the use of a special stylus that is small and very easy to misplace.
Verdict
If you need a large E Ink ebook reader, the Icarus Excel/Onyx M92 is the device to get. There's no question it is a better buy than the Kindle DX, which Amazon has seemingly abandoned. And there really isn't any better options for a 9.7" ereader. PocketBook's large ereaders are comparable to the Excel in many ways, but PB is still using the older Vizplex screens with less contrast. The JetBook Color has a color E Ink screen but it costs a lot more and the software is inferior. The Icarus Excel has the most balanced price to features ratio as far as 9.7" ereaders are concerned.
Something like this is a specialty item that's not going to make sense for everyone, however. For a lot of people a tablet is going to be a more economical and overall useful option. The Asus Transformer TF300 often hits the same $350 price point as the Excel, and is vastly more advanced in every way and can do many more things. But for those of you that want the benefit of E Ink over LCD—readable in bright light, less eye strain, much better battery life—the Icarus Excel provides an adequate alternative to tablets with LCD screens for reading ebooks and especially PDFs.
Estimated Price: $349 at Amazon and €349 at Icarus
Icarus Excel Video Review
Hardware and Design
Aside from the E Ink Pearl screen that is great for reading and the Wacom touchscreen that is nice for taking on-screen notes, there really isn't anything special about the Icarus Excel's hardware. It's fairly average actually.
The frame is plastic and while it feels pretty sturdy it does make slight creaking noises when handling the device, and the plastic finish is prone to showing fingerprints and smudges and scratches. The device is more suited for being in a cover anyway so I guess that's not a big deal.
There are four buttons on the left side of the screen. Two are page turn buttons, one is a back button, and the other is a menu button that for some strange reason has a home icon on it. There are volume buttons and a power button on the bottom edge and a nav wheel on the right side of the screen that moves the cursor and makes selections. It also changes text size on the fly and turns pages when reading ebooks.
There's a speaker on the back of the device that sounds pretty crackly. Luckily there's also a 3.5mm headphone jack for plugging in headphones.
For storage the Icarus Excel comes with 4GB of internal memory and it also has a memory card slot for regular size SD cards up to 32GBs. It has a i.MX508 800MHz processor and 256MB RAM memory.
The strange thing is the $79 Kindle 4 has the same processor and is much faster loading the same PDFs and turning pages. I loaded the same 90MB PDF into both devices and the Kindle can open it in about 2 seconds and turn pages in less than one second. The Excel takes about 4-5 seconds to load it and 2-3 seconds to turn pages. Not all PDFs take that long to turn pages, but the Excel is still slower than its smaller cousins in most cases.
Software Features
The best thing about the Icarus Excel is its software. It puts all the well-known E Ink ereaders available in the US to shame. It runs multiple ereading programs, including FBReader, Cool Reader, and the regular Adobe reader for DRM'd content. PDFs have tons of zooming options and the software is loaded with features.
It has text to speech, with multiple voices and speed settings, on-screen handwritten notes, which can be exported, there's an on-screen keyboard for typing notes, a music player, built-in dictionary (StarDict), folder navigation, bookmarks, table of contents, active hyperlinks, search function, go to page, adjustable font types and sizes—basically the works.
Not all programs have the same features, however. The regular EPUB Reader for DRM'd content is more vanilla. It doesn't have adjustable font types or margins or line spacing.
Cool Reader has the most options. FBReader has a lot too. Both are really good reading applications but neither can display ebooks with DRM.
You can set which program will open a particular file type under preferred applications in the settings menu.
In addition to EPUB and PDF, the Icarus Excel supports a bunch of other file types too (listed at the bottom of this page).
What's nice is that all your content can be organized into folders, even with multiple levels, and the software allows you to do simple things a lot of ereaders fail to include, such as renaming files and moving and deleting them.
Other software features include applications for a calculator, calendar, notepad, scribble pad, web browser, and there are a couple of games, Gomoku and Sudoku.
PDF Zooming Options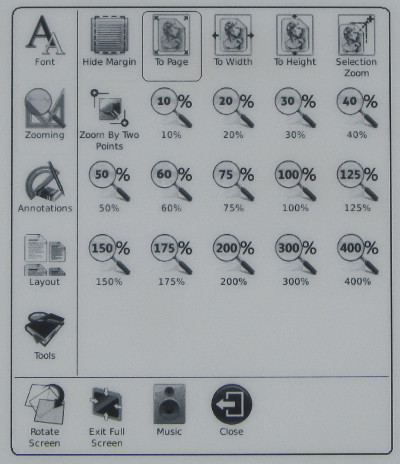 The zooming options for PDFs give the user a lot of flexibility. There are a bunch of pre-set zoom levels, plus margin crop, fit to width, fit to page, fit to height, and landscape mode. But the best two zooming options are by selection where you drag a box on-screen to the exact size you want to zoom in and there's also the option to zoom by two points, where you select two points on the screen to specify exactly where you want to zoom in.
The only real negative I can find with the various zooming options is that there isn't a column mode like with PocketBook's ereaders and the Sony Readers, which both will go from the bottom left corner of a page to the upper right for the next column, whereas the Icarus Excel just continues to page down, requiring one to manually use the stylus or the nav controller to pan to the top right for the next column.
Comics
Comics display well on the large screen but I wouldn't recommend the Excel as a comic reader unless they are PDFs. I loaded up a 90MB CBR and it displays okay but a) when you close the file the device forgets what page you were on, always starting you back at page 1 and b) there aren't many zooming options for CBR files. Plus page turns are pretty slow, sometimes as long as 5 seconds.
Web Browser and Internet
As mentioned in the video review, I had trouble getting the Icarus Excel to connect to my home network for some reason. After entering the password it just kept saying connecting and nothing ever happened.
Then I tried connecting it to my T Mobile WiFi hotspot and WiFi connected without a problem in a few seconds. I loaded some web pages on Wikipedia and ran some Google searches (once I figured out you have to manually launch the keyboard by pressing the icon at the bottom of the screen) and the browser actually works fairly well, slow like any E Ink ereader but well enough to use occasionally.
It even passed the ebook download test. I was able to go to Feedbooks.com with the browser and download an ebook without a problem. The ebook automatically gets saved in a downloads folder and the Icarus even asks immediately after downloading the ebook if you want to open it and start reading.
The bottom line is you aren't going to be able to do any heavy web browsing with an E Ink ereader unless you have the patience of a saint—tablets provide for a much more pleasant web browsing experience—but it's good enough for downloading ebooks from various places and getting news updates and referencing Wikipedia if need be, and that's all you need from an E Ink web browser really.
Screen Comparisons
Here are some comparison shots between the Icarus Excel and the Apple iPad 3 with the brightness turned all the way up. E Ink has the advantage in bright light and LCD has the advantage in low light. There's also a couple of pictures comparing the size difference between the Excel and the 6-inch Kindle 4.
Icarus Excel Specs
9.7" E Ink Pearl Display with 1200 x 825 pixel resolution and 16 shades of grey
Wacom touchscreen (comes with special digitized stylus)
4GB storage memory
SD cards up to 32GB
Built-in speaker, 3.5mm headphone jack, microphone
Mini USB port
Wi-Fi
Battery: 8000 page turns, 1600mAh
Size: 241 x 178 x 11mm
Weight: 528 grams
Supported Languages: English, German, Dutch, Polish, Spanish
Supported formats: EPUB, PDF, FB2, MOBI, PRC, TXT, RTF, HTML, HTM, CHM, PDB, DJVU, DJV, DOC, DOCX, XLS, XLSX, PPT, PPTX, ZIP, MP3, WMV, JPG, BMP, GIF, PNG, TIFF