Kindle Fire HD Review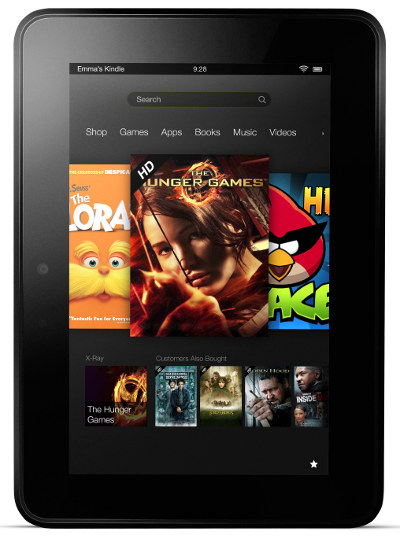 Review Date: October 2012 - Review unit purchased from Amazon
Overview
Amazon looks to replicate the success they had with the original Kindle Fire from last year by releasing two new HD models, a 7-inch version and an 8.9-inch version, both in various sizes and configurations. This review focuses on the 7" model, but can be applied to the larger model as well. Aside from the size difference they are basically the exact same.
The 7" Kindle Fire HD comes with two options for memory, 16GB and 32GB. The 16GB model sells for $199 and the 32GB model sells for $249. Both include lock screen advertisements at that price, and it's worth noting that neither come with a wall charger, which costs $10 extra.
40 Tips and Tricks for Kindle Fire HD »
Quick Review: 7" Kindle Fire HD
Pros
The high quality screen. Text is very clear and sharp. Colors are bright and accurate.
Very good value for the price in terms of hardware and specs. Plus the build quality is solid and the device is comfortable to hold in both portrait and landscape mode.
Dual speakers are the loudest of any tablet yet, and sound fairly decent.
Can sideload apps, movies, music, ebooks, and other content obtained from outside Amazon's ecosystem, including competing ePub ereading apps.
New ebook features include text-to-speech, audiobook syncing with ebooks, and X-Ray.
Cons
Locked into Amazon's user interface, which is a lot more limiting than traditional Android tablets—no widgets, no folders, no recent apps list, no customization, no wallpapers, etc. Plus the homescreen carousel is rather ugly and is minimally useful.
The device is designed to be more of a content consuming device than a content creation device; all aspects of the Kindle Fire HD are designed to funnel users to Amazon to buy more stuff. Combine that with the complete lack of customizing options and it feels more like it's Amazon's tablet than your own.
Hidden costs. The Kindle Fire HD doesn't come with a wall charger, which costs $10 more. By default all Kindle Fires now come with advertisements on the lock screen, called Special Offers. It costs another $15 to remove them.
Verdict
The Kindle Fire HD is almost exactly the same as last year's Kindle Fire from a software standpoint, which is somewhat disappointing since it is so limited and locked-down, but Amazon did a great job of improving the hardware side of things.
They somehow managed to add a camera, a faster 1.2GHz processor, a much nicer high resolution screen, physical volume buttons, a micro HDMI port, microphone, Bluetooth, double the storage space, and a dual band WiFi antenna. All that while maintaining the same $199 price point. That's not a bad set of improvements.
The bottom line is this: Amazon's software is somewhat limiting and the interface is entirely Amazon-focused, but you are going to be hard-pressed to find a better 7" tablet for the price. The Google Nexus 7 is going to be the Kindle Fire HD's biggest competitor. Check my Kindle Fire HD vs Nexus 7 review for a breakdown of the two.
Estimated Price: $199 - $249 at Amazon
Kindle Fire HD Video Review + Tips & Tricks
The Screen
The screen is definitely the Kindle Fire HD's best feature. The viewing angles are incredible and colors are very bright and text is extraordinarily crisp and clear, making it superb for ereading. It has a 10-point capacitive touchscreen that is very smooth and highly responsive.
Like the Google Nexus 7, it is among the first wave of 7-inch tablets to use a higher resolution 1280 x 800 screen. Most other 7-inch tablets use lower resolution 1024 x 600 or even worse 800 x 480 screens (the Nook HD is the only tablet to use an even higher resolution screen than the KFHD).
The increase in pixel density makes text a lot crisper and sharper. This is most noticeable with the HD Kindle next to the old Kindle Fire, which makes text looks fuzzy and pale by comparison. Plus the slight difference in aspect ratio makes the HD Kindle's screen about an eight of an inch wider and an eight of an inch shorter than last year's Fire.
According to a report by DisplayMate, the Kindle Fire HD's screen is one of the best out there and is almost as good as the new iPad. They say it has better picture quality and color accuracy than most HDTVs, laptops, and monitors, and that it has the highest measured Contrast Rating for High Ambient Light of any tablet that they've tested.
The Kindle Fire HD as an eReader
Last year I was a little disappointed with the Kindle Fire as an ereader because Amazon didn't include any features to separate it from the regular Kindle for Android app that can be installed on just about any Android tablet or phone. Plus it lacked common features the E Ink Kindles have always had.
This time around Amazon did add some new features to the Kindle Fire HD's reading app, most notably text-to-speech to read ebooks aloud. The voice is actually quite pleasant, one of the better text-to-speech voices. It's a female voice and you can adjust the speed of reading with six different settings.
Amazon also integrated audiobooks and ebooks with their new Whispersync for Voice feature. In fact there's a promotion where Amazon is offering 22 free audiobooks and ebooks to test this new feature out, and you don't even need a Kindle Fire, just a Kindle reading app.
When you have both the audiobook and ebook on the Kindle Fire HD, it will play the audiobook instead of using text-to-speech, and it will highlight the words in the ebook as it reads, a good learning tool for young children. If a book has an audiobook available, the first few chapters of the book will use the audiobook to read aloud as a sample instead of using the TTS voice.
As far as ereading features go, the Kindle Fire HD offers notes, highlights, bookmarks, X-Ray to learn more about the book, sharing via Facebook and Twitter, syncing last page read and annotations across multiple devices and apps, search, dictionary look-up, and portrait and landscape mode. Navigating has gotten streamlined now too with a generated table of contents instead of using the one at the begininng of a book.
You can also adjust the margins and choose between three background colors, white, sepia, and black. But the line spacing options have been removed for some reason, so that is no longer adjustable. There are ten font sizes and six font styles, Georgia, Caecilia, Palantino, Baskerville, Helvetica, and Lucida.
Unfortunately the organizing and library aspects haven't changed at all. There are still no folders or collections of any kind, just a long list of titles both in the cloud and on the device that can be sorted by author, title, and most recent. There's still no way to look up a book's description or rating aside from manually searching for it in the Kindle Store.
The Kindle reading app supports PDF and MOBI formats in addition to Amazon's Kindle formats. In order to get sideloaded and ebooks/PDFs downloaded with the web browser or email to appear in the documents list and thus the homescreen, you need to use a file explorer app to move the ebook from the downloads folder to the documents folder.
Tip: How to Take Screenshots »
Newsstand
The Kindle Fire HD has a section called Newsstand for newspapers and magazines. Some are exactly like their print counterparts, and offer viewing in "Page View" or "Text View".
In page view you can tap or pinch to zoom in. Tapping the center of the screen brings up thumbnails to quickly scan through the pages. In text view, the articles get formatted to look just like ebooks and include a picture at the beginning of each article and the usual text adjusting options.
Other periodicals are formatted more like an ebook, with the regular set of features for adjusting the font and layout, but there's no text-to-speech or annotations. These have a table of contents at the beginning that shows a list of articles that are broken down into separate sections and categories.
In some cases periodicals are available in the form of an app instead of a specific downloadable title or subscription.
Other eReading Apps
One of the good things about the Kindle Fire HD is the fact that it isn't totally locked down to Amazon's ecosystem. It supports sideloading apps so you can get by with installing other ereading apps, news apps, comic apps, and RSS readers such as the Nook and Kobo for Android apps, Aldiko, FBReader, and plenty others. Here's a list of ePub ereading apps that work on the Kindle Fire.
Android Apps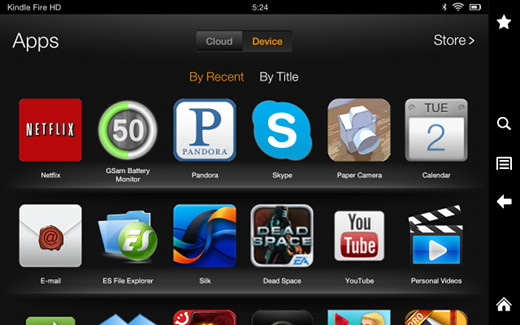 The Kindle Fire HD can install Android apps from the built-in Amazon appstore as well as third-party alternate appstores. In order to install Android apps from outside the Amazon appstore you have to go to settings, then device, and then turn on allow installation of applications from unknown sources.
Some sideload examples that work include Google Maps, YouTube, Aldiko, Nook, Dolphin browser, Dropbox, OverDrive, Adobe Flash, and plenty others (links for many of those can be found in the Kindle Fire HD Tips and Tricks article).
Amazon's appstore is continuing to grow all the time so they have a fairly healthy selection of Android apps to choose from. As of this review there are 53,220 apps. That's over 30,000 more than this time last year. But it still pales in comparison to Google's 600,000+ Android apps in the Google Play store. The only way to get access to those is to root the Kindle Fire HD, which voids the warranty.
Not all the apps from Amazon's appstore are compatible with the Kindle Fire HD. For some annoying reason Amazon hides certain apps so you can't install them, such as competing ereading apps and alternate web browsers. Luckily you can sideload most apps from other appstores and they work fine. Here's a list of alternate web browsers
Unfortunately Amazon isn't letting users install alternate homescreen launchers this time around like with the original Kindle Fire and Go Launcher to get rid of Amazon's homescreen carrousel. There are a few exceptions but none are ideal. ADW Launcher EX works the best but it's a paid app that isn't easy to get onto the Kindle Fire.
Favorites
One of the changes to the UI is the addition of a favorites menu that is accessible at all times from the menu bar. You can add individual apps to the list, as well as specific ebook titles and web pages. By holding down and dragging an icon you can organize the favorites menu any way you want. It can also work as sort of a quasi version of a recent apps list.
Games
Like the original, the Kindle Fire HD makes for a good gaming tablet, especially since Amazon gives away more games than anything else with the free daily app. Not to mention the fact that Amazon has over 13,000 games in their appstore.
Android, however, has a distinct lack of high-end games, even in the Google Play store. And Amazon has even less. I was able to install Dead Space and it runs smooth as butter and looks absolutely great on the high resolution screen, even though now it's listed as incompatible with the Kindle Fire HD (rubbish!).
That's not the only instance either. It seems that most of the Kindle Fire games I purchased for the original are listed as incompatible with the HD. Makes me want to never buy a Kindle Fire specific app again.
Audio and Bluetooth
The Kindle Fire HD makes for a solid audio player. You can stream all your music from Amazon or download it locally. And you can even upload your entire existing music collection using Amazon's Cloud Player. The first 5GB of free space is free, and then plans start at $20 per year for 20GB.
There are a number of other options for music too, with apps like Slacker Radio, Pandora Internet Radio, Sky.FM, and TuneIn Radio available in the Amazon appstore.
The Kindle Fire HD has some of the best speakers of any tablet, which really isn't saying much. They are loud, but there's not much bass and the tone is rather muddy. There's a 3.5mm headphone jack for plugging in headphones or external speakers. Plus the Kindle Fire HD has Bluetooth.
I use Bluetooth headphones all the time while writing to drown out the noises of the world, and Bluetooth headphones do work on the Kindle Fire HD. Sometimes they work great but other times it doesn't matter what app I'm using, sound drops for a second off and on, making it too annoying to use.
Also, some tablets can be a little out of sync with audio when watching a movie; that's not the case with this tablet. It does, however, annoyingly require you to go into Bluetooth settings to connect a device after it's been shut off, instead of reconnecting automatically like most other tablets.
I've heard that Bluetooth keyboards work well too, but I don't have one to test.
Camera
The Kindle Fire HD has a front-facing camera of average quality that is intended solely for use with video chat via Skype. In fact, other than Skype, there is no way to access the camera at all with the default setup. You can install apps from the Amazon appstore, such as Picshop Lite, that open the camera app in a roundabout way, but there's no specific camera app accessible from the Fire HD's app list.
The app exists, it's just hidden. The best way to get to it is to use a free app called ES File Explorer to open the camera app. With that you can use the camera for still shots, panoramic shots, and you can even record videos, albeit in poor UFO-sighting quality.
Videos and HDMI
I'm not going to get very in depth with regards to video on the Kindle Fire HD because there are plenty of other reviews out there that do that. Mostly I just watch Netflix and a few Amazon videos, both of which, as you would expect, work quite well.
The micro HDMI port also works well for connecting to a TV to watch movies on a bigger screen. And cables are cheap; the one I'm using cost less than $3.
The one thing I don't like about the HDMI setup, however, is the Kindle Fire HD's screen doesn't turn off when streaming to a TV, which needlessly wastes battery power.
Hulu+ and HBO GO are available for the Kindle Fire HD in the Amazon appstore. The YouTube app works too, even in HD, if you sideload the app, just don't try to login because there is no Google account compatibility without rooting first.
The Kindle Fire HD officially doesn't support Adobe Flash, but you can sideload that too and it works, as long you use a flash-supporting web browser such as Dolphin. The links are in the aforementioned tips and tricks post, number 19.
Who Should Buy a 7" Kindle Fire HD?
In my opinion, the Kindle Fire HD is more suited for those new to tablets and for people who are already invested in Amazon's digital ecosystem, especially when it comes to videos and ebooks. Amazon's video service is nicely integrated into their Kindle Fire tablets and it when it comes to ebooks, the reading app on the Kindle Fire HD is more advanced than the regular Kindle for Android app that you can get on other Android devices.
The Kindle Fire HD is a basic tablet with an easier learning curve than other options out there, given Amazon's custom interface and somewhat closed-in system. The downside with that is if a person has already owned an open Android phone or tablet, the Kindle Fire will likely feel too limited and closed-in.
7" Kindle Fire HD Specs
7-inch ISP screen with 10-point capacitive touch
1280 x 800 pixel resolution (216 ppi)
16GB or 32GB internal memory, cloud storage
751 MB RAM memory
1.2 GHz dual-core OMAP4460
Android 4.0 operating system (modified)
Dolby Audio Dual stereo speakers, headphone jack
Amazon appstore, plus sideload apps
Dual-band, dual-antenna Wi-Fi
Bluetooth
Micro HDMI port
Comes with free month of Amazon Prime
Battery life: 9-11 hours typical use
Dimensions: 7.6" x 5.4" x 0.4"
Weight: 13.9 ounces
Price: $199 - $249