Kobo Mini Review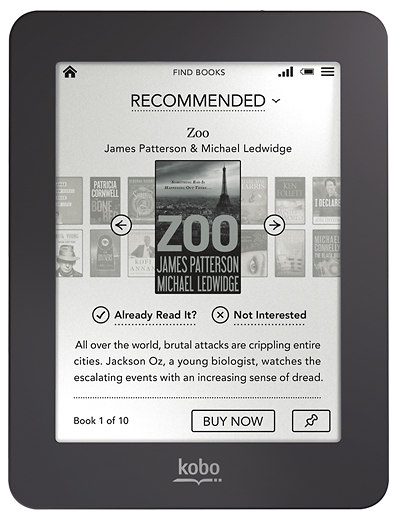 Review Date: November 2012 - Review unit purchased from Best Buy
Overview
The Kobo Mini is the first ebook reader from Kobo to use a 5-inch E Ink screen instead of the 6-inch screens more commonly used on most other ebook readers, including the Kobo Glo and Kobo Touch.
Ereaders with smaller 5-inch screens used to be more common, but there haven't been any new models released since the Sony PRS-350 over two years ago. It's good to see Kobo resurrecting the 5-inch screen size, and doing so at a low price (the PRS-350 originally retailed for $189).
Quick Review: Kobo Mini
Pros
The Kobo Mini is very small and lightweight, and the design is well-balanced, making it very comfortable to hold.
Lots of font types and sizes, plus customizable font weight and sharpness.
Full set of software features with notes, highlights, dictionary, search, bookmarks, Facebook sharing, web browser, reading stats and awards, translation dictionaries, and more.
The small size makes it highly portable, and even pocketable.
Cons
No memory card slot or frontlight like its more expensive siblings.
Too much wasted space when reading—needs full screen mode.
Lacks multi-touch support for pinch-zooming.
Initial setup was painfully slow with it requiring to download a firmware update and all the ebooks associated with my account before use.
Verdict
The Kobo Mini is a nice little ereader that packs a surprising amount of features into its small size. From a software standpoint it offers the same features as its larger sibling, the Kobo Touch, just in a smaller trimmed-down package that's easier to hold and carry with you everywhere you go.
But at the end of the day it's hard to recommend the Kobo Mini over the Kobo Touch, which for just $20 more offers a microSD card slot and a larger display. But if you truly want a smaller ereader for portability and lightness that's good for taking with you everywhere, the Kobo Mini is a solid choice, and is the cutest ereader by far.
Price: $79 at Kobo, Indigo, WHSmith
Kobo Mini Video Review
Hardware and Design
Measuring 4-inches across and just under 5 and a quarter inches tall, the Kobo Mini is the smallest dedicated ebook reader on the market, and is the smallest ereader that I have ever reviewed. One of the reasons it's so tiny is there aren't any physical buttons at all aside from an on/off slider on the top edge. Sony's 5-inch ebook readers and the Pocketbook 360 have several buttons that add to the overall size.
The Kobo Mini doesn't need buttons because it uses an infrared touchscreen, which generally works well most the time but occasionally I have to press things more than once to get a response—that's not something typically encountered on other ebook readers with infrared touchscreens.
The entire device front and back has a soft textured coating that feels pleasant to the touch. The only downside is it shows smudges, scratches, and crud easily. Maybe not so much with the white model.
Next to the power slider there's a small LED indicator, and the only other object you'll find on the device is the micro USB port for charging and transferring content from a computer. It also has Wi-Fi for downloading ebooks directly to the device from Kobo's ebookstore, and you can use its basic web browser to download ebooks from other places too.
The Kobo Mini comes with 2GB of internal memory and it doesn't have a microSD card slot like Kobo's other ereaders. That gives it limited storage space, especially since there's only about 1GB of space available for content, but that's still enough room to store about 1000 ebooks (not bad for a device that's about half the size of a book).
Battery life is rated at approximately one month. From my time with the Kobo Mini I'd say that's about accurate with Wi-Fi turned off.
Kobo made it so the back panel of the device is interchangeable. They sell backs in various colors. Removing the back, however, takes a considerable amount of separating force. I'm always afraid I'm going to break the plastic connectors. Personally, I'd prefer a snap-on front instead to protect the screen when not in use, like I remarked earlier with Nook Touch lids.
The Screen
The thing that makes the Kobo Mini unique is its screen. Most E Ink ebook readers have 6-inch 800 x 600 resolution screens. The Kobo Mini on the other hand has a 5-inch screen measured diagonally, with the same resolution as the 6-inch screens. This gives it a boost in pixel density, making it closer to the HD screens used on some newer devices like the Kindle Paperwhite and Kobo Glo.
That being said, the difference in resolution is fairly insignificant. So is the difference between Pearl and Vizplex screens. For those of you paying close attention to detail, you'll notice the Mini uses a Vizplex screen, E Ink's older display technology, which just happens to look almost identical to Pearl displays. If you look really, really closely blacks are slightly darker on Pearl screens, but with the Kobo Mini's font weight settings the difference is negligible.
Comparing the same ebook with the same font size and type on the Kobo Mini and Kobo Touch, it's hard to see any difference in the text at all. The background color on the Mini is a little lighter, with a subtle yellowish tinge, but readability between the two is the same.
Software Features
The Kobo Mini runs almost identical software as the Kobo Touch, which Kobo has been refining (or breaking, depending on who you ask) for the past 18 months or so since the Touch was first released. The only hiccup I have encountered in over 2 weeks of use was it crashed once when using the web browser and then restarted automatically. Other than that it's been smooth sailing.
One of the best things about the Kobo Mini is that it offers more layout and font settings than most other ebook readers. You can fine-tune font boldness and sharpness exactly how you want it, along with margins and line-spacing, and you can even load in additional fonts of your choice to go along with the 10 already available. The only downside is that not all the layout setting always work for every ebook, especially sideloaded ebooks. Sometimes it's hit or miss.
There are 24 font sizes, which is great given the smaller screen. One thing with Sony's 5-inch models was the font sizes didn't really fit the screen size. That's not an issue with the Mini.
The only problem with the way the Kobo Mini displays text is there is way too much wasted space. At the bottom of the screen there's a huge block for the page numbers, and some books always show the book title at the top of the screen. Kobo really needs to add the option for full screen mode and then it would be perfect layout-wise. The forth picture from the left at the top of this page shows an extreme case of how ridiculously large the extra space at the bottom of the screen can be at times, and that's the middle of a paragraph, not a page break.
Other reading features include notes, highlights, bookmarks, and Facebook sharing. There's Kobo's unique reading stats and awards features. It has search and table of contents support (a single level list). There's a page slider and you can jump back and forth between chapters. There are built-in dictionaries for English, German, and Nederlands, as well as translation dictionaries for English, Spanish, German, and Italian, and you can load in other dictionaries too.
The device also supports several languages, including English, French, German, Italian, Spanish, Portuguese, and Japanese.
Like most ereaders these days, the Kobo Mini has a partial refresh option in the settings menu. It can be set to refresh at 1-6 pages. This makes it so the page refreshes quicker, but I'm not a fan of this feature so I always keep it set to 1. Otherwise it often makes text appear less consistently dark across the page, where some words are fainter than others.
As far as organizing content, the Kobo Mini breaks your library down into four sections: books, news and magazines, previews, and shelves. You can view ebooks as book covers or a list. Sorting options are by title, author, file type, recent, and date added. With shelves you can create different lists of your ebooks to organize them. The process of creating shelves is somewhat tedious, however. I wish Kobo would support using a folder file management system instead. That would really take their software to the next level.
Additional eBook Formats and Stores
The Kobo Mini supports ebooks in the following formats: EPUB, PDF, HTML, TXT, RTF, CBZ, CBR, although the latter two aren't going to be much use on such a small screen, especially one that lacks pinch-zooming. Same goes for PDFs. Given its small size, the Kobo Mini is at its best as an EPUB ebook reader.
One of the nice things about the Kobo Mini is that it supports ebooks from sources other than Kobo. Any website that has ebooks with Adobe DRM will work. That's the most widely used format, so there are plenty of choices, including free ebooks from libraries.
Extras
There's an Extras section accessible from the settings menu that leads to three additional features. There's a sketch pad for freehand writing and drawing. The sketches get saved as PNG image files and are accessible from the library. The second "extra" is a popular number puzzle game called Sudoku, and last but not least there is a basic web browser.
The Kobo Mini's web browser isn't very good, but at least it works okay for downloading ebooks from popular free ebook websites like Project Gutenberg and Baen. It didn't pass the DropBox test however; links won't react to download.
The web browser has just a few basic features, and the text is generally faint and sometimes hyperlinks take a couple of presses to react, but scrolling is surprisingly smooth and the zoom dial at the bottom of the screen works pretty well given the lack of pinch-zooming. Overall, web reading isn't very pleasant, but the Kobo Mini can get the job done if you really need it to.
Who Should Buy a Kobo Mini?
Given the small size, the Kobo Mini is best suited for those that want an ereader that is easy to carry with them everywhere and for those that do a lot of traveling. It doesn't take up much space and is small enough to fit in most pockets.
It's also better suited for people who prefer reading small text. Larger fonts definitely aren't suited for that small of a screen unless you want to page forward every few seconds.
You also need to remember the Mini's screen doesn't have any source of illumination so reading at night and in low light requires a lamp or reading light, unlike the Kobo Glo that has a built-in frontlight. Too bad they didn't make a Glo version of the Mini for $20 more. Maybe next year.
Kobo Mini Specs and Features
5" E Ink Vizplex V110 display with 16 levels of grayscale
Neonode zForce infrared touchscreen
800 MHz Freescale 508 Processor
2GB internal memory,1GB available
Wi-Fi 802.11 b/g/n
Web browser
Sketch pad
Sudoku
10 font styles with 24 font sizes
Supported formats: Adobe DRM, EPUB, PDF, JPEG, GIF, PNG, TIFF, TXT, HTML, RFT, CBZ, CBR
Colors: black or white, with interchangeable backs in ruby, purple, and teal
Battery Life: up to 4 weeks
Weight: 4.73 oz – 134 grams
Dimensions: 4" x 5.2" x 0.4" — 102 x 133 x 10 mm
Price: $79