Kobo iPad App Review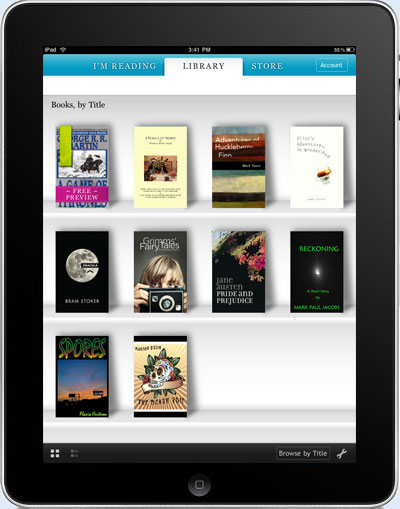 About Kobo Books
Kobo Books is one of the major EPUB ebook retailers. Their motto is "We believe consumers should be able to read any book, anytime, anywhere, and on the device of their choice."
Thus, Kobo offers their ebooks on a wide range of platforms, with apps for smartphones like the iPhone, Blackberry, Android, Palm Pre, and others.
Kobo's ebooks will also work with Adobe Digital Editions for viewing on PC and Mac computers, not to mention just about every dedicated ebook reader on the market.
And now there's a Kobo app for the Apple iPad too.
But that's not all. Kobo recently announced the Kobo eReader, their own brand of dedicated ebook reader that comes with the Kobo software installed. Look for Kobo to be in the ebook war for a long time to come.
Kobo iPad App Video Review
Font Sizes
The Kobo iPad app has 9 different font sizes to choose from, and four font types: Georgia, Baskerville, Trebuchet, and Verdana. An example of the smallest and largest fonts are displayed below.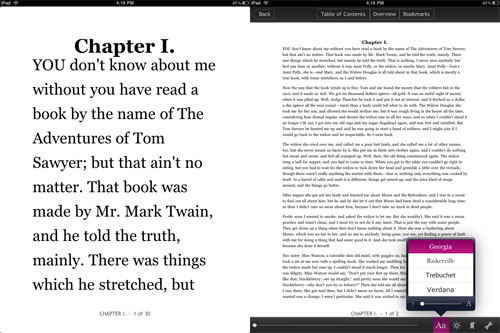 Change Appearance
The Kobo iPad app allows for some customization in they way the bookshelf view appears (shown at the top of the page). You can change the the background of the shelves and change what type of bookmarks you want, from a dead fish to a stretched out weiner dog.
In book view, there are options to alter the appearance of page turn animations and to turn on and off Kobo Styling, which usually removes spaces between paragraphs and changes text type and size.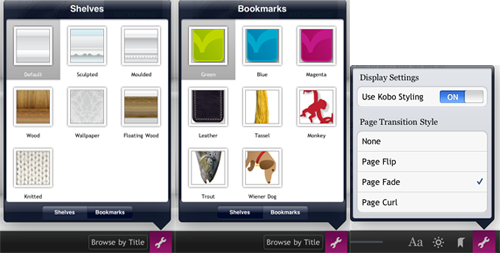 Night Reading
Presently there aren't any options to change text or background color, with the exception of night reading mode, with white text on a black background. Adjusting screen brightness helps with this setting on.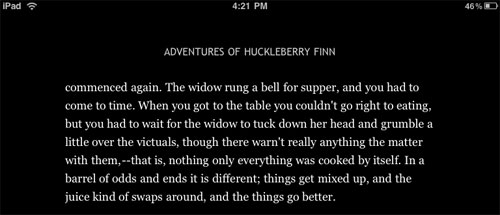 Landscape Mode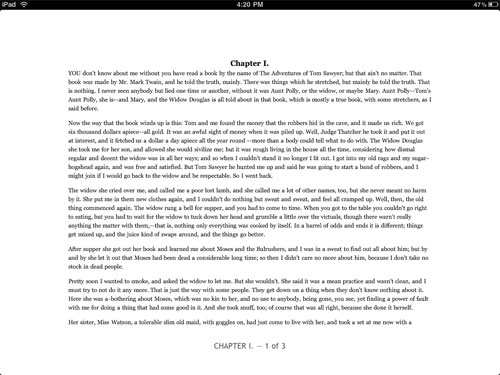 eBook Organization
The image at the very top of this page is the default layout for the Kobo iPad app, and there's also a list view as well.
Sorting options include, title, author, and recently read. There's also a separate section for recently read.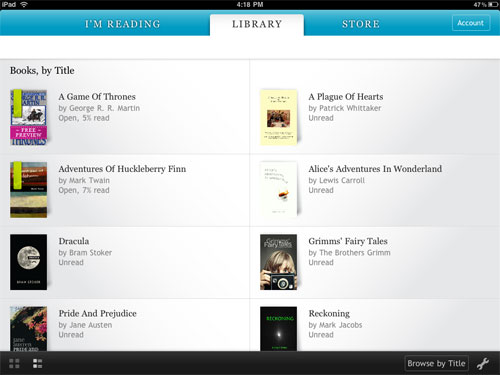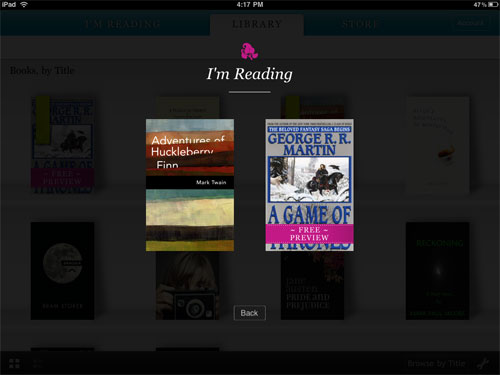 Additional Features and Missing Features
Other features not mentioned above include table of contents, bookmarking and bookmark menu, jump to page dial, and there's a brightness adjustment dial.
As of this point there are some features missing from the Kobo app that I'd expect to get added in the near future. There's no dictionary function, highlight, notes, or search. And there's no way to add non-Kobo books into the library. This app being so new, I think they just need some more time to get everything added.
Browsing Kobo's eBook Store on the iPad
One of the main strengths of the Kobe iPad app is the appearance and layout of the Kobo eBook Store. Everything is nicely organized and broken down into categories and subcategories.
There are different sorting options: best rated, price, bestseller, title, etc. And there are multiple sections for award winners, Oprah's book club, NYT Bestseller list, etc.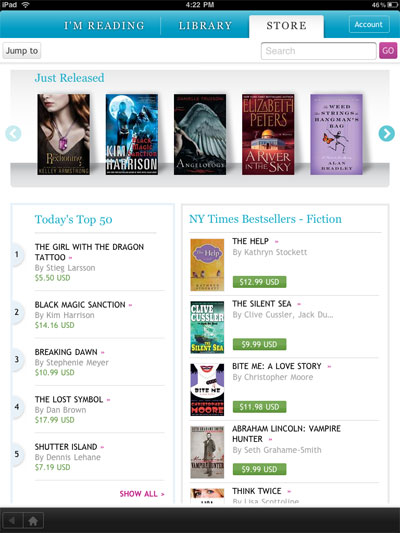 Sorting Options Aplenty