The Kobo eReader by Kobo Books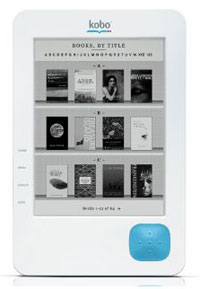 When the Kobo eReader was first introduced in May 2010, it was the lowest priced 6-inch E Ink ebook reader ever at $149 in the US.
Update: There's a new Kobo Reader that has WiFi for connecting to the Kobo ebook store to download ebooks and periodicals. Click here for the Kobo WiFi review.
A few quick months later and the Nook WiFi matched that price and the Kindle WiFi beat if by $10.
Not to be outdone, Borders just recently dropped the price of the Kobo Reader down to $129, still a bit high considering it's feature-set compared to the Nook and Kindle 3.
The Kobo eReader is available in 4 countries, the US, Canada, Australia, and New Zealand.
A closer look at the Kobo eReader reveals that it is a rebranded Netronix EB-600, which is the most rebranded ereader ever. Other examples include the PocketBook 301, Cybook Gen3, Cool-er and others.
The Kobo Reader looks similar to those units, with the 4-way control button on the bottom right and the side buttons on the left edge. It has a different outer case and comes installed with Kobo's ebook software and 100 classics, along with Bluetooth, but the hardware is from a Netronix design that is several years old, so there's not much to get excited about except the low price and new exterior design.
When the Kobo Reader was first released, the press release mentioned it would be the first of many dedicated ereaders to come with the Kobo eReader software, so hopefully they have a more advanced ereader in the works, preferably with Wi-Fi and 3G that connects directly to the Kobo eBooks.
ZDNet's Kobo Reader Review
Kobo Reader Specs
6-inch E Ink screen.
Supports Adobe PDF and EPUB.
1 GB memory; SD card slot up to 4 GB.
5 font sizes and two types, serif and sans-serif.
Bluetooth.
Dimensions: 120mm x 184mm x 10mm.
Weight: 200 grams.
Battery: 8000 pages, 2 weeks.
100 free ebooks pre-loaded.
Kobo eReader Reviews
Endgadget posted a recent Kobo eReader review. Here's a brief quote:
Is it the best e-reader we've ever used? No -- like we said, its page-refreshes are a little slow, and for a device that's all about the business of reading, that's no small thing. . . . Still, we can say pretty firmly that its thinness, lightness, and comfort in the hand is far and away its strongest feature, and one that it beats a lot of its more robust competition prettily handily.
The video above came from ZDNet's Kobo Reader review from back in May when it was first released, so the Kobo has seen some updates since then.
More eBook Readers