Nook HD+ Review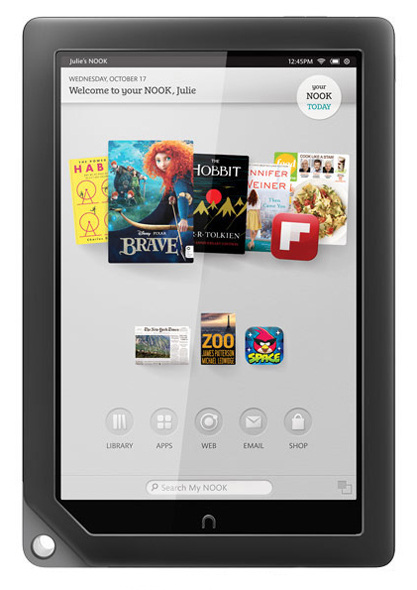 Review Date: November 2012 - Review unit purchased from Barnes and Noble
Overview
The Nook HD+ is Barnes and Noble's first tablet to have a screen size other than 7-inches. The + adds and extra 2-inches when measured diagonally, and makes the device better suited for larger-form content such as magazines, PDFs, and comics.
B&N continues to offer a 7-inch model as well in the form of the Nook HD. I won't be reviewing it individually but most of this review can still be used as a reference for it because aside from the size difference the two devices are identical from a features and software standpoint.
The Nook HD+ comes with two different options for internal memory; both have microSD card slots too and are otherwise identical. The 16GB model sells for $269 and 32GB sells for $299, making them among the most affordable large-screen tablets with a high resolution display.
Quick Review: Nook HD+
Pros
Official support for Google Play access was added 5/2/2013.
The high resolution screen is very crisp and clear, and colors are bright and striking.
Good value for a large-screen tablet for the price in terms of hardware and specs, and the build quality is solid too.
User profiles allow you to setup multiple user accounts, including profiles for kids.
MicroSD card slot.
Enjoyable web browsing experience.
Cons
Locked into Barnes and Noble's ecosystem for purchasing content, which wouldn't be so bad if not for the fact B&N's content selection is much smaller than competitors like Amazon, Google, and Apple. (see update below)
The selection of apps available in the Nook Store is pathetic, and the fact B&N won't let users easily sideload apps makes it even worse.
No camera.
Requires a proprietary connector to connect to a TV via HDMI.
Verdict
The Nook HD+ is a really nice tablet in terms of hardware and specs. The screen is absolutely gorgeous. For the price you can't beat it. But like always with a B&N product, the locked down software is a big negative, and content selection is majorly lacking.
When it comes right down to it B&N's tablets are more like lite tablets because they can't do many things other tablets can do. The only way to unlock the true potential of the Nook HD+ and turn it into a real tablet is to hack it and install the Google Play store. Otherwise it's hard to recommend based on having to rely on B&N for most of your digital content, especially apps.
Update: Barnes and Noble updated the Nook's software to add support for Google Play and Google apps to the Nook HD and Nook HD+ about 6 months after initial release. The update provides access to over 700,000 Android apps, as well as additional content like movies, music, and TV shows through Google's marketplace. This greatly enhances the Nook's usefulness as a tablet and makes most of the complaints in this review irrelevant. Please refer to this updated review of the Nook HD+ with official Google Play support for more details and a video review.
Estimated Price: $269 - $299 at Barnes and Noble
Nook HD+ Video Review
Hardware and Design
Unlike the Nook HD with its rounded corners, the Nook HD+ is more akin to the design of the Nook Color and Nook Tablet. It has the familiar "n" button below the screen and a pierced earlobe in the lower left corner that I don't quite understand the purpose of (seriously, how many people are really going to string it to their wrist?). It also has a raised bevel that is slightly contoured along the edges like the older Nooks, which is nice because it gives you a little more of something to hold onto other than the screen.
The back of the Nook HD+ has a soft grippy texture that's fairly common among tablets and ereaders these days. But one thing I like about it is it doesn't seem to show scratches, fingerprints, and crud as easily as some other tablets.
Volume buttons are located on the top edge, along with a 3.5 mm headphone jack and a microphone. The only other button is the power button, and this year B&N's tablets use proprietary 30 pin connectors for charging and connecting to a computer instead of micro USB.
On the back of the Nook HD+ in the lower left corner there is a speaker, which sounds better than expected but it isn't as loud as it could be for watching videos. The Kindle Fire HD definitely has the edge in speaker volume.
As far as processing power, the Nook HD+ is powered by a 1.5GHz dual-core processor that is more than adequate for most tasks, but it can lag sometimes. Transitions can be rough and some of the fancy animations B&N tries to pull off just don't quite react as smoothly as they should.
The Screen
With a 9-inch 1920 x 1280 pixel resolution screen, the Nook HD+ has one of the best screens you are going to find on any tablet. That goes for color vibrancy and overall text clarity. With 256 pixels per inch, even super-small text is extremely crisp and clear. It's like getting a boost in vision. Stuff you'd normally have to zoom in on to read is crystal clear on the Nook HD+.
As nice as the screen is, it's still not perfect. Individual pixels aren't visible, but there's a grid on the screen that is. Normally you can't really see these grids when a device is turned on, but with the Nook HD+ you can see it when the device is on if you look closely. It's most noticeable when the screen background is white. It's not a big deal—most people probably won't notice it unless it's pointed out—but this isn't common on other high-res screens.
One thing that I discovered when using the Nook HD+ is that I tend to like using it in portrait mode most of the time. With most Android tablets I find myself almost always using landscape mode. Most Android tablets have 16:9 or 16:10 aspect ratios, but the Nook's unique screen size has a 3:2 aspect ratio, so for me it feels just a little bit more natural in portrait mode.
This makes the Nook HD+ great for web browsing because a whole page can be displayed at once, and with the super high-resolution screen zooming in is rarely needed since even really tiny text is sharp and readable.
The Software
Like the Kindle Fire HD, the Nook HD+ runs a modified version of Android 4.0. Both have unique user interfaces. But the Nook has the advantage in that it allows for more customization than the Kindle. It has more of a traditional Android homescreen feel by offering five homescreen windows where you can add books, magazines, app icons, sideloaded files, web pages, and there are options to set custom wallpapers and live wall papers too.
The manual even speaks of widgets, but they are oddly missing from the selection menu. Possibly they will make an appearance in a future firmware update.
The software is quite different than previous Nooks. It's not a drastic change but you can tell B&N wanted to make the interface on the HD tablets unique. The "n" button no longer brings up any kind of menus; it works only for going to the homescreen, that and taking screenshots by holding down the volume down button at the same time.
The homescreen has a new look, and works in both portrait and landscape mode. There's a carousal of recent apps and books at the top of the screen, which can be hidden in settings. There's a "Your Nook Today" button that brings up today's weather and recommended ebooks.
The library layout has been revamped too. It now lists all your content on one page and breaks everything down into different sub-sections for ebooks, periodicals, apps, movies, shelves, scrapbooks, and sideloaded content. For sideloaded content everything is situated in folders that can contain multiple levels. This makes it easy to setup a microSD card. The only problem with sideloaded content is the Nook rarely displays covers properly.
Like other Android 4.0 tablets, the Nook HD has a recent apps list. There's an icon in the lower right corner at all times that brings up a list of recently visited applications, and unlike other tablets it also includes recent ebooks and files.
B&N is marketing this year's Nooks as family tablets so one of the biggest hyped software changes is the ability to set up to six user profiles. Each profile can have a completely unique setup (on the same account, obviously). Kid profiles have limited access to the content on the device. You can specify exactly what content—ebooks, apps, magazines, etc—the child's profile has access to. Content from the memory card is not available for children's profiles, however.
The Nook HD+ as an eReader
When it comes to ereading features, the Nook HD+ isn't really much different than any other Nook. Again, the screen is the biggest difference. Text is sharper and easier to read, especially small text. And the screen has a nice softness to the light that doesn't bother the eyes.
The usual layout settings apply. There are eight font sizes and three line spacing and margin settings. There are six different themes for text color and background color. And six font types to choose from: Baskerville, Georgia, Mundo Sans, Ascender Sans, Dante, and Gill Sans. You can also turn on and off publisher defaults.
As far as on-screen options go, you can add bookmarks by tapping the top right corner of a page and hold down on a word or phrase to bring up the option to add notes, highlights, share, look up in the dictionary, or search. The Nook's reading app has a table of contents, a page slider to jump between pages, or you can enter a specific page number. There's also a "go back" option to making navigate smoother.
One new feature is text-to-speech. This can be turned on in the Reader menu from the settings menu. They don't call it text-to-speech, though. You have to check the box for "enable accessibility". It's rather difficult to use. It's still labeled as BETA so I guess that's expected.
The Nook's reader app has two page landscape mode that looks quite nice on the bigger screen. And when using PDFs it shows two pages at a time (this can be turned off).
One of my biggest complaints with the Nook reading app is that it doesn't remember layout settings for individual titles. Anytime you change the text size or anything like that it does so globally for all books instead of maintaining the setting for individual books. Books rarely have the same font sizes, line spacing, and margins so you're constantly having to re-adjust for every book you read.
I've experienced a few glitches with the Nook reading app. I tried a few sideloaded PDFs and it didn't seem to like them very much. Sometimes it would crash back to the homescreen, and rotating the screen caused fit-to-screen issues at times. One time while reading the manual the text adjustment menu refused to close on its own. And sometimes the screen flashes and pages take a couple of seconds to load. Seems like it needs a little work still.
Magazines and Comics
The Nook HD+ is at its best when displaying large-form content like magazines and comics. The screen is just so gorgeous it makes colors from comics and magazines pop off the screen, and text is so crisp and clear reading is comfortable without zooming in.
Personally, I'm not very much into magazines and comics, but something about how striking they look on the Nook HD+'s screen makes me want to get more of them. The screen is that good.
Android Apps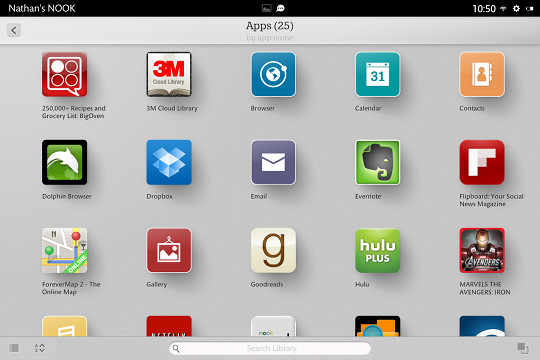 This is where things get really ugly. A tablet needs apps to be useful. Unfortunately B&N is about the smallest, most lacking appstore you are going to find.
Not only that, but there are very few useful free apps. Most Android tablets you can pretty much live on free apps if you want to. That's not the case with B&N's appstore at all. You have to pay for the most basic apps, calculators and weather apps are no exception. That's right, you can't even get something as basic as a calculator without paying for it.
There's a way to sideload Android apps without rooting, but B&N makes the process so complicated that the average user has no hope of getting it to work.
What really irks me about B&N's appstore setup is that you can't just run a search in the appstore from the HD+. By default it always searches the entire B&N shop, so then every single time you have to go in and select to refine results to just apps. Annoying.
Games
I couldn't believe it when I went searching the Nook appstore for some games. There are virtually no high-end games whatsoever. It's all Angry Birds and Where's My Water type games, along with word games like Scrabble and Words with Friends. Some good games, but nothing to really push the processor and graphics performance.
Audio and Bluetooth
The good news is the Nook HD+ has a fairly decent external speaker as well as Bluetooth for connecting headphones or wireless speakers (there's also a 3.5mm headphone jack). The bad news is the Nook store is pretty much worthless when it comes to music (Rhapsody and TuneIn Radio is about it), so you have to sideload all your MP3's. B&N offers zero music downloads in their store, and Pandora radio doesn't even show up in the appstore from the HD+ despite the fact it came pre-installed on previous Nooks.
I assume Bluetooth keyboards work too, but I'm not going to buy one to test. There are only a few apps in the Nook appstore to use for writing, so it's not like it's going to be hugely useful anyway. The Nook HD+ was designed to be a content consuming device not a content creating device—B&N makes that point very clear.
Videos and HDMI
B&N recently started offering video downloads, but the selection of movie and TV shows is downright pathetic, especially TV shows. Luckily there are some other options in the form of Hulu+ and Netflix. As for the latter, Netflix works fine as far as playing videos, but trying to run searches and scrolling it's almost unusable because it is super laggy and unresponsive. I had the same problem with my Asus Transformer Infinity, but all you had to do to fix it was check a box for force GPU rendering in developer options in settings. Unfortunately the Nook HD+ doesn't have that setting available.
You can sideload videos in the following formats: MP4, 3GP, and WEBM. Oddly I tried an MK4 file I created to test on the Nook Color a couple years back and it won't play. By the way, Flash video isn't supported at all.
B&N is going to start selling a proprietary cable for like $40 to connect to an HDMI cable to stream video to a TV. The connector is unavailable as of this review, and I wouldn't buy it anyway because charging $40 is a rip-off when you can buy a regular 6 foot HDMI cable for about $2.
Who Should Buy the Nook HD+?
The Nook HD+ is a good combination of specs and price for a tablet with a 9-inch screen, and I've personally grown to like the device way more than I'd expected. But in my opinion, because it is so dependant on Barnes and Noble for content, it is best suited for people who are looking for more of a basic tablet that is more family-oriented, and for those who are already invested in Barnes and Noble's ecosystem.
The lack of B&N content, especially apps, videos, and music, makes it hard to recommend over similar tablets. But for those of you not afraid of a little hacking to add the Google Play Store, the Nook HD+ is one of the better choices for a larger tablet on the market in its price range.
Update: The Nook HD+ does indeed come with official Google Play access now. Make sure to read the update above the video review. And don't forget to check out my updated review of the Nook HD+ with official Google Play access.
9" Nook HD+ Specs
9-inch ISP LCD screen
1920 x 1280 pixel resolution (256 ppi)
16GB or 32GB internal memory
MicroSD card slot for cards up to 32GB
1.5 GHz dual-core OMAP4470 processor
Android 4.0 operating system (modified)
Speaker, headphone jack
Bluetooth
Battery life: 9-10 hours
Dimensions: 9.5" x 6.4" x 0.45"
Weight: 18.2 ounces (515 grams)
Price: $269 - $299