Asus Transformer Infinity Review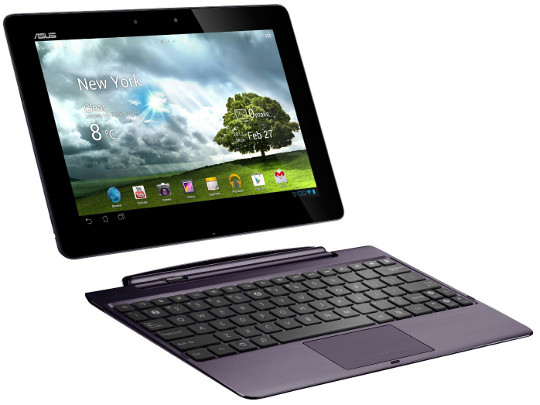 Review Date: August 2012 - Review unit purchased from
Amazon
Overview
The Transformer Infinity TF700 is among the first wave of 10" Android tablets to come with a Tegra 3 quad-core processor and use a higher resolution screen with greater pixel density than previous 10" tablets, making it more like the iPad 3 in terms of screen clarity.
Replacing the Transformer Prime from last year, the Transformer Infinity is Asus's premium high-end tablet. Asus also currently sells the Transformer TF300 for about $100 less, which is very similar to the Infinity but lacks the higher resolution screen and design upgrades.
Transformer Infinity Quick Review
Pros
Exceptional build quality and design.
The Super IPS+ display looks amazing with its 1920 x 1200 resolution and brightness booster for outside readability.
MicroSD card slot, micro HDMI port, Bluetooth, GPS, 8MP rear camera with LED Flash.
Optional keyboard dock is a great accessory and is what really separates Asus's tablets from the rest.
Cons
Few apps make full use of the 1.6GHz Tegra 3 processor and high resolution screen.
Single speaker on the back isn't very loud and is easily muffled.
Like the iPad 3, the Transformer Infinity gets very warm at higher brightness settings.
Bugs with the Android 4.0 operating system (see software section below).
Verdict
I purchased the Transformer Infinity to replace the original Transformer that I reviewed last year and use all the time. In a lot of ways they are very much alike—95% of the operating system is the same. But they are also very different; it's amazing how far the Transformer has come in one year. The original Transformer is quite odd looking by comparison. The Transformer Infinity's design is much classier and more streamlined. More importantly, the Transformer Infinity operates smoother with the faster processor and the upgraded screen is a lot clearer and brighter—very nice.
Having waited about a month to write this review, the Transformer Infinity doesn't disappoint after extended use and is clearly one of the top Android tablets on the market. Given the specs it probably will be for the rest of the year too. And once it gets updated to Android 4.1 Jelly Bean it's going to be even better. If you want a high-end Android tablet, the Transformer Infinity is the tablet to get. The iPad 3 is it's main competitor as far as 10-inch premium tablets go, and since I use both regularly, I'll be posting a comparison review shortly.
Estimated Price: $499 - $599 at Amazon
Transformer Infinity Video Review
Hardware and Design
The first thing that struck me about the Transformer Infinity is how iPad-like it is. That's actually a good thing. Like the iPad, it is very thin and light yet feels solid and sturdy, and is comfortable to hold in both portrait and landscape orientation. It feels and looks like an expensive high-end tablet. The back of the device has a nice aluminum finish, all except the hard plastic strip at the top for improved Wi-Fi and GPS signals.
One of the knocks on the Transformer Prime from last year is that the metal casing degraded Wi-Fi and GPS strength. That problem has been fixed on the Infinity—both work great. Wi-Fi range is especially good, in fact.
The Transformer Infinity comes in two color options, gray and champagne. I don't know why they call it gray; it's more of a mild purple color, which I'm not entirely crazy about but it's not a big deal. "Champagne" is more of a silver color with a tan plastic strip along the top of the back. It's harder to find in stock and is often over-priced when it is available.
There are also two memory configurations available for the Transformer Infinity, 32GB and 64GB. The latter costs $100 more. Otherwise the specs between them are the same, which includes a 1.6GHz Tegra 3 processor, 1GB RAM, mini HDMI port, microSD card slot, a bunch of sensors, and two cameras that are above average for a tablet. The front is 2 megapixels and the rear is a really nice 8MP camera with LED flash that takes surprisingly good photos and videos.
The remaining specifications are listed at the bottom of this page.
Battery Life
The Transformer Infinity has three battery modes: Power Saving, Balanced, and Performance
From my experience battery life is a solid 9 hours on average with brightness at 50% or less and power management set to balanced. Add 4 to 5 hours with the keyboard dock attached. I imagine it could get a few more hours in power saving mode with the brightness turned down. Obviously with brightness turned up, especially when using IPS+ to boost brightness outside, and power management set to performance, battery life does take a big hit.
As usual I tested how much battery charge drains in sleep mode. I was relieved to see the Transformer Infinity's battery percentage go down less than 5% overnight. The original Transformer drains much more; leave it unplugged for a couple of days and it will be dead.
One thing I really like about the Transformer Infinity is the battery charges in just a couple of hours. The iPad 3 has a huge monster battery that takes 6+ hours to charge fully.
Screen
With a resolution of 1920 x 1200, the screen is definitely one of the Transformer Infinity's best qualities and is one of the main things that puts it ahead of similar tablets. Text is extraordinarily clear (it's like getting your eyes upgraded), the viewing angles are suburb, and colors are bright and vibrant (as long as you aren't using power saving mode).
It also has IPS+ to boost brightness up over 600 nits for better clarity in bright light. Even in direct sunlight the screen is quite readable and the colors are bright. In fact it is considerably better than the Pixel Qi screen on the Notion Ink Adam. One of the pictures above shows the screen in direct sunlight. The colors are bright and text is easily readable. Bright light makes all the smudges appear on the screen, however, so keep a cloth handy. Higher brightness also makes the device very warm to hold.
In a direct comparison, the Transformer Infinity's screen isn't quite as nice as the iPad 3's screen. The pixel density is a little less and colors aren't quite as striking, but the difference is negligeable. When it comes down to it the Transformer Infinity's screen is one of the best of any tablet out there and is definitely worth the upgrade over the usual 1280 x 800 screens typically used for tablets this size.
Software
At launch the Transformer Infinity comes with Android 4.0.3 Ice Cream Sandwich; that's what it's running as of this review. Asus has officially stated the Infinity will be getting updated to Android 4.1 Jelly Bean, and since they have already started rolling out the Jelly Bean update to the Transformer TF300, that will likely happen very soon. For that reason I'm not going to get into much detail regarding the operating system; instead I'll post a review of Android 4.1 on the Infinity after it gets updated.
My favorite 7" tablet is the Google Nexus 7, which is made by Asus too, and Android 4.1 runs very fast and smooth on it so I have high hopes for Jelly Bean on the Transformer Infinity.
Right now there are a few issues with Android 4.0. For the most part it is smooth and stable, although a bit too laggy at times considering the processor, and I haven't experienced any random reboots or anything, but I have encountered a number of bugs. None very serious, just annoying details.
Sometimes the screen turns itself on for a few seconds while in sleep mode; some apps are slow to load and react at times; when using Bluetooth headphones the music cuts out for a second periodically no matter what app you use, but only when the screen is turned off; the stock web browser is freeze and crash prone—Chrome is better, but feature-lacking; and the Asus task manager crashes frequently, which really doesn't affect anything so it's not a big deal.
Hopefully these bugs will go away when Asus updates the operating system to Android 4.1 Jelly Bean. Given how smooth and buttery Android 4.1 is on the Nexus 7, I have a feeling the update will make a huge difference in overall performance. As long as Asus doesn't botch the update like they did with Android 4.0 on the first Transformer.
Apps
One good thing about Asus and their tablets is the fact they don't load them with a bunch of junk software. It comes with Asus's own set of apps for cloud storage, ebook reading, note-taking, file management, backing up apps and securing them with a password, streaming content from a computer via Splashtop Remote, as well as the regular suite of Google apps—Google Play, YouTube, Gmail, Maps, Navigation, Voice Search, Movies, Google Books, Google+, Gallery, Calendar, and a bunch more.
I reviewed a number of these apps in detail in the original Asus Transformer Review. In fact I just re-read that review and ALL of the software sections about apps apply 100% to the Transformer Infinity. Check that review if you want to know more about Asus's custom ereading app (which is quite nice actually), the PressReader app for newspapers, Polaris Office for editing and creating documents and spreadsheets, Asus's custom keyboard, and other included apps.
Keyboard Dock
The main thing that sets the Transformer brand apart from other tablets is the optional keyboard dock that essentially turns the device into a mini-laptop.
The dock has a full keyboard with a trackpad and extra Android quick keys. It also has a full size USB port, SD card slot, charging connector, and built-in battery that adds an extra 4-5 hours of battery life to the tablet.
I did some research online before buying and it turns out the keyboard dock for the Transformer Prime, Asus's premium tablet from last year, is identical to the one for the Infinity, despite Asus's claims to the contrary. I was able to snag one on clearance from Best Buy for $99, which is $50 less than the Infinity's keyboard. It works perfectly and looks great.
What I noticed right away about the keyboard dock is that it has the same layout as the original Transformer's keyboard, but the keys are much more responsive and accurate. I really like the feel of the keys and no longer have problems occasionally hitting the wrong buttons like with the original Transformer. It works just as well as a regular full-size keyboard for me. In fact I like the feel better than the big noisy keys on my wireless Logitech MK320.
Overall the integration is really well done; it's amazing how well Android is setup for keyboards and a trackpad. The keyboard dock is definitely worth getting if you plan on using the device for any kind productivity tasks. The added battery life and extra ports are a nice bonus too.
Asus Transformer Infinity Specs
10.1" Super IPS+ display with scratch-resistant Gorilla Glass 2
1920 x 1200 pixel resolution (224 ppi)
1.6GHz NVIDIA Tegra 3 T33 4-plus-1 Quad-core processor with 12-core GPU
Android 4.0 ICS at launch; will be updated to Android 4.1 Jelly Bean
32GB or 64GB storage memory
1GB DDR3 RAM
Built-in speaker, 3.5mm headphone jack, microphone
Micro HDMI port
MicroSD card slot
Optional keyboard dock; dock adds 4.5 hours of battery life
Front-facing 2MP camera
Rear-facing 8MP camera with LED Flash
Bluetooth 3.0
Wi-Fi 802.11 b/g/n
Battery: 9.5 hours
Size: 10.35" x 7.12" x 0.33"
Weight: 1.32 pounds
Estimated Price: $499 - $599 at Amazon