Nook Touch Review Page 2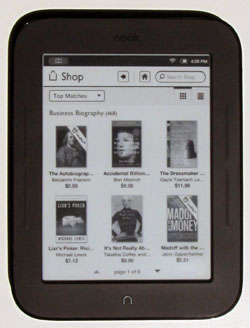 As you would expect, the Nook Touch connects to the Barnes and Noble ebook store over WiFi for downloading ebooks, newspapers, and magazines.
As of this review, there are over 2.2 million ebooks listed, most of which are free ebooks (type 0.00 in the Nook's search bar to find them, same goes for B&N). Subtracting the free ebooks there are about 427,000 paid ebooks.
The store homepage for the Nook Touch has a search box and links for different sections and various lists. Everything with the store loads impressively fast, even scrolling through multiple pages.
A book's description page shows reviews and a synopsis, with buy, sample, and share links. There's also the option to add it to your wishlist. You can view the cover full screen and view related titles too.
All Nook ereaders support Adobe DRM in addition to Barnes and Noble's EPUB DRM. This means you can buy ebooks from a multitude of sources that distribute EPUB ebooks and borrow ebooks from libraries. These can be sideloaded onto the Nook's internal memory or onto a memory card, but not downloaded over WiFi. WiFi is only usable for B&N's bookstore and for the Nook's sharing features.
Update: It turns out that last sentence is incorrect. The Nook Touch has a hidden web browser, but it has some issues.
Sideloaded EPUB eBooks
Sideloaded EPUBs refer to any ebooks that you may add to the Nook from sources other than B&N. These can be added to the Nook's internal storage, of which there is about 236MB of space, or to a compatible microSD card. As mentioned above, the Nook Touch supports B&N's EPUB DRM as well as Adobe DRM. It also supports DRM-free EPUB ebooks, allowing for ebooks from a wide range of websites.
The Nook Touch's library can sort all ebooks and periodicals together, and can narrow everything down into sections, including a section for My Files. If there's a microSD card inserted, it will appear in the My Files section along with files added to the Nook's internal storage.
Book covers are a little odd with sideloaded ebooks. Sometimes they appear and sometimes they don't. When viewing all books in the library, the covers for sideloaded EPUBs will appear on some books, but if you view those same books in the My Files section no book covers are shown. There are some books that show covers in other devices, but not on the Nook—not sure what the cause is.
For the most part, sideloaded content has the same features as B&N content. You can adjust the layout and font settings, but can't use the Nook's sharing features. Turning off publisher's defaults will display the book in its original layout, with embedded fonts if the book has them.
Newspapers and Magazines
Aside from ebooks, there are newspapers and magazines available on the Nook Touch. As of this review there are 59 magazines and 25 newspapers. In most cases you can purchase a single issue for $0.99 or pay for a monthly subscription and have periodicals delivered automatically.
Periodicals have all the same features and text adjusting options as ebooks. They include a table of contents and on-screen hyperlinks for navigating, with articles listed for each section and a picture for each article that has one.
I noticed some magazines that are graphically oriented, like National Geographic, aren't available on the Nook Touch. Additionally, B&N's Nook Kids books aren't available on the new Nook either, just the Nook Tablet, Nook Color and iPad.
Nook Touch PDF Review
The Nook supports PDF files but does so quite abysmally. No zoom, no landscape. You can view a PDF one page at a time, which makes discerning the text difficult on the 6-inch screen.
It has PDF re-flow with six different text sizes. Re-flow works well with some text-based PDFs, but butchers complex PDFs with images and tables. Comics and image-based PDFs are a no go because there isn't any zooming capabilities.
Table of contents works, and so do bookmarks and search, but the dictionary, notes, and highlight features aren't available with PDFs.
Update: Here's the link to the Nook PDF Review. It includes a ten minute video tour and shows the PDF functionality of both a stock Nook and a rooted Nook running various Android apps.
Nook Touch Hacks
Given the fact that the Nook Touch runs Android 2.1, it can be rooted to run Android apps like the Nook Color. A number of apps work well, including several ereading apps like Aldiko, Kindle, Kobo, and others (see video below). Check the Nook Touch Rooting Guide to learn how to root the Nook. The entire rooting process is very easy and takes less than 10 minutes. Plus the Nook's regular features still work.
Conclusion
At $99, the Nook Touch is one of the best values for a dedicated ebook reader on the current market, given the WiFi, microSD card slot, speedy processor, support for EPUB, the Pearl display, and functional touchscreen.
Barnes and Noble wanted to keep the Nook Touch simple, however, so there are a few surprising omissions. There is no 3G model. It does not have an audio player, there's no landscape mode either, and it only supports EPUB and PDF ebook formats, leaving B&N's old format in the dust.
B&N wanted to focus only on reading with the Nook Touch, and at that they succeeded. The Nook Touch makes an excellent EPUB ereader, but unless you root it its versatility is somewhat limited. That's where the Nook Color steps in.
Nook Touch Specifications
6" E Ink Pearl display, 16 levels of grayscale, 800 x 600 resolution
Neonode zForce infrared touchscreen
Processor: 800MHz TI OMAP 3
Operating system: Android 2.1
2GB internal memory, microSD card slot for cards up to 32GB
WiFi for downloading ebooks and periodicals from Barnes and Noble (no 3G option this time)
Supported formats: EPUB and PDF, including Adobe DRM, and JPG, GIF, PNG, and BMP images for screensavers
Bookmarks, highlights, dictionary, search
6 font styles, 7 font sizes
Nook Friends, lend and share ebooks directly from the Nook
Virtual keyboard
80% less flashing with page refreshes
Charge via USB or power adapter
Battery Life: up to 2 months!
Weight: 7.48 oz
Dimensions: 6.5" x 5" x 0.47"
Price: $79 - $139