Onyx Boox M96 Universe Review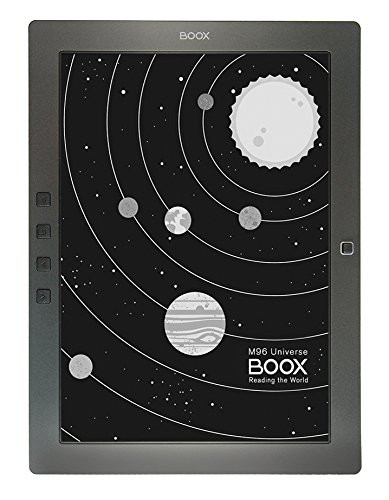 Review Date: September 2014 - Review unit provided by Onyx-Boox.com
Overview
The Onyx Boox M96 is essentially a premium, updated version of the Boox M92, also known as the Icarus Excel. The 9.7-inch E Ink Pearl display remains the same, but the specs have been boosted up and the operating system is entirely new. The M96 runs open Android 4.0, and even comes with access to the Google Play store to install Android apps.
The Onyx Boox M96 is available in different versions, with subtle software variations by region; see this M96 Buyer's Guide for more information. The model used for this review carries the "Universe" branding. It's the Arta Tech version that sells from Amazon.com and Amazon Germany, and directly from Onyx-boox.com. It comes with IVONA text-to-speech voices pre-installed, and has access to the Arta Tech's Polish ebook store, BookSource.com.
Quick Review: Onyx Boox M96 Universe
Pros
The large 9.7-inch E Ink screen looks fantastic—contrast is exceptional with very dark and bold text.
The Android operating system runs well and opens up the device to all kinds of possibilities.
Good for PDFs (here's the PDF review).
Extras: SD card slot, page buttons, Bluetooth 4.0, audio support with headphones & external speaker for music and text-to-speech.
Cons
No frontlight.
The touchscreen doesn't respond to fingers; using a stylus is required, which can't do things like pinch-zooming.
It's hit or miss whether or not specific Android apps will work and display well on an E Ink screen, some experimenting is required.
Verdict
It's been over two years since I reviewed an ebook reader with a 9.7-inch E Ink screen, and I forgot just how much nicer a larger screen is for reading. Add an open Android operating system to the mix and suddenly you've got one really impressive device. I wasn't expecting to like the M96 as much as I do, but I can say without question that it's my new favorite ereader. The software is almost identical to the software on the Boox T68; it's the large 9.7-inch E Ink display that really sets the M96 apart. It doesn't have a frontlight or a super high resolution screen. But that doesn't matter. Text looks great regardless of that, better in some ways. It just shows that ereaders don't all have to go in the same direction.
With that being said, the M96 isn't going to be the right type of device for everyone. There are limitations with running Android on an E Ink device; it's not like a tablet where everything runs smoothly and works the first try. For example, Android apps like Kindle and Kobo work on the M96, but they aren't designed for E Ink so they invariably cannot offer as good of a reading experience as those specific branded devices. While it's not as optimized for E Ink as simpler ebook readers, the M96 is a more capable all around device, and it makes for a solid PDF reader. Simply put, it has a nice big screen, an open operating system, and there isn't anything it can't do in terms of ereading. Why aren't there more ereaders like this?
Price: $339 at Amazon
Onyx Boox M96 Universe Video Review
Hardware and Design
From a design perspective, the Onyx Boox M96 looks a lot like the earlier M92. The overall size is about the same and it has the same nav wheel controller and button layout. But the construction feels a little more solid on the M96. The M92 felt more like cheap plastic and made lots of creaking noises when handled. The M96 is more rigid, although it does still make a little bit of noise. The back has a light soft-textured feel to it, giving it the feel of a premium ereader. Overall the casing feels sturdy.
There are four buttons on the left side of the screen. The top one shows a home icon on it but it's really a menu button, and holding it down refreshes the E Ink on the screen. Below it there's a back button and two page turning buttons. On the bottom edge of the device there are volume buttons and a power button. The nav wheel controller is located on the right side of the screen. It moves the cursor and makes selections and can be used for navigation in lieu of the touchscreen. It can be used for shortcuts too, like increasing and decreasing text size while reading ebooks, and panning around a page when using specific navigation settings with PDFs.
Unlike most ebook readers, the Boox M96 doesn't use a regular finger-friendly touchscreen. Instead it uses an electromagnetic touchscreen that requires the use of a stylus (a small pen is included; a better one can be purchased). This works especially well for adding hand-written notes to PDFs and doing on-screen markup, the speed is quick and what's nice is you can rest your hand on the screen as you write without your hand activating the touchscreen. From my experience, the touchscreen responsiveness is really good, better than the capacitive touchscreen on the T68. The accuracy is spot on; occasionally I'll have to press something twice, but not very often. The only problem with this type of touchscreen is that it can't make use of the pinch-zooming feature a lot of Android apps use. Double-tapping works in most cases, though, like with the web browser, but it's not as precise.
You wouldn't know by looking at it, but the M96 comes equipped with an external speaker for listening to music, audiobooks, and text-to-speech. An obvious speaker hole is missing; instead there's just a tiny pin hole on the back. Somehow the speaker is surprisingly loud despite that, louder than most tablets. Headphones sound great coming from the 3.5mm jack, although I noticed occasionally music will stutter for a second when opening an app or new document. The M96 also comes equipped with Bluetooth 4.0 for audio and keyboard devices (I haven't tested this yet but plan on getting a Bluetooth keyboard).
Onyx gives an estimated 3 week battery life per charge. For once that appears to be accurate. It's nice to see a realistic claim that doesn't rely on weird stipulations. If anything that's an underestimation; my M96 is on pace for 4 weeks since the initial charge.
Other hardware features include a dual-core 1GHz processor, 512MB of RAM, 4GB internal storage space, Wi-Fi, and a regular size SD card slot.
The Screen
Over the past few years the E Ink ereader industry has gravitated toward adding frontlights and using higher resolution screens, a lot of which is just plain marketing hype. I too was disappointed when I first found out that the M96 didn't have a frontlight or come with a new higher resolution screen. But after seeing it in person and using it for a few weeks, I find that those things don't really matter very much. With a larger screen, high resolution isn't as necessary because everything is scaled up and larger. Small screens favor small text, thus higher resolution makes sense. But with larger screens one tends to use larger font sizes because there's so much more space. The bottom line: Higher resolution on tablets is a lot more important than on E Ink unless you favor reading super tiny text or maps or images. Mostly all higher resolution has contributed to on E Ink is spindlier, lighter text (see the Basic Kindle vs Kindle Paperwhite review; text is noticeably bolder and darker on the older, lower resolution Kindle, and still it to this day).
Admittedly, a nice even frontlight would be nice on the Boox M96. But apparently frontlights for larger 9.7-inch screens have yet to be perfected. When you think about it they haven't even perfected them on many 6-inch ereaders yet. A nice even frontlight like on the Kindle Paperwhite 2 would make the M96 even better, but the fact is most frontlights aren't all that good yet. A number of them suffer from shadowing effects, uneven light distribution, and pinprick holes of light. Even worse, oftentimes the added light layer makes the text look faded or fuzzy. All those problems are going to be magnified on a larger screen. That's probably part of the reason the M96's E Ink screen looks so good to me: it's been two years since I've reviewed an E Ink ereader that didn't have an added frontlight layer over the screen.
One thing I've observed with the larger screen is that frontlighting isn't as necessary as with smaller screens because there's a lot more reflective area on a 9.7-inch display. E Ink works by reflecting ambient light. Combine more reflecting background area with bolder, thicker, larger fonts and reading in low light suddenly becomes a lot more doable than on small 6-inch screen.
Software Features
The software is what really sets the Onyx Boox M96 apart from other ereaders. It runs Android 4.0.4 and comes with Google Play to install Android apps. Most E Ink ereaders are simple devices locked into their respective stores; the M96 is more like an E Ink tablet. The only downside with that is Android isn't designed to run on a device with the low refresh rate of an E Ink screen. Animations look strange, some menus items aren't visible—it varies from app to app.
Most third-party ereading apps work well enough to be functional. Sometimes page transitions can be rough, or the dedicated page buttons don't work.
All the preinstalled reading apps have been optimized for E Ink and work with the page buttons and offer custom page refresh settings. The preinstalled reading apps include OReader, FBReader, Onyx Neo Reader, OnyxReader, and Cool Reader. Other reading apps like Moon+ Reader and Mantano work well too, and offer page button support and E Ink friendly features. Each app offers different text and layout settings and features. Like a traditional ebook reader, the Boox M96 supports Adobe DRM for encrypted ePub and PDF ebooks.
The Boox M96 Universe uses a custom homescreen that shows recently read and added titles. It automatically draws the ebooks and documents from the internal memory and memory card upon startup. There's a library section where you can sort and filter content. Long-pressing a title brings up different ways to open it. There's an ebook store built-in for easy access, but it only seems to offer Polish ebooks. Alternate launchers can be installed for those that want a more traditional Android homescreen feel. Nova Launcher works well once setup properly.
Preinstalled apps include a web browser, basic file manager, calendar, calculator, music player, email, gallery, dictionary, and search. Many other apps can be installed from the Google Play store.
The most surprising thing to me about the M96 is that I've experienced virtually none of the issues that I encountered while reviewing the Onyx Boox T68. The software is pretty much identical between them, but for some reason the M96 just seems to run smoother. The Kindle and Google Play Books apps are prone to crashing on the T68, but haven't crashed once yet on the M96. Accessing the Kindle store from the T68 makes it crash just about every time, but not on the M96. There have been no weird battery or random restarting issues with the M96. To the T68's advantage, the Adobe Reader Android app works on it just fine, and is a good option for exporting annotations, but that same app won't load a PDF at all on the M96. The differences are random and unexpected.
The overall versatility of the M96's software is what makes it so unique, and the fact that it actually runs well is a big plus. This is the direction that E Ink ebook readers should have been moving toward all along, with larger screens and more open, capable software.
Additional Onyx Boox M96 Reviews
This section lists additional supplementary reviews of individual features and comparisons for the M96.
Onyx Boox M96 Specs
9.7" E Ink Pearl display.
1200 x 825 screen resolution (150 dpi).
Operating system: Android 4.0.4 with Google Play
Electromagnetic touchscreen (requires using a stylus pen).
Two dedicated page buttons, nav controller, menu and back buttons.
Freescale i.MX 6 Cortex A9 1.0GHz processor.
512MB RAM.
4GB internal memory.
MicroSD card slot.
Wi-Fi 802.11 b/g/n.
Bluetooth 4.0.
External speaker, headphone jack (3.5mm).
Mini USB port.
Supported formats: Adobe DRM, EPUB, PDF, MOBI (without DRM), TXT, RTF, HTML, CHM, DOC, FB2, PDB, DjVu, ZIP, XLS, XLSX, PPT, PPTX, and more via apps.
Text-to-speech: IVONA (preinstalled with Polish, English and German voices)
Preinstalled apps: Gallery, Internet Browser, Calendar, Calculator, Music player, Onyx Boox store, OReader, Email, QuickDic, Google Play Store, Search, Clock, FBReader, OnyxReader, Cool Reader, Onyx Neo Reader.
Battery life: up to 4 weeks.
Weight: 509 grams.
Dimensions: 242.9 x 178.4 x 12.3 mm.
Price: ~ $339, 309 €.