Pyrus Mini Review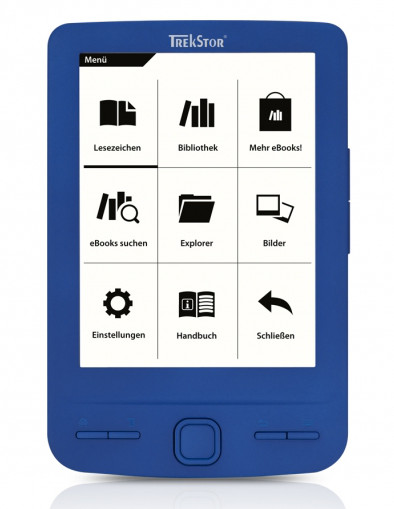 Review Date: March 2013 - Review unit purchased from Amazon UK
Overview
The Pyrus Mini is a unique little ebook reader from a German company called Trekstor. It is the first dedicated ebook reader to use a 4.3" screen, and it's also among the first to use a Digital Ink screen instead of an E Ink brand screen.
The Pyrus Mini sells in Europe for about 49 euros, and can be imported to the U.S. for about $75. It comes in three different colors: black, blue, and pink (which looks more like red to me).
Quick Review: Pyrus Mini
Pros
Very small and lightweight—highly portable/pocketable.
Supports ePub format, including Adobe DRM.
MicroSD card slot.
Side buttons for turning pages are nice.
Cons
Basic software with limited settings and organizing options.
The buttons all require a firm press to activate; press them too lightly and they click but nothing happens.
The software isn't very polished and is buggy—cover view is extremely slow, sometimes covers disappear, the library always reverts back to sorting by title after switching to something else, etc.
Basic ereader with no advanced features—no wireless, no touchscreen, no frontlight.
Verdict
The Trekstor Pyrus Mini doesn't offer a ton of features, but it's cheap and is highly portable thanks to its extremely small size. I like how easy it fits in just about any pocket and how the page-turn buttons on the side are well-placed for comfortable page turning either left or right-handed. The software is lacking, but the design is appealing, and the Digital Ink screen looks just as good as E Ink.
I thought the 4.3" screen would be too small, but it's actually quite nice, and because of all the wasted space on the Kobo Mini it fits about the same amount of text on the screen. The Pyrus Mini is priced about the same as the Kobo Mini and basic Kindle, both of which blow this ereader away when comparing features. It's the size and design that make the Pyrus Mini unique. Overall it's a decent little ereader and I can't help but like it; I just wish the software had more going for it and the buttons were a tad more responsive.
Price: £48 (about $75 U.S.) at Amazon UK
Pyrus Mini Video Review
Hardware and Design
There are a couple of things that make the Pyrus Mini ebook reader unique. First is the small size. Most ebook readers, such as the Kindle, have 6" screens, and a few others like the Kobo Mini and earlier Sony Readers have 5" screens. But the Pyrus Mini takes it a step smaller with a 4.3" screen.
What's even more unusual is the screen isn't a typical E Ink screen like all the other ebook readers use. It's a Digital Ink screen. Both screen types look and function about the same. In fact, it would be pretty hard to tell them apart, as I mentioned in a earlier article where I compared the two different types of screen tech together. Nevertheless, it's interesting to see something new.
What's especially nice about the screen is the 800 x 600 resolution. That's the same as many 6" and 5" ebook readers. On the smaller screen that equates to 230 pixels per inch, which is more than the newer E Ink screens that are used on devices like the Kindle Paperwhite and Kobo Glo. More pixels equates to clearer and sharper text, especially when using smaller fonts.
As far as storage space, the device packs 2GB of internal memory and it has a microSD card slot and supports cards up to 32GB.
I'm not sure what kind of processor the Pyrus Mini is using because it's not mentioned anywhere in the specs. Page turning speed is about the same as the Kindle. But in other areas it can certainly slow down. It takes about 5-10 seconds to open an ebook, and if you do something crazy like switch the library to cover view it can take a few minutes to be rid of the loading screen.
The Pyrus Mini is coated in a soft rubbery material that is both comfortable and grippy. Lacking a touchscreen, the device is equipped with a multitude of buttons. The power button is on the bottom edge, and below the screen there are home, menu, keyboard, and back buttons, along with a four-way nav wheel and selection button. The nav wheel can be used to turn pages, and there are two additional page-turn buttons on the right edge of the device that are quite handy.
Software Features
The software on the Pyrus Mini is definitely not its strong point. It has basic features and functions adequately, but there a few bugs and no advanced features like notes, highlights, dictionary lookup, translations, sharing, and there's no wireless to download ebooks.
There are probably exceptions to the rule, but all ePub ebooks that I tried had the same formatting when displayed on the Pyrus Mini: there are no indentations for paragraphs and slightly bigger spaces between paragraphs than sentences. Some ebooks have serif font and some have sans-serif, but you can't change them—only TXT files can change between those two fonts. Otherwise you're stuck with what you get.
You can add bookmarks, access a single level table of contents to navigate between chapters, jump to a specific page number, run searches with an on-screen keyboard, change font size (there are six sizes), adjust margins, rotate the screen to landscape mode, automatically flip pages in intervals of 1-5 minutes, set the screen to refresh every 1-5 pages, and set decode settings for different languages.
The automatic page-turn feature would be nice, but with a screen this small it needs to have settings for less than one minute because that's way too long. You can set full page refresh for every 1,3, or 5 pages, but I find ghosting becomes an issue with it set to 3 or 5.
With PDF files, you can set it to reflow text, which it does a decent job of, or you can choose to view the original document and select from three pre-set zoom levels. Once zoomed-in, you use the nav wheel to navigate around the page, but annoyingly you cannot turn pages when zoomed in; you have to hit the back button, then turn the page, then reset the zoom level.
On the homescreen the Pyrus Mini lists your recently read titles and the last two ebooks that you added to the device. There's also an option to view the library, which sorts everything by title and displays it in a list showing the name of the book, the format, and author.
There's not much for organization, and it would be downright painful to use for large libraries of ebooks. Search is slow, cover view is really slow, and organizing titles by author, recently read, and newly added always switches back to the default sorting option whenever you leave the library view. Luckily there's a favorites menu that you can put ebooks into to find quickly, at least.
Who Should Buy a Pyrus Mini?
Given the small size a limited amount of features, the Pyrus Mini is more of a specialty ebook reader than one you would want to use all the time. The small size makes it great for taking it with you everywhere you want to go, but if you're looking for a primary ebook reader you'd be better off getting something with more advanced software and features. Plus with the lack of wireless and no integrated ebookstore, there's more of a learning curve with the Pyrus Mini having to sideload ebooks using third-party software on a computer, so it's not going to be the best fit for the technically challenged.
Pyrus Mini Specs
4.3" Digital Ink display (not E Ink).
800 x 600 screen resolution (230 dpi).
2GB internal memory.
MicroSD card slot.
Micro USB port.
Supported formats: Adobe DRM, EPUB, PDF, TXT, FB2, RTF, PDB, JPEG, GIF, PNG, BMP.
Battery Life: 1-2 weeks.
Language Support: English, German, Italian, French, Polish, Spanish, Portuguese, Dutch, Svenskt, Russian
Weight: 3.9 oz – 111 grams.
Dimensions: 85 mm x 128 mm x 9 mm.
Price: €49 (~$75 US).