Sony Reader Wi-Fi Review Page 2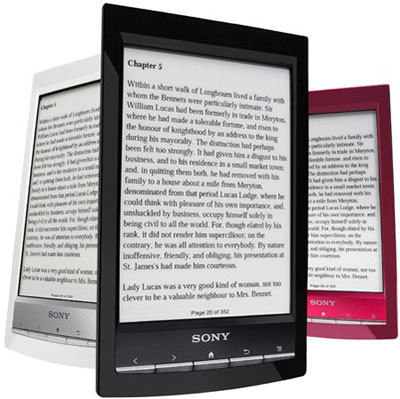 PDF Review
Sony Readers are known for being some of the more competent PDF ebook readers on the market because they offer different zooming options and support on-screen handwritten notes. That holds true for the Reader Wi-Fi, just remember that a 6-inch screen is far from ideal for viewing PDFs.
The new pinch-zooming feature works pretty well for PDFs, but it also has some limitations. For instance, you can't access the dictionary or other on-screen functions when zoomed in because the Reader needs to scroll in that mode.
There are a few pre-set zooming options that you can use the on-screen functions with. Two and three column split for multi-column PDFs works well. Another feature that works well for PDFs is margin crop. You can set it manually but the auto usually works better.
Landscape mode works for PDF files too. And there's a contrast adjustment feature to make the text lighter or darker for PDFs. This works well for PDFs with hard-to-read light text.
You can add notes and highlights to PDF files the same as with ebooks. One thing I noticed with PDFs, though, is that it sometimes has trouble zeroing in on what word you are trying to highlight, often highlighting an entire sentence instead.
The PRS-T1 has reflow mode for PDFs. There are seven different text sizes for reflow. Changing font type when reflowed doesn't seem to work, but all the other features work. Reflow is good for basic text PDFs, nothing complex. Results can vary, though. I found while testing the same document on the Kindle 4 that Amazon's conversion of a PDF to AZW did a better job of reflow because it removed the header and footer on each page when the Sony didn't.
Overall, the PRS-T1 is one of the better 6-inch PDF ereaders, but again, that isn't saying much. PDFs are more unpredictable than ebooks, sometimes they are very slow and laggy, and sometimes they force-close frequently. If you want a hardcore, everyday PDF reader I would suggest getting a tablet.
Sony PRS-T1 PDF Video Review
Web Browser
The web browser is surprisingly good as far as E Ink ebook readers are concerned. What's great about it is that it allows for downloading ebooks. I was able to download a few titles from Feedbooks, and was even able to login to my Kobo account and download a DRM'd ebook without a problem. I tried Google eBooks too. The web reader works but I couldn't get the ebooks to download directly.
The web browser is also good for checking and sending email, reading news feeds with Google Reader, referencing Wikipedia, and plenty more.
The browser works in both portrait and landscape mode. It has bookmarks, supports having up to three windows open at a time, and can take screenshots (I wish they'd add that for ebooks). You can save images, pinch zoom, and set the homepage. When holding down you can scroll around the page, and scrolling works surprisingly fast. The one downside is that the screen refreshes (flashes) excessively sometimes.
One of my favorite features with the web browser is that you can use it to login to Dropbox and download files. I've heard you can use the Calibre content server as well. Nuts to using the USB cable to transfer ebooks.
Reader Wi-Fi Web Browser Video
Audio Player
The Sony PRS-T1 can play MP3 and AAC audio files. It has a headphone jack but no speakers. The audio player automatically sorts all your music by album/artist, which can be really annoying if your audio files' metadata isn't setup properly. It insists on sticking all my songs into one album...typical Android.
It has an on-screen volume dial since there are no physical buttons. Maybe it's my headphones, but I could stand for the volume to be a little louder. There's a shuffle and repeat setting, but that's about it. There isn't any way to make playlists or anything.
Conclusion
After getting past the initial shock that the PRS-T1 Reader Wi-Fi is so different than the older Sony Readers, it's actually a step forward for Sony's ebook readers overall with the addition of Wi-Fi, direct library downloads, new fonts, the web browser, and advanced reading options. The move to Android will likely benefit them in the long run too, especially now that there are rooting directions to install Android apps.
In the past, Sony's ereaders were generally a lot more expensive than similar competing brands. For once Sony managed to get the price down far enough so that it is right about where it should be, especially considering that the PRS-T1 offers a different set of features than the $129 Kobo Touch and $139 Nook Touch and Kindle Touch.
Sony PRS-T1 Specs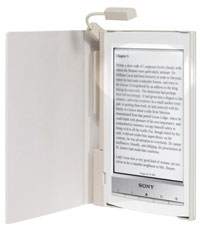 6-inch E Ink Pearl screen
Infrared touchscreen with multi-touch
800 x 600 pixel resolution, 16 levels of grayscale
Wi-Fi (802.11 b/g/n)
Language interface: English, French, German, Dutch, Italian, and Spanish
2GB memory
MicroSD card slot for cards up to 32GB
3.5mm headphone jack
Mini USB 2.0 port
Battery Life: 3-4 weeks
Supported formats: Adobe DRM, EPUB, PDF, TXT, MP3, AAC, JPEG, PNG, GIF, and BMP
Dimensions: 6 7/8" x 4 3/8" x 3/8"

Weight: 5.9 ounces
Colors: Black, White, and Red
Price: $149 at Amazon