Sony Reader PRS-T2 Review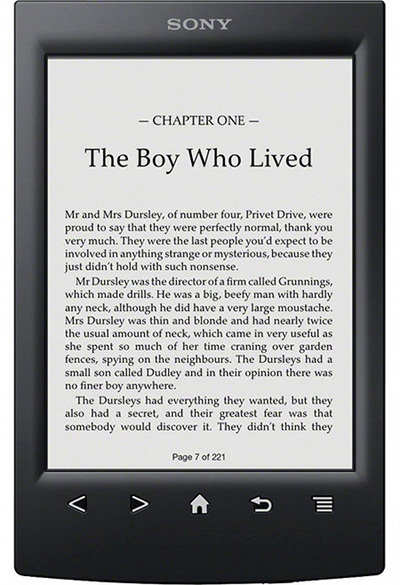 Review Date: September 2012 - Review unit purchased from
Amazon
Overview
The Sony Reader PRS-T2 is the latest in a long line of ebook readers from Sony. It brings with it a few new changes but is basically a carbon copy of last year's model, the PRS-T1. Thus I would suggest reading over the Sony PRS-T1 review for some additional information because I've decided not to re-write everything for this review.
The main differences between the two are as follows: the PRS-T2 lacks audio support, it has new buttons that are placed closer to the screen, Sony added partial page refresh (which can be turned on and off), the black model now has a matte finish, and they added some new Evernote and Facebook features.
Quick Review: Sony Reader PRS-T2
Pros
Easy to download library ebooks and ebooks from a number of websites using the web browser.
New Evernote feature is nice for sending web pages and articles to the Reader wirelessly.
Advanced features: add freehand notes, crop margins, several font choices, 6 dictionaries, contrast adjustment, history, landscape mode, and various zoom settings for PDF files.
Matte finish for the black model.
The screen looks great, despite not being HD, and the background color is slightly lighter than the PRS-T1.
Cons
It's almost exactly the same as last year's PRS-T1; very few improvements have been made.
The buttons feel rather jagged and unpleasant, and click loudly.
Gets laggy at times. As you can see in the video below, with 70 ebooks on an SD card loading the Bookshelf takes several seconds.
Although clearer and sharper, fonts are slightly less bold and dark than the PRS-T1.
Couldn't get Facebook to work.
Verdict
In a year where all of the other ebook readers being released have built-in front lights, HD screens, or both, the Sony Reader PRS-T2 just doesn't bring enough new features to live up to expectations. Not only that but Sony has priced the T2 about the same as competing models, despite the lack of upgrades.
Nevertheless, when it comes right down to it the Sony Reader PRS-T2 isn't a bad ebook reader at all—in fact it is quite good and offers features other ereaders don't, but it just feels like Sony is getting lazy in regards to their ebook readers. It seems like they are regressing a little more each year instead of advancing forward. It would be nice to see Sony go back to making premium ebook readers rather than trying to make the cheap ones.
Estimated Price: $129 at Sony, Amazon
Sony Reader PRS-T2 Video Review
Hardware and Design
With the exception of the buttons, the Sony Reader PRS-T2 is the same exact shape and design as the PRS-T1. The upside with that is the T2 fits in covers made for the T1. If you are wondering why the PRS-T2 looks a little strange in the video above, it's because it is in the official Sony lighted cover. I forgot to mention that.
Sony doesn't give the exact specs on the processor, but it appears to be the same because both devices load and operate at roughly the same speed. The T2 turns pages a little faster, especially with the new partial page refresh setting enabled, but the T1 returns to the homescreen and loads the bookshelves slightly faster.
The PRS-T2 uses the same 6-inch E Ink Pearl screen as the T1, with a resolution of 800 x 600, but the quality is improved. The background color is slightly lighter than pervious Pearl screens, including the ones on the Kindle Touch and GlowLight Nook. The fonts, however, aren't quite as bold and dark as they are on the PRS-T1—Sony changed something with the software. Fonts are clearer and sharper but aren't as dark.
Like its predecessors, the PRS-T2 uses an infrared touchscreen that is very responsive and generally works exceptionally well. The touchscreen makes interacting with an ebook easy, adding notes and highlights, looking up words in the dictionary, turning pages and pinch-zooming. The Reader even comes with a stylus, but there isn't anywhere to put it on the Reader itself so trying to keep track of it can be troublesome.
The PRS-T2 has 2GB of internal storage space and a microSD card slot for expansion. Sony dropped audio support on this model so the 3.5mm headphone jack is gone. But battery life has been doubled to a total of 8 weeks with Wi-Fi turned off, although it's hard to tell if that's an improvement or if they just cut reading time in half.
I like the new button placement on the T2. Being higher up they leave more room to hold the Reader from at the bottom. The new buttons don't feel as nice as the old ones, however. They feel plasticky and are rather sharp around the edges, plus they click loudly. Still, I find myself using them to page forward and scroll more than the touchscreen; it's nice having page buttons for that so you can just rest your thumb on the button instead of having to reach for the touchscreen every time.
The matte finish is definitely a nice upgrade from the glossy finish Sony used last year. It feels nicer with sort of a soft coating and it doesn't reflect light back at your eyes. The white and red models still appear to be glossy, however.
Software
Like last year's model, the PRS-T2 runs an Android operating system. Sony has closed it in and customized it, though, so it doesn't natively support installing Android apps. Last year the PRS-T1 was hacked to allow users to install apps and make numerous customizations, but as of this review, the PRS-T2 has not been hacked yet.
Immediately after getting the PRS-T2 setup, a notification popped up saying there was new firmware available. The update downloaded and installed automatically. This sounds basic but is actually a big improvement over Sony's older ereaders where you had to plug them into a computer and use Sony's desktop software or a package installer to install updates.
Evernote and Facebook
The two new main software features are the addition of Evernote and Facebook.
With Evernote Clearly you can send web pages and news articles from your desktop computer's web browser to the PRS-T2. It turns them into a nicely formatted ebook without advertisements or extra clutter. Likewise, you can use Calibre to achieve similar results with RSS feeds to get free subscriptions from websites and blogs.
You can also use Evernote to save highlighted sections and notes to your Evernote account to view on other computers and devices. The only downside with this is Sony limits snippets to just 140 characters for ebooks with DRM.
Evernote works well but for some reason I couldn't get Facebook to work, which is okay because I wouldn't know what to use it for anyway. Hitting the Facebook setup button loads a screen with a Facebook logo but then nothing ever happens... Nice new feature, Sony.
eReading Features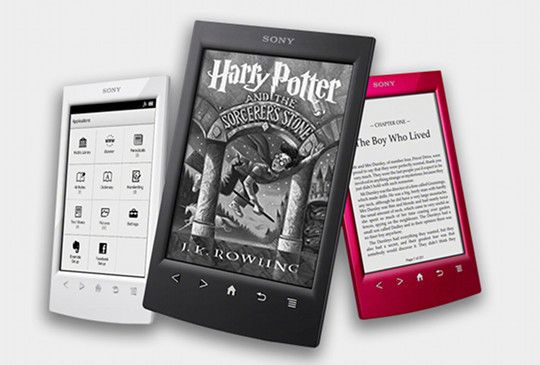 Aside from the partial page refresh setting and new Evernote and Facebook features described above, the reading experience on the PRS-T2 is the same as the T1. Instead of writing it all over again, please refer to the PRS-T1 review for the list of ereading features.
The Sony Reader PRS-T2 supports Adobe DRM, EPUB, PDF, and TXT formats. Sony no longer provides support for their old proprietary BBeB format, nor office files.
PDF Review
Sony's ebook readers have always tended to be more PDF friendly than most other popular brands because they offer various zooming options and support on-screen markup. The same holds true for the PRS-T2.
Again, all features related to PDF reading are the same on the T2 and the T1, so here's the link to the PDF Review, which also includes a more detailed review of how the web browser and library ebooks work. The T2 does turn pages a little bit faster than the T1 when reading PDFs, but it still tends to bog down at times. Mostly with larger PDFs but not always. It varies from file to file.
Overall the PRS-T2 is an above average PDF Reader compared to other 6" ebook readers, but a device with a larger screen is going to be better for PDFs, something like the Icarus Excel with its 9.7" E Ink screen or pretty much any tablet.
Web Browser and Library eBooks
For an E Ink ereader, the web browser is pretty decent. It's still nothing like the experience you are going to get on a tablet, but pages load relatively fast and pinch-zooming and scrolling work well enough to navigate a page. The physical page buttons work for scrolling too.
One of the highlights of the web browser is that it lets you download ebooks in ePub and PDF format from public libraries and ebook websites. The web browser also comes in handy for using Dropbox and other services to transfer ebooks and PDFs to the Reader wirelessly.
The PRS-T2 connects to Sony's Reader store for ebooks and periodicals too, of course. Aside from the Sony eBook Store, you can get ebooks from any ebook store that sells them with Adobe DRM, which most do. You can also get gazillions of free ebooks and DRM-free ebooks from various websites as well.
Who Should Get a PRS-T2?
The Sony PRS-T2 is best suited for people who don't need the integrated front light found on the Kindle Paperwhite, GlowLight Nook, and Kobo Glo, but want an ebook reader that supports ePub format and offers some advanced features like on-screen handwritten notes, custom fonts, advanced zoom settings for PDFs, a competent web browser, and has the ability to easily shop for and download ebooks directly from the Reader itself, including free ebooks from public libraries.
Sony Reader PRS-T2 Specs
6-inch E Ink Pearl screen.
Infrared touchscreen with multi-touch (pinch-zooming).
800 x 600 pixel resolution, 16 levels of grayscale.
Wi-Fi (802.11 b/g/n).
Language interface: English, French, German, Dutch, Italian, and Spanish.
2GB memory (1.3 usable).
MicroSD card slot for cards up to 32GB.
Mini USB 2.0 port.
Battery Life: 4-8 weeks.
Supported formats: Adobe DRM, EPUB, PDF, TXT, JPEG, PNG, GIF, and BMP.
Dimensions: 6 7/8" x 4 3/8" x 3/8".

Weight: 5.9 ounces.
Colors: Black (matte), White, and Red.
Comes with stylus and USB cable; black model comes with a code to download first Harry Potter ebook for free.
Estimated Price: $129 at Amazon.