BeBook Mini Review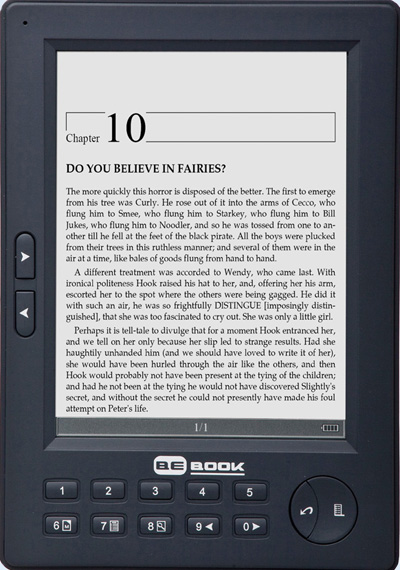 Overview
The above image is close to the actual size of a BeBook Mini (provided your browser is not zoomed in). It is one of a few new ebook readers to feature a smaller 5-inch E Ink screen.
Like the original 6-inch model, this one offers users support for over 20 different file formats and languages. And a new feature allows it to work with Adobe Digital Editions for DRM-protected EPUB and PDF files, so you aren't limited to unencrypted ebooks, or the limited titles from Mobipocket.com.
Specifications and Features
The 5-inch screen on the BeBook Mini has an 800 x 600 pixel resolution and supports 8 levels of grayscale. The device only weighs 160 grams (5.7 ounces) and is designed to be a pocket-sized, highly portable device.
One of the major benefits of BeBook is its firmware. You can create as many customized folders and sub-folders as you want to keep books and documents in order.
You can also change the font type. If you'd rather read in Arial or Times New Roman it's easy to modify. And you can upload more fonts via the settings menu by putting more fonts into the root folder, even foreign language fonts.
Another unique feature about the BeBook Mini is Text-to-Speech. Like the Kindle, it can read a book aloud in a computer generated voice, provided the publisher hasn't turned off the feature (some claim TTS violates copyright laws).
More features include: Zoom in on a page, 3-5 adjustable font sizes, portrait and landscape modes, 512 MB internal memory, bookmarking, SD memory card slot (up to 16 GB), 7,000 page-turn battery life (user replaceable), 3.5mm headphone jack.
It comes with a USB cable, user manual, and earphones. Unlike the 6-inch original, it does not come with a cover.
BeBook Mini Vs Sony PRS-300

The BeBook Mini sells for the same price and the PRS-300 and has a few additional features:
It has an SD memory card slot for up to 16 GB.
The device supports more format types overall and the same DRM-protected formats (EPUB and PDF).
It is slightly smaller and weighs less.
There are more page-turn buttons: the two on the left side, two below the screen, and a thumb-wheel shown in the picture to the right.
Text-to-Speech features.
The firmware is more user friendly and offers much more control. For instance, you can change font type and import more fonts, you can zoom in, create folders, view book formats in menu, etc.
Supports MP3 and audiobooks, and has a 3.5 mm headphone jack.
Provides support for image files.
But the Sony PRS-300 has the edge in the following areas:
More solid and durable; metal frame.
Sony's online ebook store.
Sony is a bigger, more-established company with a longer track record of customer support and satisfaction.
The PRS-300 comes with a protective sleeve.
Sony's ebook readers are available from several major retailers.
eBooks for BeBooks
By supporting Adobe's DRM, the BeBook Mini will display purchased ebooks from all the EPUB and PDF websites listed on the ebooks page. Or if you'd prefer the reader to read secured MOBI files you can install firmware for that too, but note that the device cannot support both Adobe and Mobipocket at the same time; it's either or.
Additionally, all the websites listed on the free ebooks page offer countless titles compatible with this device.
Formats and Language Support
Text: PDF, DOC, HTML, RTF, DJVU, FB2, WOL, TXT, EPUB, PPT, LIT, CHM, MOBI, PRC, HTM, WOLF
Archives: RAR, ZIP
Images: BMP, JPG, PNG, GIF, TIFF
Audio: MP3
Built-in menu language support: English, French, Spanish, German, Dutch, Chinese, Russian, Greek, Ukrainian, Turkish, Japanese, Korean, Bulgarian, Estonian, Polish, Czech, Italian, Norwegian, and Slovenian.
More 5-inch eBook Readers