Amazon Kindle 2 Review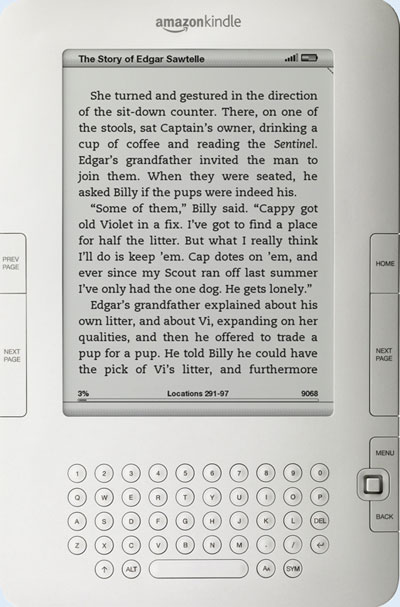 Overview
The Kindle 2, by far the most popular ebook reader in the United States, is now the Kindle International. It sells for $189 USD from Amazon.com, and is their top selling product overall, in fact. The convenience of wireless downloads and the vast quantity of affordable reading material available has set it apart from all other ebook readers on the current market.
To read information specific to your country, such as wireless coverage area and ebook selection, you can visit our Kindle International page. This page that you are currently viewing delves into the specifics of the device and how it works.
Features and Perks List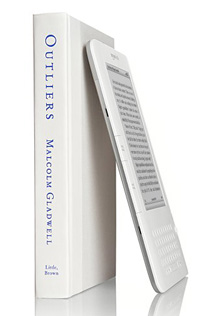 If you are unfamiliar with ebook readers, this device is about the size of an average DVD case, at 8" x 5.3" x 0.36", and weighs 10.2 ounces. The screen measures 6-inches diagonally and has a 600 x 800 pixel display that supports sixteen shades of gray.
Thanks to a recent software update, the Kindle 2 now supports PDF files natively and the battery life has been improved from 4 days to 7 days with wireless turned on (it remains two weeks with wireless turned off). Additionally, you can now rotate the screen to landscape mode, which is useful for reading PDFs.
The free wireless Whispernet is fast and easy to use; most books download in less than a minute. And you can download and read the first chapter of a book before you decide to buy.
The wireless service doesn't end with books. You can reference Wikipedia, use the basic browser (where available) to check your email, download free ebooks, get directions with Google Maps, and surf text-based sites.
It has a five-way navigation controller to navigate through the menus. The mini QWERTY keyboard, which allows you to take notes right on the page and save them for later reference, is handy for text searches and typing URLs in the basic browser.
Users can bookmark, highlight, and search for synonyms and definitions right on the page. Pages can be noted upon and saved as clippings and text files. All clippings are added to a file that can be downloaded over a USB cable.

Amazon offers several different reading apps to sync Kindle books with an iPad, iPhone, Blackberry, and iPod touch, as well as the new Kindle for PC and Mac software, allowing for quick and easy transfer of books. It even saves what page you were on so that whichever device you use, you'll be right where you left off when you finished reading the last time.
It also supports MP3 playback, as well as audiobooks. You can listen with the built-in speakers or plug into the headphone jack.
The Kindle has a controversial text-to-speech feature (the Authors Guild claims it violates copyright laws). The voice is computer generated and sounds slightly odd at times but is overall fairly decent. You can choose either a male or female voice. Authors and publishers now determine if this feature is active or not for a specific book.
Ideal for people with poor vision, it has a Zoom feature and six levels of text size.
The device remembers the last page read for each book.
All your books are automatically backed up by Amazon in the cloud, and you can re-download them whenever you want and as often as you want.
Works with Windows and Mac.
Lending Feature?
With the recent release of the Barnes and Noble Nook, lending ebooks to other devices has become a new feature. In fact, one of B&N's biggest selling points with the Nook is the ability to lend a purchased ebook for 14 days, provided the publisher allows it.
This feature is highly controversial among publishers for fear of losing sales. And Amazon currently does not have a lending option in this manner.
However, there is a way to share ebooks among Kindles. Each account is allowed to be set up with a maximum of six devices, be it Kindles, iPhones, etc. Sharing ebooks between these six devices is permitted, and each device can have a permanent readable copy without any time limit.
Amazon isn't advertising this as lending, probably because they don't want to make publishers more apprehensive than they already are about lending digital content, but it is a useful feature for sharing ebooks among friends and family nonetheless.
Video Demonstration
Video Removed by User
Electronic Paper Display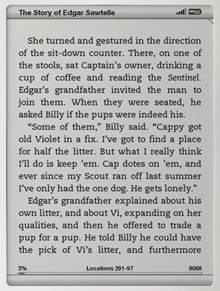 The Kindle, like most ebook readers, uses electronic paper to display E Ink in such a way as to mimic the look of the printed page.
As you push the button to flip the page, an electronic charge rearranges all the E Ink micro-capsules to either white or black to display the text on the screen.
This causes the screen to blink for a split second, but as the technology evolves, this becomes less and less noticeable. The Kindle 2 is much faster refreshing the page than the first generation model.
One of the benefits of epaper and E Ink technology is that the text is very crisp and clear, and can be viewed comfortably in bright light, unlike backlit computers and phones. But unlike computers and phones, you'll need a light to read it in the dark; there is no internal source of illumination.
Li-ion Battery
Another benefit of this technology is that it uses very little power, none while you're reading the text on the page, in fact. The battery will last up to 7500 page-turns with a single charge. This equates to 2 weeks or more of use, or 1 week if you're doing a lot of wireless navigation and using audio features. Recharging the battery takes about four hours.
Amazon also states that after 500 charges, the battery will still hold 80% of its original charge, meaning most users can get about a decade out of each battery. Batteries are not user changeable; Amazon requires you to send it to them for replacement. The cost is said to be $60.
The unit comes with an AC adapter and USB cable, along with a quick start guide. It does not come with a cover.
Cons
The most common user complaints are:
Organizing books can be difficult because there is no option to create customized folders for organizing ebooks and documents (Amazon is reportedly working on a firmware update for this feature that is supposed to be released in early 2010).
No native EPUB support; you have to convert files with Calibre.
eBooks and other digital content cost more outside the US.
Publishers don't allow for the same selection of ebooks outside the US, although Amazon states they are working toward making their entire library accessible to everyone.
It only comes in white.
It doesn't come with a cover.
The mini keyboard is unneeded 90% of the time; touchscreen would be better.
No external memory card slots.
Limited format capabilities and proprietary DRM. Picking up the bill for the wireless service, Amazon wants users to download ebooks exclusively from them. But there are a number of places that have Kindle-supported formats for free or without DRM (see ebook section below).
eBooks and More for Kindle 2

Visit our dedicated Kindle eBooks and More page for a comprehensive listing of available content, including free ebooks, newspapers, magazines, and RSS news feeds. You'll also find a search box on that page if you want to see if Amazon has books from your favorite authors.
K2 Accessories

If you are looking for covers, skins, screen protectors, lights, or power adaptors for your Kindle, you can visit our Accessories Page for more information about them. Skins are a good way to customize, like the one shown to the left. And there are hundreds of varieties.
Supported Formats
Text: Amazon's proprietary format AZW, PDF, TXT, unprotected MOBI/PRC.
Audio: AAX, AA, MP3.
Amazon converts PDF, HTML, DOC (Word), RTF, JPEG, GIF, PNG, BMP, MOBI, PRC to their AZW format.