BeBook eReader Review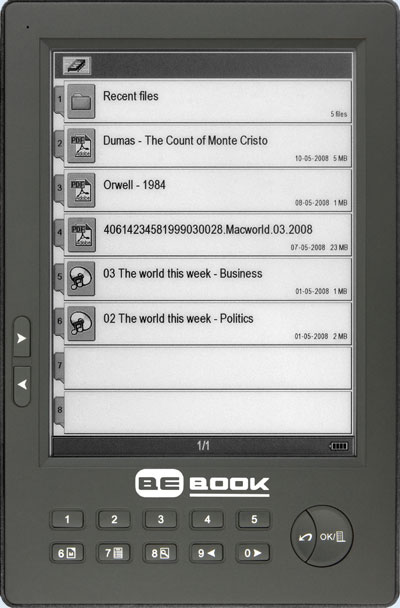 Overview
The main thing that BeBook offers is freedom. You're free to buy your ebooks from wherever you like, and free to view a wide range of file types. You aren't confined to one proprietary format, or limited to a few places to get ebooks, and you don't have to waste time emailing and converting files. Just download, read, and repeat.
This works great for people who've already purchased ebooks from places like mobipocket; you simply enter the BeBook's PID number into the device settings of your account and re-download all the books you've already paid for.
BeBook comes with 512 MB of memory, enough for several hundred books, but many people like copying their books and documents to an SD memory card because it's faster than the USB 1.1 cable, and with a 4 GB memory card you can house several thousand books in your BeBook, pretty amazing when you consider the device is slightly smaller than a standard DVD case.
It's not all candy and roses, however. BeBook does have some limitations. It's not as sleek and smooth as the Sony Reader, nor is the text as sharp and detailed. It doesn't have wireless connectivity or built-in speakers like Kindle, and no newspaper or magazine subscriptions either.
But it does offer its users a unique versatility that no other ebook reader on the market comes close to.
Specifications and Features
Like Kindle and Sony, BeBook incorporates E Ink Vizplex technology, and has a 90 x 120 mm (6") screen with a pixel resolution of 600 x 800. It has a long battery life of around 7,000 page-flips. One difference, however, it only supports 4 shades of gray, so the text isn't quite as crisp in comparison.
One of the lightest ereaders on the market, it weighs just 220 grams (7.76 ounces) and is 184 x 120 x 10 mm (7.24" x 4.74" x .39").
BeBook is organized. You can create as many customized folders and sub-folders as you want to keep books and documents in order.
Another unique feature that most other ebook readers don't have is the ability to change font type. If you'd rather read in Arial or Times New Roman it's easy to modify. And you can upload more fonts via the settings menu by putting more fonts into the root folder. You can also change the text size.
There are three levels of Zoom to increase font size, which is helpful for reading PDF files. On the highest level, the screen automatically switches to landscape mode to maximize magnification and readability.
PDF support is surprisingly good, considering the small screen in relation to a large PDF page. Most PDFs look best on the second level zoom, but an entire page doesn't quite fit, so there's more page turning. Level three zoom displays the font in roughly the same size as it would be on the page.
If you take your laptop outside on a sunny day, you'll barely be able to see the words on the screen with all the glare and reflection, but because of E Ink, reading a BeBook in bright environments isn't a problem.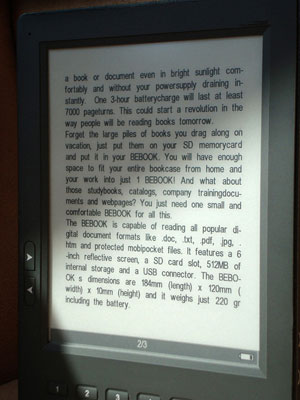 Ambidextrous design makes using the device intuitive with either hand, and the ereader can be orientated either way in the cover.
BeBook's firmware comes with free lifetime updates, so expect its versatility to keep up with new technology and formats.
Works well with both Windows and Mac.
Extensive built-in menu language support: English, French, Spanish, German, Dutch, Chinese, Simplified Chinese, Russian, Ukrainian, Turkish, Japanese, Korean, Bulgarian, Estonian, Polish, Catalanian, Czech, Greek, Hungarian, Italian, Norwegian, Slovenian.
It comes with a genuine leather case, USB cable, user manual, and earphones. If you're going to be away from your computer on a trip you'll need to purchase an AC adapter to charge the unit.
Video Demonstration
Cons
Not all formats are perfect; some formats have minor errors.
Occasionally lines will be wider than usual or have weird indentions or graphics won't display correctly (this can often be fixed by converting the format into another type).
The ancient USB cable 1.1 can be an issue with transferring large files and auidobooks; it's best to use an SD memory card for these.
It can take several seconds to open a new book, or large PDF document.
Some users mention the device restarting or freezing up under certain circumstances, mostly in instances of using obscure file types or large graphically oriented files.
eBooks for Bebooks
If you're looking for free ebooks, check out our free ebooks page. All the sites on this page have compatible formats with this device.
It comes with 150 books pre-installed. There are 20,000 more free titles available from the mybebook.com website.
If you want to buy ebooks, your selection is wide open since most file types are supported. MOBI format works great with this device, so BeBook suggests mobipocket.com, which has over 120,000 current and commercial titles. Mobipocket also has over 300,000 RSS newsfeeds you can register for.
More sites are listed on the ebooks page.
Formats
Documents: PDF, DOC, HTML, RTF, DJVU, FB2, WOL, TXT, EPUB, PPT, LIT, CHM, MOBI, PRC, HTM, WOLF
Archives: RAR, ZIP
Images: BMP, JPG, PNG, GIF, TIFF
Audio: MP3
More eBook Readers