iRex Digital Reader Review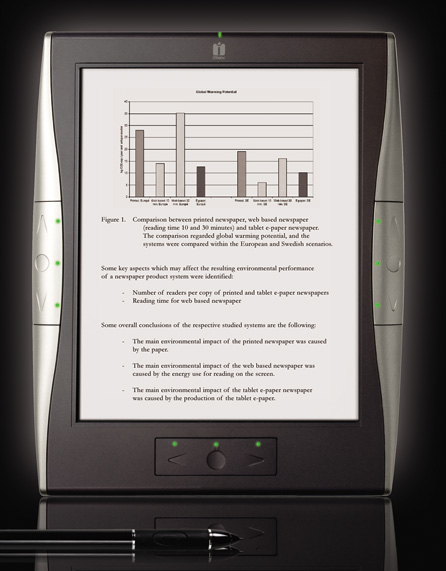 Overview
The Digital Reader series isn't marketed as consumer ebook readers like the Sony Reader and Kindle. It's exclusively a business ereader, designed for professionals that need to carry around a lot of PDF and other digital documents and newspapers.
There are three models in the series: the basic DR-1000, the high-end DR-1000SW with Wi-Fi and Bluetooth, and the middle-of-the-pack DR-1000S, which is currently the only model available. Thus, this will be based on the latter model.
Specifications and Features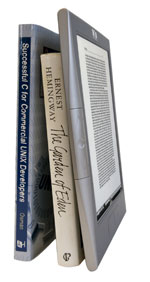 Slightly larger than the Kindle DX, all three Digital Readers are the same size, 268 x 217 x 12 mm (10.6" x 8.5" x .5"), and weigh in at 570 grams (20.1 ounces).
Supporting 16 levels of gray scale, it has an E Ink Vizplex screen, which is 163 x 203 mm (10.2"). The pixel resolution is 1024 x 1280.
It only has 128MB of RAM but comes with a 1GB SD memory card, of which can be supplanted with a larger SD card.
The device currently supports four languages, English, French, German, and Dutch.
It comes with a USB 2.0 cable, a stylus, and a quick start guide. Purchasing a cover is highly recommended. They cost £41.95 ($54.95).
The DR-1000S has two main selling points:
It has a touchscreen and comes with a stylus that allows users to write notes directly on the screen. These can then be converted into digital text and exported to another device or computer.
Quoted from the iRex website (typos included):
"Print any document directly to you the iRex Digital Reader. Microsoft Office documents, e-mails and Adobe PDF documents, can be directly printed into a readable format on your iRex Digital Reader, allowing you the convenience to always have all your paperwork at hand.

The average office worker prints more than 10,000 pages of paper a year, of which three quarter is thrown away within one week and more than half the same day.

The iRex Digital Reader finally offers a way for companies and individuals to cut out the billions of pages of printed paper they produce each year, making a powerful contribution to the environment."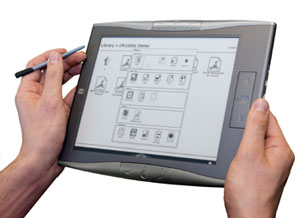 As you would expect from this device, you can rotate the display, add bookmarks, find words and look up dictionary definitions.
The DR-1000S renders PDF files exceptionally well, and the screen is very easy on the eyes, with crisp and clear text, and minimal glare. It's the best device on the market if you need to use and edit over PDF documents frequently.
Another main feature, the Digital Reader offers access to over 1020 newspaper from 81 countries with PressReader, including The Telegraph, The Wall Street Journal Europe, USA Today, Washington Post, and more.
Video Demonstration of Newspaper Functions
Cons
The most common user complaints are:
The £600 ($860) price.
Very short battery life, about 12 hours or less, and it takes 5 hours to charge with a USB cable.
No AC adapter (they have one for the iLiad, but not for the DR-1000 series, which makes no sense).
The price.
User interface cluttered with icons and excessive commands are required to open, close, and delete documents.
It doesn't have Wi-Fi or Bluetooth.
Slow start-up, about 45 seconds.
Limited format support.
And, the price.
Formats
Text: PDF, HTML, TXT, PRC (MOBI)
Images: JPG, BMP, PNG, GIF, TIFF
Audio: none
New supported
formats
: EPUB, Adobe PDF
Additional Pages