Energy eReader Pro (Boyue T62) Review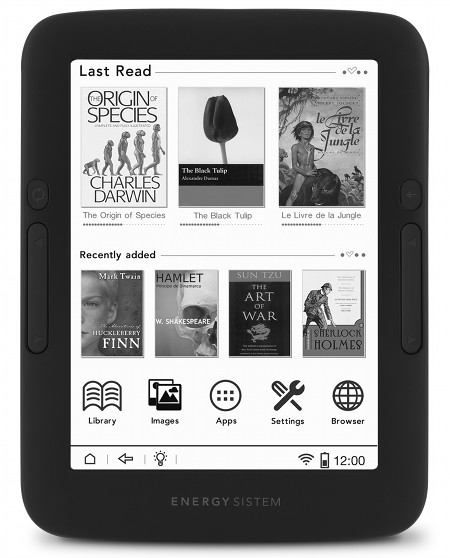 Review Date: February 2015 - Review unit provided by Energy Sistem
Overview
Spain-based Energy Sistem launched a lineup of three new ebook readers in early 2015, with the Energy eReader Pro at the top of the hierarchy. The eReader Pro is the same exact device as the Boyue T62, which has been rebranded and sold under various other brand names as well.
The software and hardware is very similar to the Icarus Illumina (aka Boyue T61) that I reviewed last August, but the eReader Pro has a few upgrades like a larger battery, more storage space, audio support, and Google Play access.
The Energy eReader Pro is available from Energy Sistem.com for €119 including VAT. They also sell the device on Amazon UK for about £99.
Quick Review: Energy eReader Pro
Pros
Open Android 4.2 operating system allows for installing Android apps from Google Play and offers a wide range of support for reading apps like Play Books, Kobo, Kindle, Moon+ Reader, FBReader, Feedly, Comixology, etc.
The device is comfortable to hold one-handed with a thumb resting on the page buttons, plus the buttons work with most reading apps once configured properly.
Offers twice as much internal storage space (8GB) and space to install apps (1GB) as Onyx's Android ereaders.
Good amount of features with the Android OS, microSD card slot, frontlight, E Ink screen, page buttons, dual-core processor and support for audio with a headphone jack.
Cons
The pre-installed reading apps don't offer as many features as dedicated ebook readers like Kindles and Kobos.
Takes time and research to learn how to setup, customize, and tweak settings to suit your preference; there is no detailed user manual that explains everything.
The operating system runs pretty smoothly but sometimes the software takes a few seconds to react after tapping something, such as an app icon or book cover.
Average battery life is closer to 2 weeks than the advertised 8 weeks.
Verdict
Like other ereaders that run open Android, the Energy eReader Pro is the best suited for advanced users that want a device that's not restricted to a single platform or style of reading like a Kindle or Kobo ereader. Those devices are designed for reading ebooks from one main source, whereas the eReader Pro is more of a multipurpose ebook reader that can be used for everything from web reading and RSS reading, to comicbook reading and email reading, and regular ebook reading from all the major stores.
The only downside with having software so complex is that most apps aren't optimized for E Ink in any way, and battery life isn't as good as simpler ebook readers. Like all Android ereaders, there is a trade-off for having more options, features and functionality. The good thing with the eReader Pro is that the software is stable and most reading apps work pretty well, and having access to Google Play to install apps makes it a more user-friendly option than similar models.
Energy eReader Pro Video Review
Energy eReader Pro Getting Started Tips »
Hardware and Design
The Energy eReader Pro comes with a good set of hardware features. It reminds me a lot of the Onyx Boox AfterGlow 2 that I reviewed last month; both are very similar devices. Like the AfterGlow, the eReader Pro has a 6-inch 1024 x 758 resolution E Ink Pearl screen, a frontlight, and a 2-point capacitive touchscreen. The device is powered by a dual-core 1.0 GHz processor with 512MB of RAM, 8GB of internal storage space, and a microSD card slot.
Text looks nice and crisp and dark on the E Ink display. The frontlight offers a good range of brightness settings. The lighting is pretty even, though a little brighter toward the top. The light can be toggled on and off by holding the dedicated refresh button above the left page buttons.
Speaking of page buttons, the device has a set on each side of the screen, and they work well with most reading apps (first you have to enable page turns with volume buttons in settings). Along with the aforementioned refresh button, there's also a dedicated back button above the right set of buttons. I think it would be handy if they made it function as a menu button with a long-press because there is no menu button anywhere, not even on the status bar, and that's kind of inconvenient at times.
As far as the capacitive touchscreen is concerned, it works pretty well and is more accurate than Onyx's capacitive screens. The only time I have a problem with it is after waking the eReader Pro up from sleep mode. It seems to not react for a few seconds after being turned on. There's also a lag when touching things sometimes, but that seems to be more OS related than touchscreen related.
I like the overall design of the eReader Pro (or maybe I should say Boyue T62). It has a nice feel in your hand. The corners and edges are rounded. The front and back is covered in a soft rubbery coating. Plus the device feels really well built and solid, nothing like the cheap plasticky feel of the $79 Kindle for instance.
Like most ebook readers, battery life claims are greatly exaggerated. I doubt the battery would last for 8 weeks if you charged the device fully and set it on a shelf in sleep mode and didn't use it. Around 2 weeks is a lot more realistic. Actually battery life isn't as poor as I expected. Sure the battery can easily go down 10% in a day if you are using the device a lot, but overall it seems to be a little better than other Android ereaders I've tested, especially the Icarus Illumina (Boyue T61).
One of the features that sets the eReader Pro apart from some other ereaders is the support for audio. There is no speaker or Bluetooth, however, just a 3.5mm headphone jack. The device uses the regular Android audio player, or you can download various Android music apps. I tested the stock MP3 player with headphones and it sounded good, and the music works well playing in the background while reading and it even adds a play button to the status bar to quickly turn on and off when reading an ebook.
Software Features
The Energy eReader Pro runs Android 4.2.2. As mentioned in the getting started tips guide for the eReader Pro, Google Play doesn't show up in the app drawer initially. First you have to use one of the preinstalled Google apps to sign in with a Google account and then the Play Store app will update and show up a little later in the app drawer.
Obviously the Android operating system is the number one thing that sets apart the Energy eReader Pro from traditional ebook readers. Being able to install apps from Google Play makes the device more like a tablet than an ebook reader. Just keep in mind that Android apps aren't designed for devices with E Ink screens so it's a crapshoot whether or not most apps will work well enough to be functional.
One problem with apps on E Ink is that sometimes you can't read the menus or pop-ups because the colors don't transfer well to black and white. Another problem is animations don't work well with E Ink. Sometimes they can be turned off; sometimes they can't.
For the most part reading-based apps tend to work pretty well, including the Play Books app, Moon+ Reader, Feedly, and Comixology. The newer version of the Kobo app works surprisingly well too if you can stand giant margins, but you have to sideload the app because when downloading from Google Play it insists on installing the older crappy version of the app that's basically unusable on the eReader Pro. The Kindle app is functional too, but like always it doesn't display all that well on an E Ink Android device. Text gets washed out and faded faster than other apps because of the Kindle app's page sliding effect.
The device also comes with two reading apps preinstalled, Adobe Reader and FBReader. Both apps work well but neither offer as many features as other apps. You can select and copy text, add notes, bookmarks and highlights, but no dictionary or sharing features exist. There's a decent amount of font choices and layout options. I really like the bold setting for text with FBReader. There's an autopage feature that you can set to automatically turn pages at set intervals of 10-80 seconds. You can change screen orientation, run searches, and navigate with the book's table of contents or enter a page number or use a slider bar. Full page refresh can be set in the main settings menu but not within the apps.
Obviously the Adobe Reader app supports Adobe DRM ebooks, so those are an option on this device as well.
There aren't very many apps preinstalled. Just a web browser, Gmail, Google Drive, music player, notepad, image gallery, a basic file manager, and that's about it until the Google Play Store app magically appears. There's nearly 1GB of space available for apps so you can install quite a few. The device also comes with 1500 public domain ebooks preloaded.
One thing I've noticed about the software on these Android-powered Boyue ebook readers is that the operating system seems to run a little smoother than Onyx's Android ereaders. Over the course of testing doing these various reviews, I've encounter less software-related problems with both the eReader Pro and Icarus Illumina HD. I seem to encounter more problems with force-closes, freezes and apps misbehaving on Onyx devices, except the Boox M96, which I rarely have any problems with.
On the other side of the coin, Onyx's devices come with much more advanced reading apps preinstalled. OnyxReader and Onyx Neo Reader both offer a full suite of features, especially when it comes to PDFs using Neo Reader. Moon+ Reader works well on both types of devices once setup properly, better than the preloaded reading apps in a number of respects, so at least with open Android you've always got plenty of options.
Energy eReader Pro Specs
6-inch E Ink Pearl HD display.
1024 x 758 pixel resolution (212 dpi).
Capacitive touchscreen (2-point).
Built-in frontlight (adjustable, can be turned on and off).
Android 4.2.2 operating system.
Processor: Dual-Core Cortex A9 1.0GHz.
512 MB RAM.
8GB internal storage space (5.5GB usable).
MicroSD card slot.
3.5mm headphone jack.
Wi-Fi.
Supported formats: Adobe DRM, TXT, PDF, EPUB, FB2, HTML, RTF, CHM, MOBI; Audio: MP3, WMA, WAV, OGG; Images: JPG, BMP, PNG, GIF.
Battery: 2800mAh Li-Polymer.
Dimensions: 160 x 122 x 10 mm.
Weight: 220 grams.
Price: £99 on Amazon UK