Onyx Boox AfterGlow 2 Review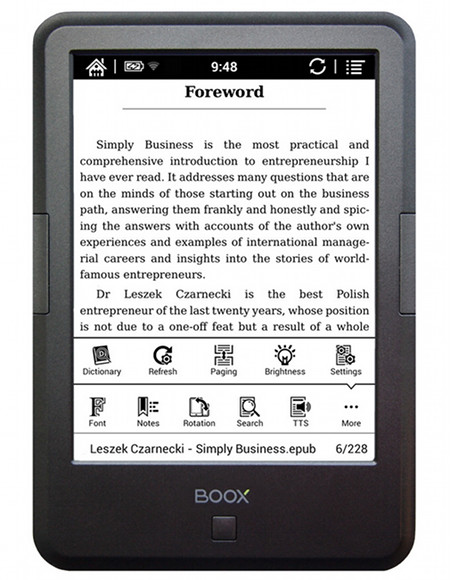 Review Date: January 2015 - Review unit purchased from Amazon
Overview
The Onyx Boox AfterGlow 2 is an Android-powered ebook reader among a small group of E Ink ereaders from Onyx with the capability of installing Android apps from Google Play, making the device more of an E Ink tablet than a simple ebook reader.
The AfterGlow 2 is similar to the Onyx Boox T68 reviewed last year, but the AfterGlow has a smaller screen size and newer more optimized software. It's about the same price as the Kindle Paperwhite, and adds some extra features like audio support, text-to-speech, a memory card slot, page buttons, and support for Android apps.
The AfterGlow is a brand distributed by Arta Tech from Onyx-Boox.com. They also sell the device on Amazon.com and Amazon UK. The AfterGlow 2 is the same exact device as the Onyx Boox C67ML. The main difference is the C67ML doesn't come with Google Play; that device has to be rooted to install it yourself.
Quick Review: Onyx Boox AfterGlow 2
Pros
Advanced operating system with lots of customizations and settings and support for a wide range of Android apps, including lots of reading apps like Kindle, Kobo, Google, Moon+ Reader, Feedly, etc.
New software offers smooth scrolling thanks to the auto partial refresh.
Solid build quality and it feels comfortable to hold one-handed.
Good amount of features for the price, including a microSD card slot, frontlight, E Ink screen, page buttons, text-to-speech and audio support via a headphone jack.
Cons
Imperfect frontlight—shadow line and brighter areas visible in low light.
Fonts and interface not optimized for E Ink with third-party Android apps.
Average battery life closer to 2 weeks than the advertised 8 weeks.
Requires patience and troubleshooting skills to get everything setup the way you want, and sometimes things don't work right for unknown reasons (for instance, I can't get new apps to download anymore for some reason even though it worked fine before).
Verdict
The AfterGlow 2 is a nice ebook reader for someone that wants something more advanced and open than a Kindle or Kobo, but it's not the kind of device for everyone. One of the great things about Kindles and Kobos is their simplicity. Because of the Android operating system, the AfterGlow 2 is a lot more complex. It takes time to figure out and learn how to make things work the way you want, and not everything works the way you want (like the pages buttons only functioning with certain apps and text not looking good with certain apps).
If you only desire to read Kindle books or Kobo books, there is no reason not to get one of those devices because they are better at what they do. The AfterGlow 2 is more of an all around device for reading all kinds of digital content, not just ebooks from one source. The downside with that is it's not as refined as simpler devices. Having more advanced software leads to more potential problems. The AfterGlow has some good hardware and offers a lot of features overall, and the software runs pretty smoothly, but Android on an E Ink ereader can be a bane as much as it is a boon.
Onyx Boox AfterGlow 2 Video Review
Onyx Boox Tips and Tricks Guide »
Hardware and Design
In terms of hardware, the AfterGlow 2 is pretty solid. It has a 6-inch E Ink Pearl display with a resolution of 1024 x 758. It has a built-in frontlight and a 2-point capacitive touchscreen. Under the hood the AfterGlow 2 is the first ereader to feature a dual-core 1.2 GHz processor instead of the more common 1.0 GHz processors. There's 512MB of RAM and 4GB of internal storage space and a microSD card slot.
Overall the screen looks good, fonts are nice and clear. The frontlight has a wide range of settings and it can be turned on and off by holding the button below the screen. I was surprised to find the frontlight to be somewhat disappointing. The frontlight on the Boox T68 is more evenly distributed. The AfterGlow 2's frontlight shows a visible line of shadows at the bottom of the screen, and there are areas that are brighter than others. You only really notice it in low lighting conditions and with the light turned up.
I don't know what to say about the capacitive touchscreen. Most of the time it works really well and is accurate. Other times it doesn't seem to recognize taps. One place it consistently has problems for me is when hitting the accept button to download apps from Google Play, doesn't matter what part of the screen the button is located on it takes a good half dozen taps to get it to respond.
The AfterGlow 2 features physical page buttons, one on each side of the screen for forward (right) and back (left), and a third button below the screen that acts as a back button. They are different than they are on the T68 and Boox M96 in that there is no navigation wheel or dedicated menu button. The back button seems odd when there is no dedicated menu or home buttons. It makes things rather disjointed. The home button is onscreen on the top left of the status bar, the menu button is located on the top right of the status bar, and the back button is below the screen. Everything is all over the place. It makes the navigation experience rather awkward.
The page buttons are nice the way the border is designed; there's plenty of solid area to hold to prevent accidental presses. The buttons also work for scrolling with certain things like the web browser. But the buttons don't work with most third-party apps, like Kobo and Kindle. The buttons work with the built in apps as well as Moon+ Reader and Play Books.
Battery life for the AfterGlow is advertised at up to 8 weeks. Like most ereader claims, that is unrealistic, especially with Android. I've had the AfterGlow for 2 weeks and the battery has gone from full to nearly dead.
The AfterGlow supports audio and text-to-speech but there is no external speaker. There's a 3.5mm headphone jack to plug in headphones or speakers. Text-to-speech sounds good, the AfterGlow comes with pre-installed Polish and English voices. I tested the built-in audio player with headphones and it sounded bad. There is no bass whatsoever. A Sansa Clip sounds ten times better playing the same audio file with the same headphones.
Software Features
The main thing that differentiates the AfterGlow 2 from other ebook readers is the open Android operating system. It runs Android 4.2.2 and comes with Google Play onboard to easily download and install Android apps.
Well, that's the theory anyway. At first I had no problem installing Android apps from Google Play. Kindle works, so does Kobo, Google Play Books, Feedly. Evernote, Moon+ Reader, Nova Launcher, and Dropbox. But then I encountered an issue where I cannot get apps to download from Google Play anymore; they just hang and never download. I tried restarting, clearing cache, clearing data, forcing stop, signing out and signing back in, trying with a memory card and without a memory card—nothing works. And there's still plenty of space to install apps. It's probably just some random glitch but I'm sick of wasting time messing with it and I don't want to start again from scratch by factory resetting.
There are other painfully annoying things about the OS too. Initial device setup is painfully slow; it takes like 15 minutes for it to process all the preloaded foreign language public domain titles before you can even use it. Sometimes when you go to the homescreen it wants to reprocess all your ebooks' metadata, which is irritating. The T68 and M96 don't do that.
Speaking of the Book T68 and Boox M96, those both run Android 4.0.4. The AfterGlow runs a newer version of Android, but there really isn't much noticeable difference. The main thing the AfterGlow has going for it over the earlier models is the ability to automatically enter partial refresh mode when scrolling. This works really well and helps make navigating a lot smoother. You can still use the A2 button for partial refresh mode, but it's not really needed.
When it comes to reading apps, most work pretty well. I was surprised to find the page buttons work with the Play Books app.
The main problem is that most third-party reading apps are designed for tablets and phones and the animated transitions often don't translate well on an E Ink screen, which has a much slower refresh rate than LCD. It causes the text to get scrambled and can lead to afterimages and jagged-looking text. Some people don't mind it while others do; it comes down to personal preference.
Some apps fair better than others. The Kobo and Google apps both refresh better when turning pages, so text looks clearer with them. Text on the Kindle app gets rather washed out and rough. Personally I can't stand reading that way. But the Kindle app works way better than it does on the T68; the store works well and is completely usable and functional with E Ink.
The preinstalled reading apps have all been optimized for E Ink and have the option to customize the page refresh settings. The preinstalled reading apps include OReader, FBReader, OnyxReader, and Onyx Neo Reader. There are tons of reading and text settings available. Each app offers something different. The OnyxReader app supports Adobe DRM for encrypted ePub and PDF ebooks.
Other preinstalled apps include a web browser, calendar, calculator, clock, music player, email, dictionary tool, search, News Reader, Gallery, and the Google Play store. A number of other apps can be installed as well.
The good thing about the AfterGlow 2 is how advanced it is compared to other ebook readers like Kindles and Kobos. The software offers endless possibilities. The only problem with that is the software isn't as smooth and optimized for E Ink as simpler ebook readers. Those type of devices are more basic but the software has been custom-built for E Ink and has been in development for many years. Things like page transitions and pinch zooming are smoother on Kindles and Kobos than on the AfterGlow, and text is clearer and sharper.
The AfterGlow 2 seems like a good device on some levels, and I feel like I'm being unfair to it by not being more patient, but quite frankly I'm sick of wasting time with things like apps suddenly not downloading, it spontaneously erasing the memory card, the software automatically adding files that aren't books to the library, etc. Most of the time I'd rather just pick up the Kindle Voyage or Kobo H2O and start reading in 2 seconds without the added frustration of the Android OS.
Onyx Boox AfterGlow 2 Specs
6" inch E Ink Pearl display.
1024 x 758 pixel resolution (212 dpi).
Capacitive touchscreen (2-point).
Built-in frontlight (adjustable, can be turned on and off).
Android 4.2.2 OS with Google Play.
Processor: Dual-Core Cortex A9 1.2GHz.
512 MB RAM.
4GB internal storage space.
MicroSD card slot (up to 32GB).
MicroUSB 2.0.
3.5mm headphone jack.
Wi-Fi (802.11b/g/n).
Text-to-speech: IVONA (pre-installed with Polish and English voices).
Pre-installed apps: Internet Browser, Calculator, Calendar, Clock, Dictionary Tool, Downloads, Midiapolis Drive, Email, Gallery, Google Settings, Google Play Store, Music player, Midiapolis News Reader, OReader (a.k.a AlReader), and internal apps: OnyxReader, FBReader, Oreader, Onyx Neo Reader.
Supported formats: EPUB and PDF (reflow) with Adobe DRM (ADEPT), MOBI (without DRM), TXT, RTF, HTML, DOC, FB2, DjVu, ZIP; Audio: MP3, WAV; Images: JPG, BMP, PNG.
Battery: up to 8 weeks; 1700mAh Li-Polymer.
Dimensions: 170 x 117 x 8.7mm.
Weight: 184 grams.
Price: $129 on Amazon.com