The iPad as an eBook Reader
I'll admit it. The first few times I tried to sit down and read ebooks on the Apple iPad I did not like the experience at all, and being so used to reading on E Ink ereaders didn't help. The brightness of the screen coupled with the slight fuzziness of the pixelized text had me so distracted that I couldn't assimilate what I was reading.
But I was determined to give the iPad a fair shot since so many other people seem to prefer reading on it and similar back-lit devices. So for the past 10 days I've been reading on the iPad everyday for several hours at a time.
The verdict?
Well . . . Somehow, contrary to my own foresight, I have actually started to like reading on the iPad. There are many a thing that still annoy me from a software standpoint, both in lack of options and lack of an Adobe EPUB reader, but as far as reading goes it does have its own reluctant kind of charm.
First, reading on the iPad takes some adjustments. I find it most comfortable to read with the brightness turned down, and instead of holding the iPad with bent arms held directly in front as with reading a paper book or E Ink ereader, I find it more comfortable at arms length away, further than a real book, resting on my lap and tilting it with one hand. From this distance the text appears clearer and the brightness of the screen isn't so irradiating. And the iPad is actually too heavy to hold for long periods without leaning it against something.
For reading, I tend to like the Kindle app the best so far because of the font type and sepia color setting, pictured below. The tan background and brown text are more comfortable for my eyes and appear more paperlike.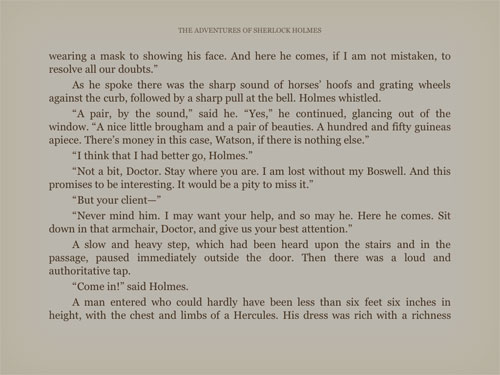 The iBooks app doesn't have a font type that I like, they're too spindly and need to be bolder, and there's no option for changing the background color. And it's also annoying that adjusting the brightness in iBooks changes the master brightness level, meaning you have to go in and adjust it every time you read.
Overall, the iPad as an ebook reader has some notable strengths: being able to read ebooks from multiple sources, having a back-lit screen for reading at night, and the various on screen tasks make navigating easy and intuitive.
The biggest problem with the Apple iPad as an ebook reader is that it takes a determined effort to actually read. If you are easily distracted or un-focused you'll tend to hit that video game app, or the Netflix app, email, web-browser, news, photos, anything but the boring text that doesn't do anything.
Certainly there will be some better iPad ebook reader apps that come along soon, ones that allow for more customization and loading of Adobe EPUB ebooks, but for now features and customizations are not much of an option at all.
iPad eBook Reader App Reviews