Kindle Philippines Information
While everyone was expecting Amazon to release their wireless book reading device in the UK, they surprised everyone by announcing its availability to over 170 countries, including the Philippines. Kindle Philippines users will have access to a large library of English-language books via free wireless access. This page will go over the details before you decide to buy a Kindle International
from Amazon for $259 USD. There are a number of differences in wireless service and ebook selection available outside the US.
Also, if you want to read about the specifics of the actual device and how it works, go to the Kindle International Review for more, as this page you're currently viewing covers information specific to the Philippines.
Content Selection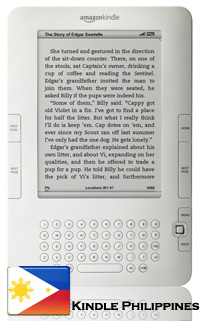 With the release of the Kindle International in the Philippines, Kindle Philippines users can expect to have access to 340,000 ebooks from Amazon's online store, with 130,000 ebooks priced under $5.99. The typical price for new release and bestseller titles is $11.99 (564 PHP).
Kindle Philippines customers also have access to dozens of US and international newspaper subscriptions, including The International Herald Tribune - Asia Edition
, and all come with a 14-day free trial and automatic wireless delivery. Most deliver 5-7 days a week. Additionally, Amazon currently has 40 magazine and journal subscriptions available.
Kindle Philippines users have the option to download content directly to the device using the free 3G wireless that connects to the Kindle store. If you live somewhere that doesn't have a wireless signal, or if it's your preference, you can download content to your computer and then transfer it to the device with a USB cable.
While Amazon offers a wide selection of titles, it's important to understand that a Kindle is a closed content device. You can't purchase ebooks from other major online sellers like with Sony Readers, with a few exceptions. Picking up the free wireless service, Amazon wants you to download books from them exclusively. And it's important to note that these ebooks are American versions.
However, there are a number of popular websites that have free ebooks for Kindle. One example is Project Gutenberg Tagalog, which has over 50 ebooks in Tagalog. For more information regarding specific content—ebooks, newspapers, and magazines—visit our dedicated Kindle eBooks Page.
Kindle Philippines Free 3G Wireless Downloads
The free wireless allows access to Kindle's online store 24 hours a day. There are no monthly charges or hidden wireless fees. In addition, Kindle Philippines users can access Wikipedia with the Kindle International for quick and easy references.
Below is a wireless coverage map for the Philippines. Dark purple is 3G coverage and light purple is EDGE/GPRS coverage.
Kindle Wireless Coverage Map
Total Cost of Kindle International in Pesos
After duty fees and shipping charges, expect the Kindle International to cost around a total of 14,850 PHP* in the Philippines, and that doesn't include a cover, which costs an extra 1,400 PHP or so. The device comes with a USB cable and a US power adapter; both will charge the battery, which holds a charge for 2 weeks of steady reading.
*Total cost is an estimate of currency conversion rates and fees. Please email and let us know if you experience a different price and we'll update the numbers.
The best way to find the exact cost is to visit the Kindle International Product Page
, add the item to your cart, enter your information, and then let Amazon show you what the exact charges are for your specific country before checkout.
More Kindle Information
Supported Formats

Kindle Accessories

Free and New eBooks

Kindle 2 Review

If you'd like more information about how the Kindle International works, here's a link to the official Kindle Help
and FAQ page.