Kindle Accessories: Covers, Skins,
Adaptors, and Reading Lights
Kindle Covers
A good cover is the most important of all Kindle accessories, and is essential for keeping your Kindle free of scratches and dings, along with keeping the screen safe from breaking. Amazon has over 130 different Kindle covers
to choose from.
The M-edge covers are some the bestselling and highest rated, and you can get one for around $30. There are a variety of colors and styles, some are sleeves and others are small bags, some have hard cases and others soft. There are high-end designer covers that cost upwards of $100 and some low-priced sleeves that sell for under $25.
Another option for some low-priced covers and screen protectors, you can find a number of Kindle cases from Buy.com. They offer different styles and brands than Amazon and most cost under $20. They have some good-looking leather covers for $10-$12.
Kindle Skins
Probably the most underrated of all Kindle accessories is skins. Skins are a great way to customize your Kindle and the best way for getting rid of the plain white. DecalGirl.com has a very large selection of Kindle skins, with over 315 for the Kindle 2 and over 130 for the Kindle DX. The skins cost $14.99 for the K2 and $19.99 for the DX.
A lot of people like the black skins best because they fool your eyes into thinking the text appears darker and crisper on the screen.
Example Kindle 2, International Skins From Decalgirl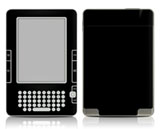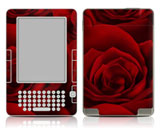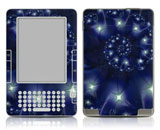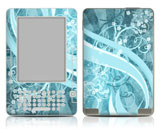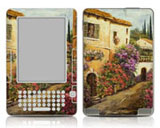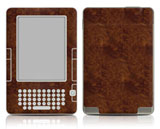 Example Kindle DX Skins From Decalgirl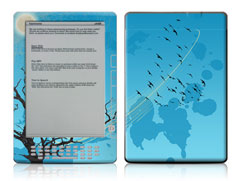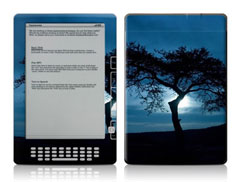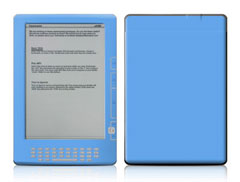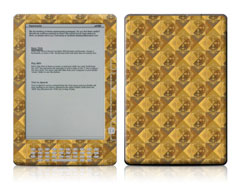 Kindle Reading Lights
Reading lights come in a variety of colors and designs and typically cost between $8 and $20. Most clip on to the top of the Kindle/cover and run on AAA batteries. There are also bundle packages that include covers and lights together, along with a few other accessories.
Kindle Screen Protectors
Amazon carries a number of Kindle screen protectors
and anti-glare film that help protect the E Ink screen from being scratched and damaged. They sell for less than $2 and up.
Another option is Wrapsol. They sell scratch-proof protectors that cover the entire device as well as screen protectors for both the Kindle 2 and DX.
Kindle Power Adaptors
More Kindle Related Pages