Kindle Russia
Now that ebook readers are gaining more popularity around the world, Amazon has made it possible for countries outside the US to purchase their popular wireless reading device, and Russia is among them. But before you decide to buy a Kindle International from Amazon.com for $139 USD, it's important to learn more about how the device works in your particular country, and what kind of wireless coverage you can expect.
At first glance it seems a bit odd for Amazon to release their wireless ebook reader to Russia, considering the device doesn't support the Cyrillic alphabet without a hack, but it does offer Kindle Russia users a wide-selection of English-language ebooks and free wireless downloads 24/7. And according to Wikipedia, there were nearly 7 million English speaking people living in Russia as reported by the 2002 census, so the market is there.
Also, if you want to read about the specifics of the actual device and how it works, go to the Kindle Reviews page for more. The US model and the International version are identical devices.
Kindle Russia Content Selection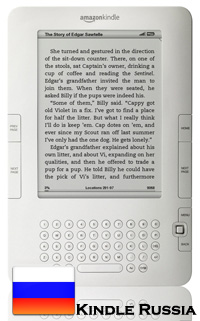 Kindle Russia users have access to 330,000 ebooks from the Kindle Store, with 125,000 titles priced under $5.99. New release and bestseller ebooks are $11.99 (353 RUB). Hard-cover versions of these same books typically cost $25. Dozens of US and international newspaper and magazine subscriptions are also available, including Moscow Times.
Like the US version, Kindle Russia users have the option to download content directly to the device itself using the free wireless service that connects to Amazon's online store. And if you live somewhere that doesn't have a wireless signal, or if it's your preference, you can download content to your computer and then transfer it to the device via USB cable.
While Amazon offers a wide selection of titles, it's important to understand that a Kindle is a closed content device. You can't purchase ebooks from other major online sellers like with Sony Readers, with a few exceptions. Picking up the free wireless service, Amazon wants you to download books from them exclusively. And it's important to note that these ebooks are American versions, not Russian language.
However, you can find a number of websites that have free, non-DRM protected ebooks that will work just fine on a Kindle. And if you really want it to display Russian fonts you can get a Kindle Russia font hack, but do so at your own risk. Once the device supports Cyrillic characters you can read Russian ebooks from sites like bookZ.ru, and Project Gutenberg has a few free Russian ebooks and audiobooks as well.
Another website that sells Russian ebooks is LitRes.ru. Their website states all their ebooks are available in both MOBI format for Kindle and LRF format for Sony Readers.
For more information regarding English-language content—ebooks, newspapers, and magazines—visit our dedicated Kindle eBooks Page for more on them.
Free 3G Wireless Downloads
The free wireless gives Kindle Russia users access to Amazon's online store 24 hours a day. There are no monthly charges, contracts, or wireless fees for using it.
In addition, Kindle International users outside the US can access Wikipedia with the free wireless, but access to the internet with Kindle's experimental web browser is limited to a few countries, and it is unavailable in Russia at this time because of current cellular bandwidth issues and increased wireless costs. This is also the reason for the hefty file-transfer charges.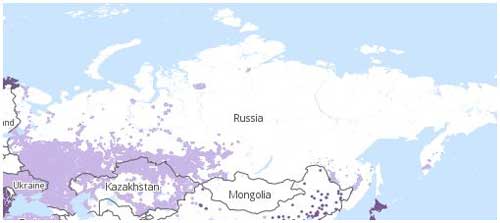 Click on the map for interactive mode
Total Cost of Kindle Russia in Rubles
Amazon is requiring all Kindle International orders and ebook purchase to be in US currency.
So after various duty and import fees, along with shipping charges, expect the Kindle International to cost around 7,200 RUB* in Russia, and that doesn't include a cover, which costs an extra 900 RUB or so. The device comes with a USB cable and a US power adapter, so you'll need to charge the battery with the USB cable unless you get a plug adapter. A battery charge typically lasts two weeks.
*Total cost is an estimate of currency conversion rates and fees. Please email us and let us know if you pay a different price and we'll update the numbers.
The best way to find the exact cost is to visit the Kindle International Product Page, add the item to your cart, enter your information, and then let Amazon show you what the exact charges are for your specific country before checkout.
eBook Formats and Conversions
A lot of people complain that Kindle isn't an open device and doesn't support a wide variety of ebook formats. However, there are a few options for getting around this for non-DRM files.
For DRM encrypted files, the Kindle International supports Amazon's proprietary format: AZW. For unencrypted files it supports PDF, TXT, MOBI, and PRC. In addition, Amazon will convert these unencrypted files to their AZW format: PDF, HTML, DOC (Word), RTF, JPEG, GIF, PNG, BMP, MOBI, and PRC.
If you elect to have Amazon transfer your files directly to the device via Whispernet after conversion, you will be charged $.99 per megabyte, so you don't want to do that. To avoid this charge, you can convert them yourself or simply have Amazon transfer your files to your free Kindle email account. And then move the files to the reader yourself using the USB cable.
You can easily convert these files on your own with free conversion software like MobiPocket Creator and Calibre. With Calibre you can also convert unprotected EPUB ebooks downloaded from various sources like Google Books.
Kindle Russia FAQ and Help
If you'd like more information about how the Kindle International works, here's a link to the official Kindle Help and FAQ page.
Also, there's a good Russian website, the-ebook.org, that may prove useful for a Russian perspective about all of this.