Nook Color vs PlayBook Review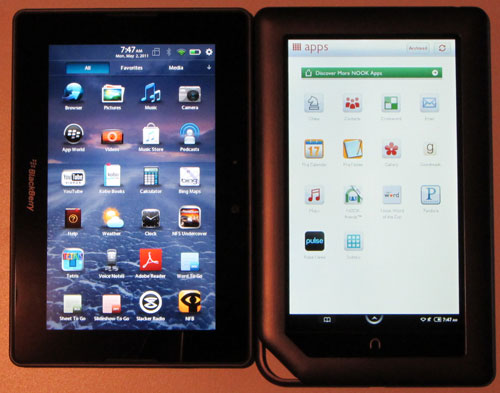 Overview
This review compares the Nook Color with the BlackBerry PlayBook. Both devices are similar in size and weight, and both have 7-inch touchscreens, but there are number of differences between the two, the most obvious is the fact that the Nook Color costs about half as much as the PlayBook. As you would expect with that kind of price difference, the BlackBerry has superior hardware. But is it worth the extra cost? Take a look:
Nook Color vs PlayBook Review: Specs
| | Nook Color | BlackBerry PlayBook |
| --- | --- | --- |
| Screen Size | 7-inch LCD IPS LG VividView | 7-inch LCD WSVGA |
| Resolution | 1024 x 600 | 1024 × 600 |
| Processor | 800MHz ARM Cortex A8, 1.2GHz with overclock hack | 1GHz dual-core TI OMAP4430 |
| Operating System | Android 2.2, others with roots, ROMs | BlackBerry Tablet OS, QNX |
| Storage | 8GB, microSD memory card slot for cards up to 32GB | 16GB/32GB/64GB, no memory card slots |
| Memory | 512MB RAM | 1GB RAM |
| Wireless | WiFi, Bluetooth with hack | WiFi, Bluetooth |
| Front Camera | None | 3 megapixel |
| Rear Camera | None | 5 megapixel, 1080p video |
| Input/Output | B&N mini USB, 3.5mm headphone jack, 1 speaker | Mini-HDMI, mini-USB, dock, 3.5mm headphone jack, 2 speakers, 2 mics |
| Battery | 7-8 hours | 7-8 hours |
| Weight | 15.8 oz | 15 oz |
| Thickness | 0.48" | 0.40" |
| MSRP | $199 | $499-$699 |
Nook Color vs PlayBook Video Comparison
Where the Nook Color Wins
Lower price.
MicroSD card slot.
Access to Barnes and Noble's store for ebooks, plus digital newspaper and magazine subscriptions, (B&N will release an app for the PlayBook at some point).
Nook Kids—B&N's section of interactive ebooks designed for kids.
Comes with a dedicated email app with push notifications (surprisingly the PlayBook doesn't have an email app at launch, just the web browser for email, so no notifications).
Active hacking community for rooting, ROMs, overclocking hacks, etc.
Can install ROMs for alternative firmware options, such as Honeycomb and CM7 for Android 2.3.
More apps than PlayBook with Android Market access via ROMs, hacks.
Where the BlackBerry PlayBook Wins
PlayBook has true multitasking capabilities and gesture-based navigation for smoother interaction.
Higher quality screen with brighter colors, better touch responsiveness.
Much faster and smoother with 1GHz dual-core processor in all aspects of operation, video, web browsing, navigation, games, etc.
Two front-facing speakers are situated better and have clearer sound than the Nook Color's one rear speaker.
More apps available than stock Nook Color.
Mini-HDMI port for 1080p HD video output.
Front and rear cameras for video chat, photos, 1080p video capture.
More business oriented: comes loaded with Word, Sheet, and Slideshow to Go, voice recorder.
Microphones.
Android emulator app is supposed to be coming in the future to grant access to Android apps.
Tether to a BlackBerry phone for wireless, sync calendar, contacts, etc.
Bluetooth.
Nook Color vs PlayBook: Conclusion
Deciding between buying a Nook Color and a BlackBerry PlayBook pretty much all comes down to price and whether or not you what to root or run ROMs on the Nook Color. The Nook Color doesn't have the speed and performance, the superior hardware that the PlayBook has, but it does have a lot more options for apps via alternative firmware, plus is more focused on e-reading, whereas the PlayBook is limited to the Kobo reading app for now. Once the PlayBook gets more native apps, plus the Android emulator app, that will change. For now, the Nook Color has the edge in price and app selection, and the PlayBook has the edge in hardware and operating system usability.
More Reviews and Comparisons