Sony PRS-350 Review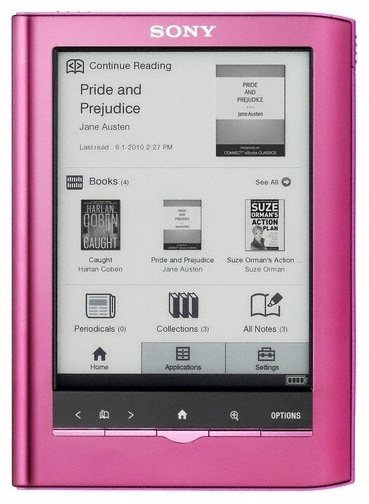 Overview
The Sony PRS-350 is Sony's second generation "Pocket Edition" ebook reader. If features a 5-inch display and is one of the smallest and lightest ereaders ever made.
Like its predecessor the PRS-300, the PRS-350 is marketed as an ereader that can fit in your pocket, and this new model is even smaller than the last. It measures 5.75" x 4.13" x .34" and weighs a mere 5 and a half ounces—that's about half an inch shorter and over 2 ounces lighter than the previous model. It really is surprisingly small and light the first time you see it.
Check out the
PRS-350 PDF review
to see how the Pocket Edition handles various types of PDF files. There's a PDF video review as well as several large pictures.
The New Touchscreen
The main difference between the new Pocket Edition and the previous PRS-300 model is the new one has a touchscreen. The great thing about the new touchscreen is that it doesn't require an added layer over the top of the screen like Sony's older models did.
The touchscreen uses NeoNode's zForce infrared technology to detect input and is very responsive and easy to use with either a finger or the included stylus pen.
Fingerprints are apparent at certain angles, but there seems to be some kind of finish on the screen that minimizes them because they're not very noticeable head-on and wipe off easily.
The new screens are the upgraded higher contrast Pearl screens from E Ink, the same as the ones used on the new Kindle 3 and Kindle DX. These displays have darker text than the older Vizplex displays.
One thing I've noticed, however, is that the Sony PRS-350 uses a thinner font than the Kindle, so the effect isn't as good, and Sony still hasn't added an option for changing font type. Here's a close-up picture of the PRS-350 next to the Kindle 3.
I found that adjusting the contrast settings can make the Sony's font appear bolder, but also makes the text appear rough around the edges, depending on how dark you set it. Here's a pic of the PRS-350 next to the Kindle 3 with the darker adjustment set to about as dark as it will go.
These last set of pictures are examples of each text size. Because of its small screen, the PRS-350 is best suited for reading smaller text. These pictures are roughly to scale at their full size: extra small, small, medium, large, extra large, XXL.
There is a way to change font type and size to whatever you want for DRM free ebooks for the Sony PRS-350, but it does involve manually modifying the book's CSS file, or adding some extra CSS code using Calibre. Learn how »
Hands-on Sony PRS-350 Video Review
Hardware and Software Upgrades
The new Pocket Edition comes with 2GB of internal memory, with about 1.4GB available. That's enough to hold around 1200 ebooks and documents. The battery life is rated at 10,000 pages per charge, or about 2 weeks.
Because of the touchscreen, the Sony PRS-350 has a completely different interface than the PRS-300, with more menus, options, and on-screen features. Add that to all the existing features of the Pocket Edition and it comes out to a pretty long list.
Bookmark pages and highlight passages
Add notes (freehand and on-screen keyboard)
6 font sizes
Viewing options: margin cut, 2 and 3 column split, full page
Custom Zoom dial with on-screen panning and page lock
2 English language dictionaries, 10 translation dictionaries
Word log keeps track of looked-up words
Contrast adjustment
Image viewer; slideshow
Create, manage, and delete collections
Table of contents support
Jump to page
Portrait and landscape modes
History option to go back to pervious pages visited
Active hyperlinks
Add custom sleep images (screensavers)
Sort by date, title, author, file name, latest read
Supported Formats and Languages
For text files the Sony PRS-350 supports Adobe DRM for EPUB and PDF, giving it a wide range of options for ebooks, including free ebooks from local libraries. It also supports TXT, RTF, and Word files (DOC and DOCX). For images it supports JPEG, PNG, GIF, and BMP.
Menu language support: English, French, German, Dutch, Spanish, Italian, and Portuguese.
Differences Between PRS-350 and PRS-650
The Sony PRS-350 and PRS-650 are very similar units. The 650 has all the features listed above, the main difference being the 650 has a larger 6-inch display. Additionally, the PRS-650 has SD and Pro Duo memory card slots and has a headphone jack for listening to MP3 and AAC audio files.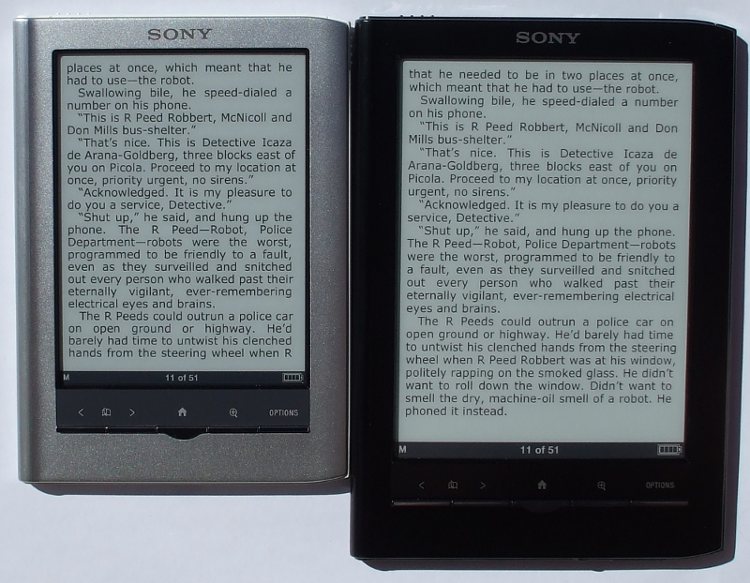 Sony PRS-350 Review: Gripes
Limited Styling: As mentioned above, the Sony PRS-350 only has one font type, and a narrow one at that. And aside from the margin cut setting (which seems to only work on certain books), there are no options for changing line height, margins, or other character adjusting features. For that you have to modify the book's CSS code and add extra fonts to the Reader.
Landscape mode: The annoying thing about reading in landscape mode is that it shows duplicate sentences on every other page in ebooks. With most ereaders each new page consists of entirely new text, whereas the Sony PRS-350 breaks a single page into two sections, making the middle half overlap on both pages. This makes it difficult to keep your place when turning pages.
Page Settings: Some page settings reset when closing an ebook and then reopening it. For instance, you have to reset the margin cut feature each time you open a document. Another thing is that 2 and 3 column split is a nice zooming option but goes from top to bottom instead of left to right, so it's pretty much useless except on PDFs with 2 and 3 columns.
Sony PRS-350 Review Conclusion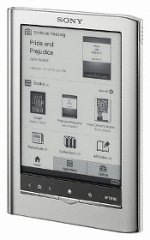 Overall, the Sony PRS-350 is a major improvement over Sony's earlier touchscreen ebook readers. The text is darker and glare is no longer an issue.
As usual with Sony's products, the build quality is solid with an aluminum front and back panel, making it one of the best looking ereaders.
Other positives include Adobe EPUB support for ebooks from a wide variety of ebook stores as well as borrowing ebooks from libraries.
As most reviews will point out, the main drawback with the Sony PRS-350 is the fact that it doesn't have any wireless connectivity and costs more than other wireless ereaders like the Kindle WiFi and Nook WiFi. Sony's products always cost more than the cheapest available, so that's really not a surprise.
Wireless is a nice bonus that is important to some and not to others, so it all comes down to personal preference. Probably the main reason Sony didn't add wireless is because they are marketing the PRS-350 and PRS-650 in several countries, and Sony's ebook store is only for the US and Canada—that's why the wireless-equipped Daily Edition is US-only.
One last thing to consider, the Sony Pocket is best for those that want to be able to take it everywhere. Its diminutive size is designed for portability; it really is quite pocketable. And because is it so small, it's better suited for those with good eyesight and who like to read smaller text, unless you're in to turning the page every few seconds on the large font settings. In that case, the PRS-650 is probably the better option.