Sony Reader PRS-700 Review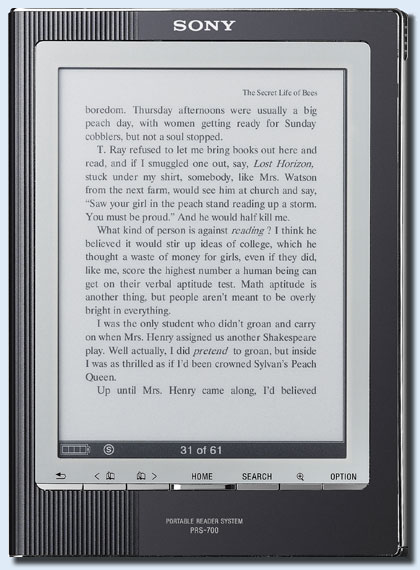 Overview
The Sony Reader PRS-700 was on the market a mere eight months before it suddenly disappeared from Sony's website and retailers' shelves.
Released in November 2008, a year after the PRS-505, it first retailed for $399. The price later dropped to $349, but the lower priced PRS-505 remained Sony's most popular ebook reader.
The PRS-700's biggest selling point was also its major weakness: the touchscreen navigation. The extra layer required for the touchscreen, coupled with the built-in LED sidelights, caused the screen to reflect more light, making the text less clear and readable compared to the Kindle and the PRS-505.
Appearance and Features
Touchscreen operation is the perfect feature for an ebook reader; it minimizes excess buttons and makes navigation quick and intuitive. You can swipe your finger or the included stylus across the screen to turn pages, as well as take notes and type searches on a virtual keyboard. Swiping and then holding down with your finger or stylus causes the reader to flip pages at high speeds. Tapping on a word will cue the built-in dictionary.
In relation to other touchscreen devices, the Sony Reader PRS-700 isn't quite as touch-sensitive. It requires a firmer touch that can take some getting used to initially. Sometimes pages don't turn, and it's easy to hold down too long and cause extra pages to flip past.
Another upgrade with the Sony PRS-700 is the built-in LED lights for reading in the dark. While some will complain that the light isn't the same brightness over the whole reading surface (the lights are positioned along the sides of the screen), and it drains the battery faster, many users agree that it's better than nothing and useful in certain situations.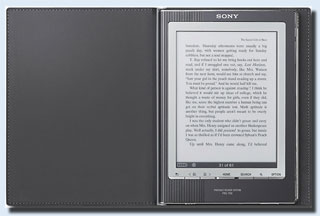 Compared to the PRS-505, the PRS-700 has slightly faster refresh times when turning pages, and it also has an improved Zoom feature with five different settings. The Zoom now works on PDF files too.
The Sony Reader PRS-700 has a 6-inch diagonal epaper screen that utilizes Vizplex E Ink technology. This allows for easy reading in direct light, and prevents eyestrain. It's also very energy efficient, giving the device a battery-life of about 7500 page-turns.
It has a 600 x 800 pixel display that supports eight shades of gray, which increases the contrast ratio, giving the text a remarkable print-like appearance, and you can switch between landscape and portrait modes.
Similar to the size of a standard DVD case, the Sony Reader PRS-700 is 6.9" x 5" x .4" and weighs just 10 ounces. The internal memory is 512 MB, compared to Kindle's 2 GB, but it has two memory expansion slots for SD, SDHC, and Memory Stick Pro cards, which makes the Reader capable of holding thousands of books.
Books are sorted by title, author, date, and customizable collections, as well as bookmarks.
Covers come in a variety of colors and designs. You can also buy "skins" to customize them even more.
The unit comes with a magnetic cover and USB cable. It does not come with an AC adapter; you have to charge it through your computer via USB port, which takes about four hours. You can purchase an AC adapter for $30.00 and recharge it in about two hours.
Cons
The most common user complaints are:
While the touchscreen navigation is a plus, it also causes too much screen glare and lessens the contrast of the text.
The lighting feature isn't true back-lighting and isn't uniform across the whole screen.
It doesn't have wireless capabilities like Amazon's Kindle.
It doesn't support audiobooks.
It doesn't come with an AC adapter; you have to charge the battery via USB cable.
Ebook software isn't compatible with Mac (Sony recently announced that Mac support is now an option).
eBooks for Sony eReaders

By embracing the open standard EPUB format, Sony's ereaders can read encrypted ebooks from a number of online ebook retailers. Check our dedicated Sony eBook Page for a comprehensive listing of current content providers.
Sony eBook Reader Accessories

If you are looking for covers, skins, screen protectors, lights, or power adaptors for your Sony ebook Reader, you can visit our Sony Accessories Page for more information about them.