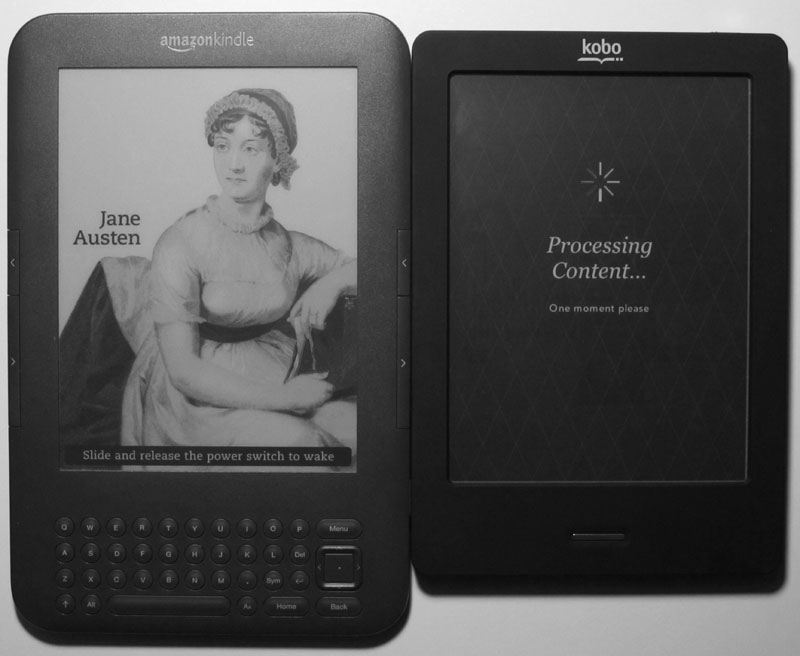 Overview
When it comes to comparing the Kobo Touch vs the Kindle 3, there a number of similarities. Both have the same size E Ink Pearl screen, both have WiFi and integrated ebook stores, web browsers that can download ebooks, and long battery lives.
The main thing that sets the Kobo Touch apart is the fact that it has a touchscreen. Another is the fact that it supports EPUB format, along with Adobe DRM, and a few additional formats.
What sets the Kindle apart is the added features: audio support for text-to-speech, MP3s, and audiobooks; support for games and apps, such as card games, puzzles, and crosswords, calendars and notepad apps; add notes to ebooks and export them in TXT format; and the ability to switch screen orientation.
Kobo Touch vs Kindle 3 Video Comparison
Kobo Touch Advantages
The touchscreen.
Slightly faster page turns.
Full-page refresh is adjustable for every 1 to 6 pages.
Supports the most widely used format: EPUB.
Supports Adobe DRM for EPUB and PDF ebooks purchased from a wide range of ebook stores, not just Kobo.
Supports a few additional formats (listed below).
Since it supports Adobe DRM, you can borrow library ebooks for free (the Kindle is getting this feature soon but doesn't have it as of this review).
Memory expansion: microSD card slot for cards up 32GB.
Option to view ebook covers in the library (the Kindle 3 just shows a list).
Reading Life feature keeps track of reading stats, with awards for reading.
The Kobo Touch is smaller and more compact without the keyboard, and weighs over 1 ounce less than the Kindle 3.
Kindle 3 Advantages
3G models are available for free wireless access in 100+ countries - check 3G map.
Add notes, which get saved in TXT format.
Add bookmarks.
Landscape mode (the Kobo Touch has landscape mode for PDF files only).
Each Kindle comes with a free email account for sending ebooks and documents for free to the Kindle 3 over WiFi.
Most ebooks can be read aloud with text-to-speech.
Built-in speakers and headphone jack.
Supports audiobooks from Audible.com and MP3 audio files.
Popular highlights feature shows notes and highlights left by other readers.
Better PDF support: various zoom settings, text darken.
Voice Guide for the vision impaired reads aloud menus, selections, and descriptions.
Kindle 3 available in 170+ countries.
Annotations, bookmarks, highlights are backed up by Amazon and sync with other Kindle devices and software.
Take screenshots with the Kindle 3.
Built-in microphone (currently inactive).
Comes with 2x more internal memory (4GB vs 2GB).
There are several apps and games available for the Kindle 3; the Kobo Touch has Sudoku.
Kobo Touch vs Kindle 3 Tech Specs
| | Kobo Touch | Kindle 3 |
| --- | --- | --- |
| Reviews | Kobo Touch Review | Kindle 3 Review |
| Screen | 6-inch E Ink Pearl, infrared touchscreen | 6-inch E Ink Pearl |
| Processor | 800MHz Freescale i.MX508 | 532MHz Freescale i.MX353 |
| Operating System | Linux | Linux |
| Storage | 2GB, microSD cards up to 32GB | 4GB, no memory card slot |
| Audio Support | No | Yes |
| Wireless | WiFi | WiFi, free 3G optional |
| Audio Support | No | Yes |
| Web Browser | Yes | Yes |
| Ebook Formats | EPUB, PDF, Adobe DRM, TXT, RTF, HTML, MOBI, CBR, CBZ | AZW, PDF, TXT, MOBI, PRC |
| Font Styles, Sizes | 7 styles, 17 sizes, plus add more fonts | 3 styles, 8 sizes |
| Weight | 7.1 oz | 8.5 oz |
| Size | 6.5" x 4.5" x 0.4" | 7.5" x 4.8" x .34" |
| MSRP | $129 at Amazon, Indigo | $114-$189 at Amazon |
Kobo Touch vs Kindle 3: Conclusion
The main difference between the Kobo Touch and Kindle 3 are the ebook stores they connect to. The Kindle relies mostly on the Amazon store for content, along with DRM-free ebook stores. The Kobo Touch on the other hand supports Adobe DRM so it can display ebooks from a number of sources other than Kobo.
The Kindle has more polish and more features overall, but lacks a touchscreen and is hindered by a keyboard that takes up a lot of space. In the end it pretty much comes down to which features are most important to you in an ereader. Each offers something the other does not, with plenty of common ground in between.