New Nook vs Sony Reader Comparison Review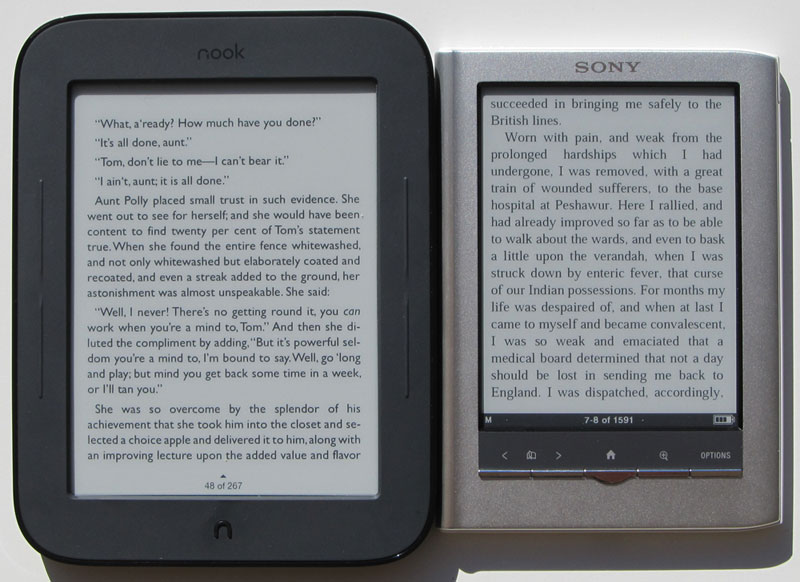 Overview
This review compares the new Nook with the Sony Readers, the Sony PRS-350, PRS-650, and PRS-950.
First, let's take a look at the differences between the three Sony Readers. For the most part, the actual reading experience and feature-set is the same on all three. Here's an earlier review comparing the PRS-650 vs the PRS-350.
The base model is the PRS-350 with its 5" screen. The PRS-650 has a 6" screen and adds memory card slots and audio support. The PRS-950 has a 7" screen and adds 3G wireless, WiFi, 2-page landscape mode, and a few other upgrades.
Hands-on videos, photos, and more details about all of these ereaders can be found on their dedicated review pages: Nook Touch review PRS-350, PRS-650, PRS-950.
New Nook vs Sony Readers (PRS-350)
New Nook, Sony Reader Similarities
All use E Ink Pearl display panels.
All have infrared touchscreens that use Neonode's zForce technology.
All support EPUB and PDF formats encumbered with Adobe DRM, and DRM-free ebooks too.
Tap a word to look it up in the dictionary.
Add notes, highlights, bookmarks.
Search, jump to page, table of contents.
Add custom screensavers.
All have long battery lives, ranging from 2 weeks to 2 months, depending on how they are used.
All have fast page turn feature for quickly scanning through pages.
All offer periodical subscriptions in addition to ebooks.
Active hyperlinks.
Support for library ebooks.
New Nook Advantages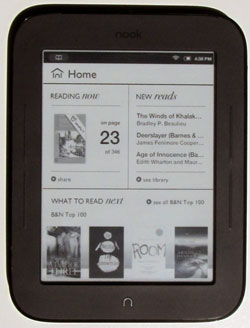 Supports Barnes and Noble's ebooks (DRM) in addition to Adobe (Nook Books won't work on Sony, even though they are EPUB, but Sony's ebooks will work on a Nook).
Less page flashing. Full-page refresh once every sixth page instead of every page.
Slightly faster page turns.
Comes with WiFi for shopping for ebooks and periodicals directly from the Nook (only the PRS-950 has this option).
B&N's ebookstore has a wider selection than Sony's.
Integration with social networks for sharing passages and recommendations on Facebook and Twitter.
LendMe feature allows users to lend certain ebooks--works directly from the Nook.
Choose from 6 font types, Sony Readers only have 1 unless you add different fonts manually.
Better text sizes (the Sony Readers need a size between small and medium; the jump is too much).
Adjust line spacing and margins.
Turn on and off publisher defaults.
New Nook has a pleasant soft textured coating.
View book details in library, with options to share, archive, lend, read reviews, view related titles.
Write reviews for ebooks.
Turn pages by tapping screen in addition to swiping (Sony's react to swiping only).
Runs Android 2.1, making it highly hackable to run other Android apps.
Price: $139
Sony Reader Advantages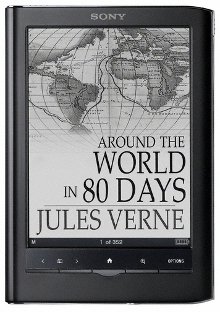 Touchscreen works with a stylus in addition to fingers (for some reason the Nook doesn't respond to a stylus).
All three have much better PDF support than Nook, with many more PDF features.
Supports a few extra formats: DOC, RTF, TXT. Plus JPG, GIF, PNG, and BMP images (new Nook supports those but only for screensavers).
Functional web browser for PRS-950 (the new Nook has a hidden web browser but it doesn't work very well yet).
PRS-950 has free 3G wireless.
PRS-650 and PRS-950 support MP3 and AAC audio files and have headphone jacks.
Notes are exportable.
SD card slot in addition to Pro Duo memory card slot (950 and 650). The New Nook has one microSD card slot.
Capable of deleting ebooks from the devices themselves.
Contrast adjustment feature.
Write notes and scribbles directly on an ebook or PDF.
Multi-level table of contents support (new Nook has just one level).
History feature allows for going back and forth between all previously visited pages within a book.
Seven languages supported for menus.
Nine different keyboards for different languages/regions.
Word log keeps track of words looked-up in the dictionary.
Keyboard history offers quick word selections.
Slideshow feature for images.
Type text memos.
Drawing app.
Custom Zoom dial.
10 translation dictionaries.
Can type words to look-up in dictionaries.
More solid build, metal vs plastic.
PRS-650 and 350 are sold in several countries; the new Nook is US only.
Price: $179 - $299 (prices vary all the time with sales; the PRS-350 has dropped as low as $99).
More eReader Reviews