Kobo Vox Review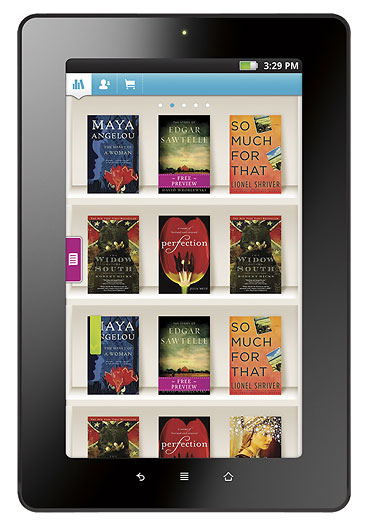 Overview
The Kobo Vox is Kobo's first venture into the Android tablet space. The device is very comparable to the hugely successful Nook Color, but one major difference is that Kobo opted to go with an open Android operating system so users can install whatever apps they want without having to hack the device first.
The Kobo Vox is available in the US and Canada, and will likely branch out to the other countries that Kobo operates in later in 2012. Subscribe to The eBook Reader Blog to keep updated on future developments.
Update: Kobo updated the software on the Kobo Vox to add the Google Play store and official support for Google apps, making it much more versatile than when this review was posted.
Quick Review: Kobo Vox
Pros
The screen is gorgeous, very bright colors and crisp text with wide viewing angles
Open Android 2.3 so you can install apps, even competing ereading apps like Kindle and Nook
Quilted back adds a nice feel
8GB of memory and SD card slot provide ample storage space
Cons
Single core 800MHz processor is faster than expected but is still slower than Kindle Fire and Nook Tablet's dual core processors
No Google Apps or Android Market without hack
Software needs polishing, annoying minor bugs, and Kobo's eReading app is too slow at times and needs more features such as custom shelves, dictionary integration, bookmarks, etc
Verdict
The Kobo Vox has turned out to be a pleasant surprise. Between the excellent screen quality and open operating system, it's better than most budget tablets by a mile.
However, the Kobo Vox it is inevitably going to be compared to the Kindle Fire and Nook Tablet, and against those two it doesn't stand much of a chance, other than the fact it costs $50 less than the Nook, has a memory card slot unlike the Kindle, and is available internationally. If it would have been released at this time last year up against the Nook Color, or if it came with a dual-core processor, the Vox would have a much better chance of contending.
Price: $199 at Amazon
Kobo Vox as an eReader
Kobo Vox Review: Hardware and Design
The Screen
The first thing that jumps out about the Kobo Vox is the screen. It has a 7-inch FFS+ display with a resolution of 1024 x 600. The colors are very bright, vivid, and detailed, and text is nice and crisp and really pops off the screen. The high-quality display is definitely the Vox's strongest point. Most budget tablets under $200 have run-of-the-mill TFT LCD screens with lower resolution that aren't nearly as good, especially for reading.
Like most screens, it is very reflective and glossy, so outdoor reading isn't nearly as effective as with an E Ink ebook reader, but the Vox's screen manages better than most tablets outdoors and is readable as long as it's not in direct sunlight. Side-by-side with the Nook Color, the text is noticeably darker and the background lighter, and that's saying something because the Nook Color fairs better than most tablets in sunlight.
The screen does have some light bleeding that is apparent on the black background when it boots up, and I thought it would a problem, but it's actually a complete non-issue. And that's coming from someone who returned two Asus Transformers for the same problem. The good thing with the Vox is that anytime the screen is alight with color it is impossible to see the light bleeding. You can't notice it when using night-mode for reading or whenever the background is black unless the brightness is turned all the way up in a dark room.
The Processor
Much has been made about the Kobo Vox using a single-core processor when newer tablets are using faster dual-core processors. The Kobo's single core 800MHz processor handles most tasks fine, ereading, web browsing, pinch-zooming, scrolling, playing music, and even watching movies is very smooth. One thing it struggles with is certain games.
Several games I tried run smoothly while others lag. For instance, Angry Birds is smooth with the sound muted, but the Birds stutter slightly when flying through the air with the sound on. Most the games I tested worked well enough to be playable and fun, but the Vox isn't a gaming machine and shouldn't be purchased if that is to be one of its primary purposes.
Externals
One thing that is unique about the Kobo Vox is it has three capacitive Android buttons below the screen for Home, Back, and Menu. There's a white light behind these that illuminates them whenever the device is turned on.
The rear of the Kobo Vox has Kobo's patented quilted backing. It feels nice to the touch and reminds me of the Blackberry Playbook, which has a similar feel. The sides of the device come in four color options: black, green, pink, and blue.
The Vox has a micro USB port for connecting the device to a computer to transfer files and for charging it with the included wall charger. It has a 3.5 mm headphone jack, volume buttons, power button, and microSD card slot for cards up to 32GB. There is one speaker built-in to the top-right corner of the device. The placement helps to keep the sound from being muffled, but the speaker is just so-so. At high volume it starts to crackle.
The Kobo eReading App
The Kobo ereading app on the Vox is similar to the Android app, but it adds some new features. There are nine font styles, various font sizes, reading stats and awards, and an option for one or two page landscape mode. The brightness can be adjusted, and unlike many ereader apps that are too bright at the lowest setting, the Kobo app can be adjusted as dim as you want for reading at night, and there's night mode as well—black background with white text.
A unique feature with the Kobo Vox is the integration with Facebook. Once you sign in with your Facebook account, you can leave comments in the book, like it, and view book stats that show who's reading the book now, how many times the book has been read, and view comments other readers have left.
The app supports notes and highlights as well, but launching them takes too long, a good 5 or 6 seconds. With the exception of opening ebooks, which can take anywhere from 2-15 seconds, the app is generally fast otherwise. I'm not joking when I say the Kobo Touch is faster to add notes and open books. And that's not a dig on the Vox's processor because other ereading apps are as fast as they usually are.
Bottom line: The Kobo Vox app provides some nice features but it feels like it is a work in progress. Personally, I use Aldiko instead. It has more customizable options, loads faster, and supports Kobo's ebooks as well. Plus it supports PDF; the Kobo app doesn't.
Content Selection
One of the coolest things about the Kobo Vox is how open it is. In addition to the Kobo eReading app, the Vox comes with Press Reader for newspapers and Zinio for magazines. Plus you can install pretty much ereading app you want, including Kindle and Nook. Not to mention the Overdrive app for borrowing library ebooks.
Music
The Kobo Vox comes with the stock Android music player that supports common formats (listed below) and the Rdio app pre-installed. You can sideload other apps too, such as Pandora and the other apps Amazon and B&N claim for their tablets. That's the beauty with an open Android operating system.
As mentioned earlier, the speaker is on the side so that helps keep it from being muffled, but the sound quality isn't great. Luckily the headphone jack works well.
Supported audio formats (from the user manual): MP3, MP4, M4A, WAV, OOG, AAC, FLAC, 3GP, and MIDI.
Videos
Video playback on the Kobo Vox is surprisingly good, and it supports Adobe Flash too. It does not come with a YouTube app unfortunately, instead just a bookmark to the mobile YouTube website, which is okay if you want to watch low quality videos. I installed the actual YouTube app from over at Android Freeware and it runs great. Videos play in HD and look fantastic on the Kobo Vox's high-quality screen.
There's an issue with Netflix, however. The newer version loads and acts like it is going to work, but then when trying to play a video it gives an error. I tried installing an older version and it would play the video with sound but no video. There's no reason the Vox shouldn't play Netflix; there's just a bug causing issues somewhere. Hopefully it will get fixed soon.
The Kobo Vox also supports a number of video formats, including AVI, MP4, 3GP, and VP8. I used the same test videos on-hand from the Nook Color and they all worked great. Here's a guide to learn how to setup videos properly.
Kobo Vox Specs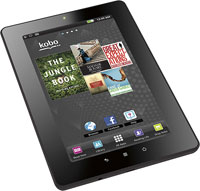 7-inch FFS+ multi-touch screen +/- 89 viewing angle
1024 x 600 pixel resolution
800MHz ARM Cortex A8 processor
Open Android 2.3 operating system
8GB storage with 512MB RAM
MicroSD memory card slot for cards up to 32GB
WiFi (802.11 b/g/n)
Home, Back, and Menu touch sensor buttons
2.2 million ebooks through Kobo
Press Reader and Zinio apps pre-installed for periodicals
GetJar Apps 15k apps
Facebook integration, comments, reading awards
Apps included: web browser, email, dictionary, picture gallery, video player, music players, contacts, calendar, calculator, Scrabble, and more.
3.5mm headphone jack, 1 built-in speaker
Micro USB 2.0 port
Battery Life: 7 hours
Dimensions: 7.6" x 5" x 0.53"
Weight: 14.2 ounces
Price: $199 at Amazon