Sony Reader PRS-505 Review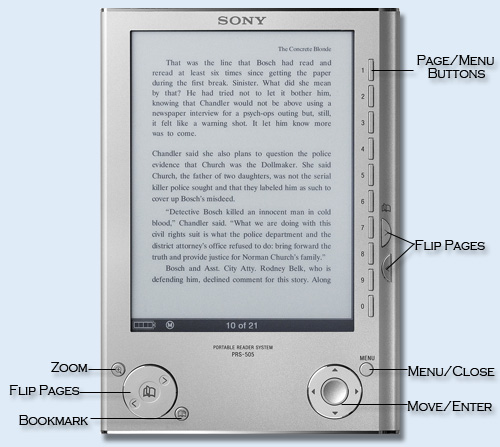 Overview
The Sony Reader PRS-505 was released in October 2007, less than a year after the PRS-500 model. It is one of Sony's most popular ebook reader, and continues to sell used.
Before buying either new model, it is wise to consider this ebook reader because it is still a solid option. The Sony Reader PRS-505 is only slightly more expensive, and in some markets the same price, as the smaller 5-inch PRS-300 Pocket Edition. The PRS-505 has a larger 6-inch screen, memory stick and SD card slots, and comes with a cover. It also supports audio and image files.
Appearance and Features
Like most Sony models, the 505 has a 6-inch diagonal epaper screen that utilizes Vizplex E Ink technology. This allows for easy reading in direct light, and prevents eyestrain. It's also very energy efficient, giving the device a battery-life of about 7500 page-turns.
It has a 600 x 800 pixel display that supports eight shades of gray, which increases the contrast ratio, giving the text a remarkable print-like appearance, and you can switch between landscape and portrait modes.
The Zoom feature goes up to 150%, but you can't zoom in on PDF files with this particular model unless you download Calibre, (it's free) to reformat the PDF with larger text.
Slightly smaller than a standard DVD case, the Sony Reader PRS-505 is 6.9" x 4.8" x .3" (175 x 122 x 8 mm) and weighs just 9 ounces (250 grams). The internal memory is only 256 MB, compared to Kindle's 2 GB, but it has two memory expansion slots for SD, SDHC, and Memory Stick Pro cards, which makes the Reader capable of holding thousands of books.
Books are sorted by title, author, date, and customizable collections, as well as bookmarks.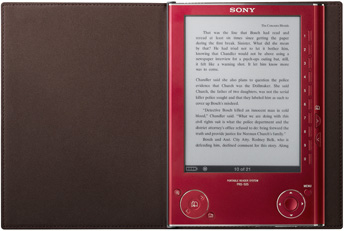 Silver and red are the two most popular colors, but there are some metallic blue ones too.
Covers come in a variety of colors and designs. You can also buy "skins" to customize them even more. Sony often offers themed readers from their website, as well as personalized engravings.
The unit comes with a magnetic cover and USB cable. It does not come with an AC adapter; you have to charge it through your computer via USB port, which takes about four hours. You can purchase an AC adapter for $30.00 and recharge it in about two hours.
Cons
The most common user complaints are:
PDF files are hard to read because they are reduced to fit the screen and can't be magnified.
No HTML support without conversion.
Although it's faster than the 500 model, there's still a slight lag when flipping pages.
It doesn't support audiobooks.
It doesn't come with an AC adapter; you have to charge the battery via USB cable.
Ebook software isn't compatible with Mac (Sony recently announced that Mac support is now an option).
Video Demonstration
eBooks for Sony eReaders

By embracing the open standard EPUB format, Sony's ereaders can read encrypted ebooks from a number of online ebook retailers. Check our dedicated Sony eBook Page for a comprehensive listing of current content providers.
Sony eBook Reader Accessories

If you are looking for covers, skins, screen protectors, lights, or power adaptors for your Sony ebook Reader, you can visit our
Sony Accessories Page
for more information about them.
More eReader Reviews