iRex eReaders
Based in the Netherlands, iRex Technologies is a spin-off of Philips Electronics, and has deep roots in the ereader field, having developed the epaper display in the very first commercial ebook reader, the Sony Librie.
Since 2005 iRex has been manufacturing high-end ebook readers and business-oriented ereaders, selling them predominantly to European customers. Just recently they released a new consumer model with a lower price point, the DR-800, which is their first ebook reader to be marketed in the US.
Like most other ebook readers, these use an electronic paper display that utilizes E Ink technology. What makes them unique, however, is that they feature touchscreen navigation with an integrated digitizing tablet by Wacom, which allows for touchscreen navigation without a reflective display.
iRex DR-800 eReader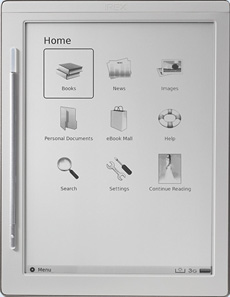 The DR-800 was released in Europe and the US in early 2010, and unlike other models this one is being sold from Best Buy.
It features an 8.1-inch touchscreen and is iRex's first ebook reader to have free 3G wireless, although it's US only at this point.
The DR-800 supports Adobe EPUB and PDF, as well as Barnes and Nobles' eReader (PDB). And Newspaper Direct's NP format.
It also works with library ebooks downloaded through Overdrive.com.
Digital Reader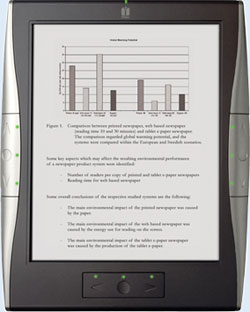 The Digital Reader was released in September 2008, and is currently the largest and most expensive ereader on the market, retailing at £599 ($859).
It has a 163 x 203 mm (10.2-inch) screen and weighs 570 grams (20.1 ounces).
The Digital Reader is designed for business use. Microsoft Office documents, emails, and PDF documents can be printed into a readable format directly onto the device.
The Digital Reader has access to over 1020 newspaper subscriptions from 81 countries.
iLiad Book Edition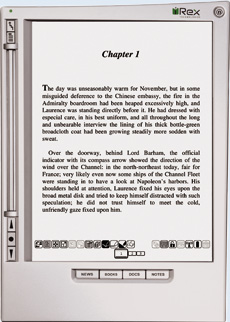 The iLiad Book Edition was released in May 2008, and currently sells for £449 ($599).
Compared to other ebook readers, the iLiad Book Edition has a larger 122 x 163 mm (8.1-inch) display, as well as touchscreen navigation.
It weighs 388 grams (13.7 ounces) and has built-in stereo speakers.
Like the larger Digital Reader, the iLiad comes with a program called MyScript Notes that converts handwritten notes into digital text.
Unlike the other readers, it doesn't have Wi-Fi.
iLiad 2nd Edition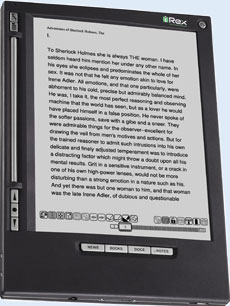 The iLiad 2nd Edition was released in September 2007, and sold for $699.
This model is very similar to the Book Edition in size and weight, but with some additional features such as Wi-Fi. It was marketed as having the ability to support other media files like Sodoku and Crossword Puzzles, as well as synchronizing between computers and additional iLiads.
When the first generation model was introduced, it had the largest screen of any ereader at the time.
The 2nd Edition included a few updates such as a redesigned backplane and increased battery capacity.
More eReaders