Older Model Sony Readers
Sony Readers have been around since 2006 with the release of the PRS-500. And before that, there was the Sony Libre, the first commercial E Ink device at the time, but it was only marketed in Japan.
Since then Sony's Readers have gained a loyal following and are now available in many parts of the world. One of their most defining characteristics is the support for encrypted EPUB and PDF ebooks, which allows consumers the option to purchase ebooks from a variety of vendors.
Click here to read about the new Sony Readers.
Sony PRS-505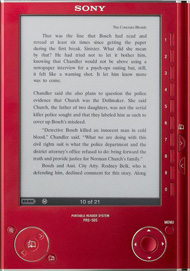 The Sony PRS-505, the most popular ebook reader on the international market over the past two years, is slowly disappearing, but can still be found in a few places if you are willing to look hard enough.
Although it is Sony's most popular model, it is being phased out with the recent release of the PRS-300, PRS-600, and PRS-900.
The 505 is a good compromise for people who want a 6-inch screen but don't want the touchscreen offered with the PRS-600 or the 5-inch screen of the Pocket Edition.
Sony PRS-700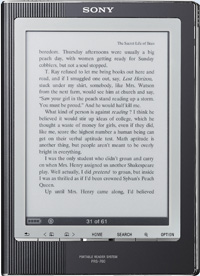 The Sony PRS-700 was Sony's first attempt at a touchscreen ebook reader, and it didn't go over too well. Replacing it, the PRS-600 is now Sony's touchscreen ebook reader.
In contrast to the 505 model, the PRS-700 has a touchscreen interface with gesture commands, built-in LED lights for reading in the dark, and it allows users to zoom in on PDF and Word files.
The main problem that users had with this model was that the touchscreen had too much glare compared to other readers.
Sony PRS-500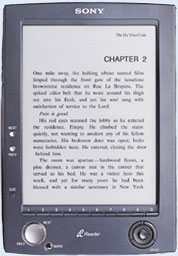 Sony's first generation ebook reader, the PRS-500, went on the market in 2006.
Sony recently announced that owners of the 500 can trade it in for credit toward a new model.
It lacked in memory (only 64 MB) and many users complained about the lag and "ghosting" when turning pages, as well as the clunky interface and buttons.
The PRS-505 came out a year later in 2007 with many improvements internally and externally, and was by far the most popular of all Sony Readers to date.
More eReader Reviews