Ebook Reader Basics
What exactly is an ebook reader/ereader?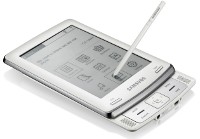 Both are general terms used to describe any electronic reading device. Even a computer or cellphone can be used as an ebook reader to download and read ebooks with a number of free software programs.
Dedicated ereaders on the other hand—Sony, Nook, Kindle, etc—are handheld devices that use a unique technology called epaper, which mimics the look of ink on printed paper. Epaper is very energy efficient (a battery charge can last up to 2 months) and it is easily readable in bright light, unlike computers and phones.
Dedicated ereaders come in a variety of sizes (most have 6 or 9.7-inch screens measured diagonally) and are designed specifically for reading ebooks.
Most can also display comics and images in black and white, play MP3 audio files and audiobooks, display newspapers, magazines, documents, rss feeds, and some can browse the web too. Some models feature Wi-Fi, 3G wireless, apps, touchscreen, advanced note-taking and PDF capabilities.
Click here for a detailed look at the various ereader features.
How much does an ebook reader cost?
Dedicated ereaders have really started to drop in price over the last few years. The Kindle 4 is just $79 and the Kobo Touch, Kindle Touch, and Nook Touch are $99 new.
The next major set of prices hover around the $129-$149 range for the Kindle Touch 3G and for the Sony PRS-T1, and other comparable models. After that the larger screen ebook readers like the Icarus Excel/Onyx Boox M92 and Kindle DX generally cost $349 for the Excel and $379 for the DX.
Over $400 are multipurpose devices with lots of processing power like the Apple iPad and larger 10" Android tablets.
Some LCD ereaders sell for as low $79 and less. The downside is that LCD ereaders generally have short battery lives, and the cheaper models don't have much under the hood feature-wise.
Where do I get ebooks?
Most ebook readers support Adobe EPUB and PDF, which is cross-compatible with different devices and software, meaning you can buy ebooks from a number of websites and read purchased ebooks on a phone, computer, or ereader.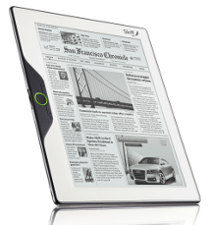 The exceptions are Amazon and Apple; neither support Adobe EPUB and each has their own ebook store that isn't cross-compatible with other ereaders, although Kindle does have apps for computers, phones, the iPad, etc.
There are also gazillions of free ebooks that are available from a number of websites in a variety of formats that will work on any device or software. These are legal and are mostly public domain classics and promotional titles by newer authors.
For ereaders that support Adobe EPUB, you can download free ebooks from libraries through a service called Overdrive with a valid library card.
Click here for info on ebook prices and selection among stores and regions.
How do I get ebooks onto an ereader?
Some ebook readers have Wi-Fi and/or 3G wireless for shopping and downloading ebooks directly to the device. Others require you to connect to a computer with a USB cable or use a memory card to load the books on manually.
For library ebooks and Adobe DRM ebooks you need to use Adobe Digital Editions, a free software, to transfer the ebooks to the reader via USB. ADE and the reader both have to be authorized first. An ebook can generally be authorized to 5 different devices, be it computer, phone, ereader, etc.
Now that you've got the basics down, check out the ebook reader choosing guide for help selecting the best ereader for you.
More eReader Information